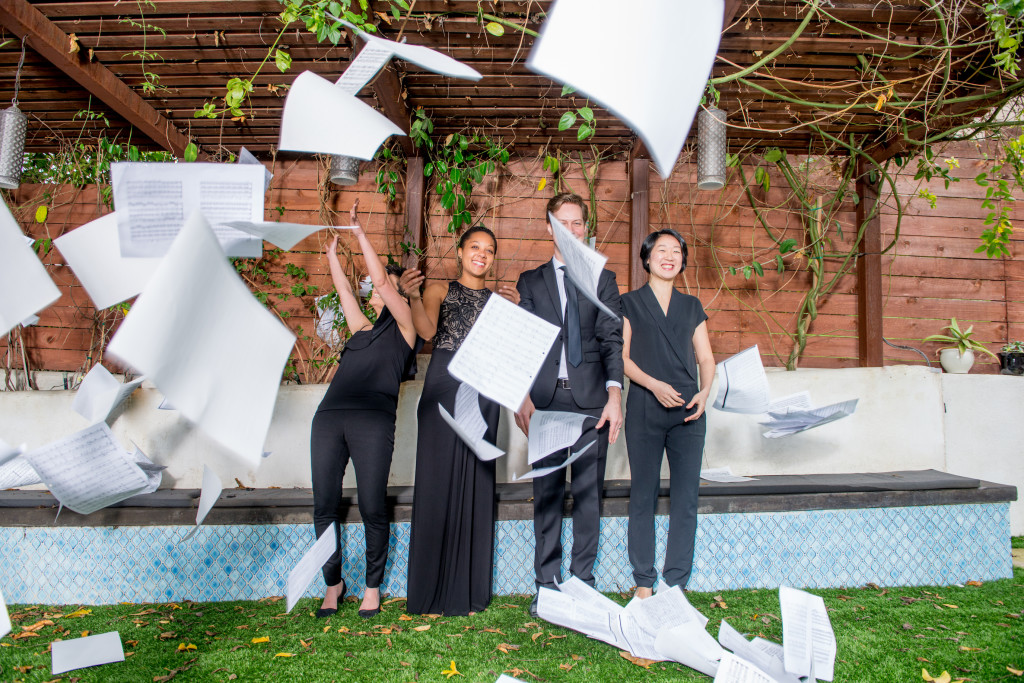 The Argus String Quartet. Photo by Ben Gibbs
New York, NY – The Schneider Concerts, a program of The New School's Mannes School of Music, presents the Argus Quartet in a program of Haydn, Knox, and Janacek. The performance will take place in The New School's Auditorium at 66 W. 12th Street on October 1st at 2p.m.
For more information and tickets, visit newschool.edu/mannes/Schneider-Concerts or call (212) 229-5873.
Sunday, October 1, 2017, 2:00 p.m.
ARGUS QUARTET
Clara Kim and Jason Issokson, violin; Dana Kelley, viola; Joann Whang, cello

Franz Joseph Haydn String Quartet in C Major, Op. 74, No. 1 (1793)
Garth Knox Satellites (2015)
Leos Janacek String Quartet No. 2 Intimate Letters (1928)
Program approximately 1 hours and 50 minutes, including intermission
Single tickets on sale now
$18 single ticket general admission
$16 single ticket seniors 65+ and people with disabilities
$ 5.00 standby, students 30 and younger with school ID
For details and to purchase tickets, visit www.newschool.edu/mannes/schneider-concerts
First prize winners of the 2017 M-Prize Chamber Arts Competition, the Argus Quartet has performed at leading music festivals including Ravinia's Steans Music Institute, the Norfolk Chamber Music Festival, the Birdfoot Festival, the Cello Biënnale Amsterdam, and Music Academy of the West. During the 2016-17 season, they served as the Ernst Stiefel Quartet in Residence at the Caramoor Center for Music and the Arts. The Argus was one of three ensembles to perform works from Kronos Quartet's "Fifty for the Future" commissioning project at Carnegie Hall. This Fall, the Argus Quartet begins an appointment as the Graduate Quartet in Residence at the Juilliard School.

Hailed in The New York Times as "one of the best deals in town for lovers of classical music," for six decades, The New School's Mannes School for Music's Schneider Concerts series has presented outstanding young artists and ensembles at non-exclusionary ticket prices. The series' remarkable history includes the New York debuts of pianist Peter Serkin and the Dover, Calidore, Guarneri, Cleveland, and Vermeer String Quartets and TASHI. Artists such as Yefim Bronfman, Richard Goode, Jaime Laredo, Yo Yo Ma, and Murray Perahia were introduced to New York audiences early in their careers. The series was founded at The New School in 1957 as New School Concerts by violinist and conductor Alexander Schneider, who led the series until his death in 1993, at which time the series was renamed The Schneider Concerts in his honor. Artistic leadership is now under the auspices of a committee of ten noted musicians: John Dalley, Pamela Frank, Jennifer Koh, Jaime Laredo, Cho-Liang Lin, Anthony McGill, Kurt Muroki, Tara O'Connor, Arnold Steinhardt, and Michael Tree.
The 2017-18 Schneider Concerts season is supported by the Alexander Schneider Foundation and with public funds from the New York City Department of Cultural Affairs.