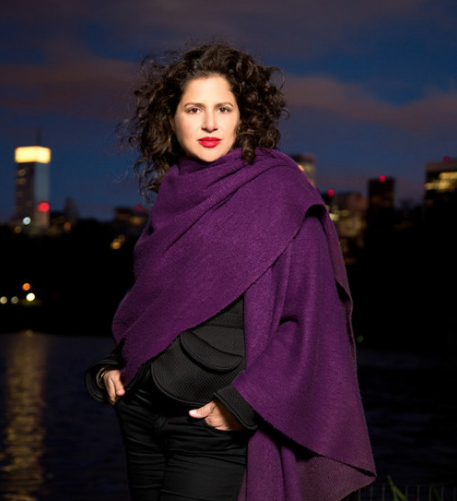 Anat Cohen
New York City, September 5, 2018 – The New School announced today that Grammy-nominated clarinetist-saxophonist Anat Cohen will join the university's School of Jazz and Contemporary Music. Her appointment is effective immediately.
"We are thrilled to welcome Anat to the faculty at The New School," said Keller Coker, Dean of School of Jazz and Contemporary Music, Associate Dean of the College of Performing Arts. "As an internationally acclaimed performer and educator, our students will greatly benefit from her experience and expertise."
As professor of clarinet, Cohen will direct ensembles, teach private lessons, and give master classes to students in School of Jazz and the College of Performing Arts. She will also work closely with select faculty members to develop new opportunities for students, as well as provide mentorship beyond basic musical training.

"I am very happy to be joining the team at the New School. I am excited about sharing music with the wonderful students of the New School, exploring ideas together with students that are eager to learn being influenced by the vivid atmosphere of NYC!" said Anat Cohen.
Cohen has been declared Clarinetist of the Year by the Jazz Journalists Association every year since 2007 and has also been named the top clarinetist in both the readers and critics polls in DownBeat for multiple years running. She has also been named Rising Star in the soprano and tenor saxophone categories in DownBeat, as well as Jazz Artist of the Year. In 2009, ASCAP awarded her a Wall of Fame prize for composition and musicianship, among other honors.
Cohen was born in Tel Aviv, Israel, and raised into a musical family where she attended the Tel Aviv School for the Arts, the "Thelma Yellin" High School for the Arts and the Jaffa Music Conservatory. She began clarinet studies at age 12 and played jazz on clarinet for the first time in the Jaffa Conservatory's Dixieland band. At 16, she joined the school's big band and learned to play the tenor saxophone; it was this same year that she entered the prestigious Thelma Yellin school, where she majored in jazz. After graduation, she discharged her mandatory Israeli military service duty from 1993-95, playing tenor saxophone in the Israeli Air Force band.
Through the World Scholarship Tour, Cohen was able to attend the Berklee College of Music, where she not only honed her jazz chops but also expanded her musical horizons, developing a deep love and facility for various Latin music styles. During her Berklee years, she visited New York City during semester breaks, making a beeline for the West Village club Smalls to soak up a melting pot of jazz, contemporary grooves and world music in a scene that included such future collaborators as Jason Lindner, Omer Avital and Daniel Freedman. Moving to New York in 1999 after graduating from Berklee, Cohen spent a decade touring with Sherrie Maricle's all-woman big band, The Diva Jazz Orchestra; she also worked in such Brazilian groups as the Choro Ensemble and Duduka Da Fonseca's Samba Jazz Quintet, along with performing the music of Louis Armstrong with David Ostwald's "Gully Low Jazz Band." She soon began to bend ears and turn heads; whether playing clarinet, soprano saxophone or tenor saxophone, she won over the most knowing of jazz sages: Nat Hentoff praised her "bursting sound and infectious beat," Dan Morgenstern her "gutsy, swinging" style, Ira Gitler her "liquid dexterity and authentic feeling," and Gary Giddins her musicality "that bristles with invention."
In 2009, Cohen became the first Israeli to headline at the Village Vanguard, the setting for perhaps the most celebrated live recordings in jazz history; the occasion yielded the 2010 release Clarinetwork: Live at the Village Vanguard, which captured the leader paying tribute to Benny Goodman and leading a hard-swinging combo with all-stars Benny Green, Peter Washington and Lewis Nash.

As an educator, Cohen teaches the fine points of jazz and the music of Brazil to budding students across North America, including recent residencies at Stanford, Oberlin, Michigan State University, University of California-San Diego, the Centrum Choro Workshop and California Brazil Camp. About her experiences onstage, in the classroom or just engaging with her listeners, she says: "Any day when I get to share music with people – other musicians, an audience – feels like a celebration to me."