The new school for jazz and contemporary music faculty member bobby sanabria named 2018 "lejends of jazz" recipient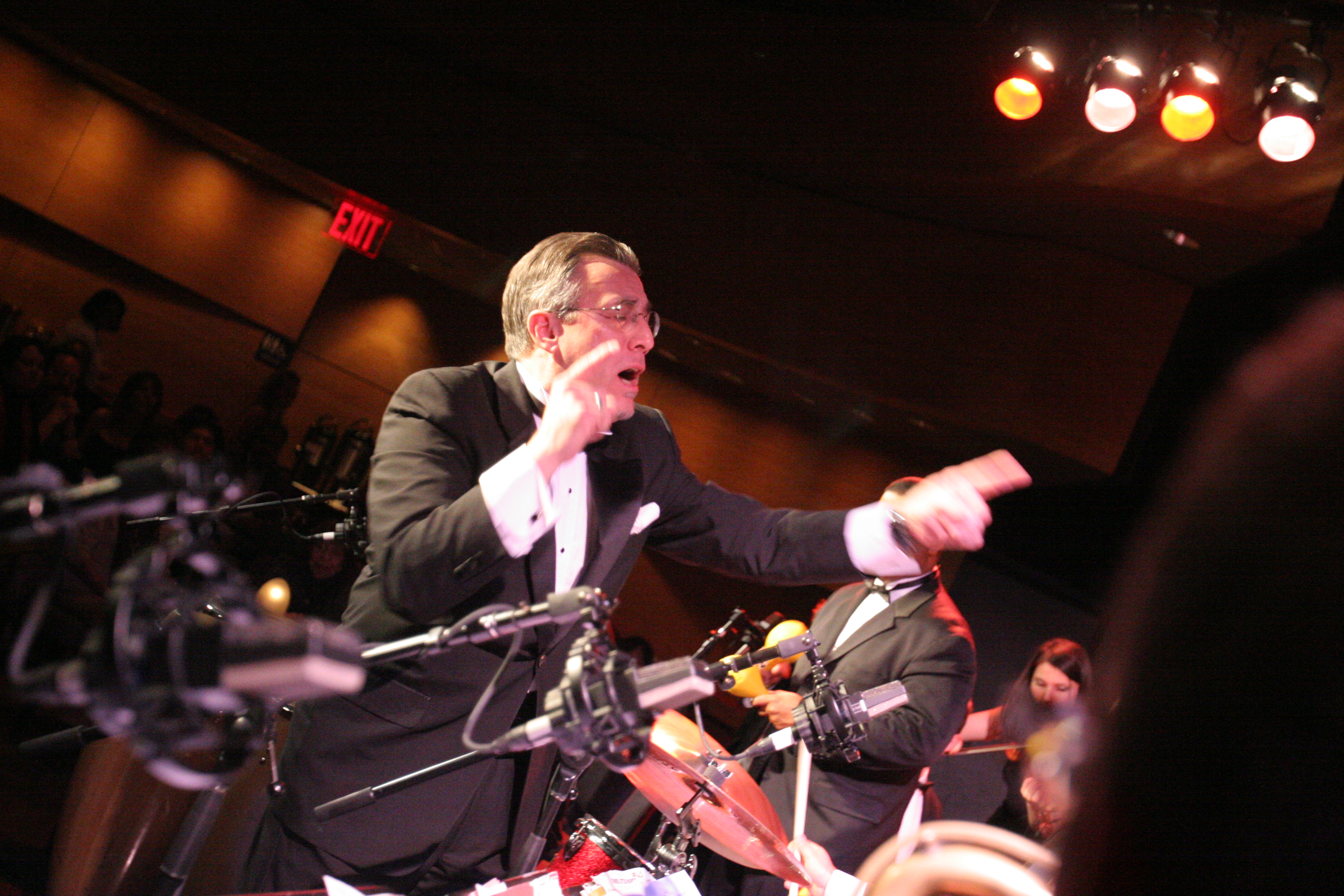 Bobby Sanabria conducting his Big Band.
January 9, 2017 – Bandleader, drummer, percussionist, educator, and seven-time Grammy Award nominee Bobby Sanabria was named the 2018 recipient of the JEN "LeJENds of Latin Jazz Award". The award was presented to him by JEN President Caleb Chapman during the Ninth Annual JEN Conference in Dallas, TX, on Thursday, January 4, 2018.
Established in 2014 by the JEN Board of Directors, the JEN LeJENds of Latin Jazz Award honors true legends of Latin Jazz. This award is bestowed upon a musician who has distinguished themselves by living up to the JEN Mission.
The award is given to an honoree who has exhibited the following
attributes:
● Demonstration of being an outstanding performer/educator.
● Promoting jazz music in all formats (performance and audiences).
● Encouraging and inspiring musicians, teachers and aficionados of all ages.
● Recognition at a national and/or international level.
● Demonstration of a true passion for the jazz art form.
● Sharing and expanding the art of Latin Jazz in all areas listed above.
"I am honored to have been chosen for this special recognition from my peers for my work as a musician, performer, educator and representative of the Latin Jazz community," says Sanabria. "Through these continued efforts, the genre's legacy will continue to be documented and recognized, as well as inspire today's, as well as tomorrow's, up-and-coming artists and educators."
The Ninth Annual Jazz Education Network Conference took place in Dallas from January 3 - 6, 2018. The event is one of the jazz arts community's most anticipated events. Educators, industry personnel, enthusiasts, and performers from amateur to professional level attend from around the globe. Four full days of performances, workshops, panel discussions, research presentations, and live mentoring clinics (as part of the JENerations Jazz Festival) make the Conference a must-attend event for all.


The New School for Jazz and Contemporary Music, founded in 1986, is one of the most influential institutions of its kind. The quality and uniqueness of the school lie in its artist-as-mentor approach to learning, its progressive curriculum, small ensemble-based performance, a stellar faculty composed of artist-practitioners, and access to unique musical opportunities throughout New York City. Notable faculty include Reggie Workman, bassist, bandleader, composer; Ben Allison, bassist, bandleader, composer; Cecil Bridgewater, trumpet; Robert Hurwitz, President, Nonesuch Records; Yosvany Terry, saxophonist, percussionist, bandleader, composer; and Jimmy Owens, trumpet. Among the many remarkable artists who have given master classes or lecture presentations are Cassandra Wilson, Randy Weston, Geri Allen, George Lewis, Marc Ribot, Fred Wesley, Pat Metheny, Joshua Redman, Pauline Oliveros, Don Byron, Ben Sidran, Tommy LiPuma and George Wein.
About The Jazz Education Network
The Jazz Education Network is dedicated to building the jazz arts community by advancing education, promoting performance and developing new audiences. With a home base in the United States and members from around the globe, this thriving organization hosts a popular annual conference that serves teachers, students, artists, performing arts presenters, music industry partner, and enthusiasts. JEN runs ongoing programs of scholarships and awards for students and educators, student composition showcases and an extensive community outreach programs of over 40,000.