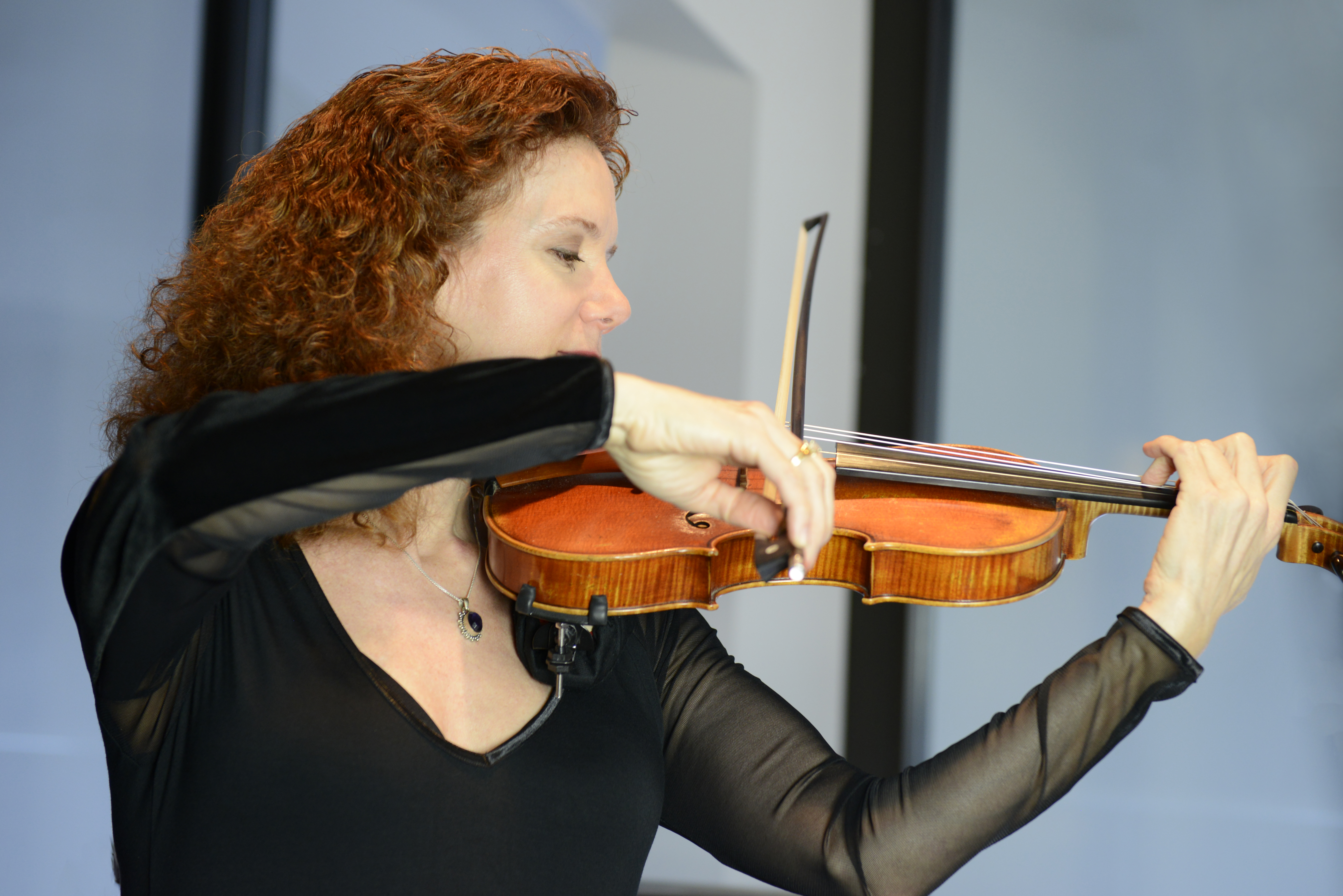 A BSO musician wearing one of the redesigned garments
BALTIMORE and NEW YORK - May 31, 2018 - The New School's Parsons School of Design and the Baltimore Symphony Orchestra (BSO) are pleased to announce the completion of new orchestral garments for the musicians of the BSO, a design project that was spearheaded by Marin Alsop, Music Director for the BSO, and Parsons professor and designer Gabi Asfour. The new garments will debut during the final concert weekend of the BSO's 2017-2018 season on June 8 at Baltimore's Joseph Meyerhoff Symphony Hall and on June 9 at The Music Center at Strathmore in North Bethesda, MD.
"I am so thrilled with the new garments that Gabi and his team have created, which rework traditional aesthetics in a new, forward-thinking way," says Alsop. "Our partnership with Parsons has been incredibly unique and educational, and I hope our project serves as a model for other orchestras in the future."
In 2012, Gabi began working closely with Parsons students, as well as musicians from the BSO and students from The New School's Mannes School of Music, in order to develop the new orchestral garments. Through extensive research of traditional orchestral garments, formal wear, traditional tailoring and innovative fabric technology, the new orchestral garments have been thoroughly reworked, and have been created by using existing garments from brands including Under Armour, Uniqlo and Eileen Fisher.
"The partnership between Parsons and the BSO has been an incredible learning opportunity for our students," says Joel Towers, Executive Dean of Parsons School of Design. "By collaborating closely with Gabi, the BSO musicians, and their fellow students at Mannes, the Parsons designers have created an exciting new range of orchestral garments that blend fashion, technology, and new materials beautifully."
With a specific focus on functionality, Gabi and his team incorporated hi-tech fabrics to enhance breathability, prevent overheating and provide adequate sweat absorption for the musicians. Details such as stretch mesh and jersey were added to enhance movements in specific areas such as the elbows, underarms and torso, highlighting the movement of the instruments while enabling unrestricted motion during the performance. All of the musicians underwent 3D body scanning in order to enable precise body measurement for their new garments. OnPoint Manufacturing, Body Labs and Direct Dimensions aided in this portion of the process.
"What excited me the most during this project was formalwear needing to perform as activewear; FORMALACTIVEWEAR became the essence of the design process," says Gabi. "My students and I followed throughout the several prototypes that led to the final outcome."
This project was made possible, in part, through underwriting from Ms. Sandra Levi Gerstung and from Mr. Tomio Taki.
VENUE INFORMATION
Joseph Meyerhoff Symphony Hall (Meyerhoff)
1212 Cathedral Street, Baltimore, MD 21201
The Music Center at Strathmore (Strathmore)
5301 Tuckerman Lane, North Bethesda, MD 20852