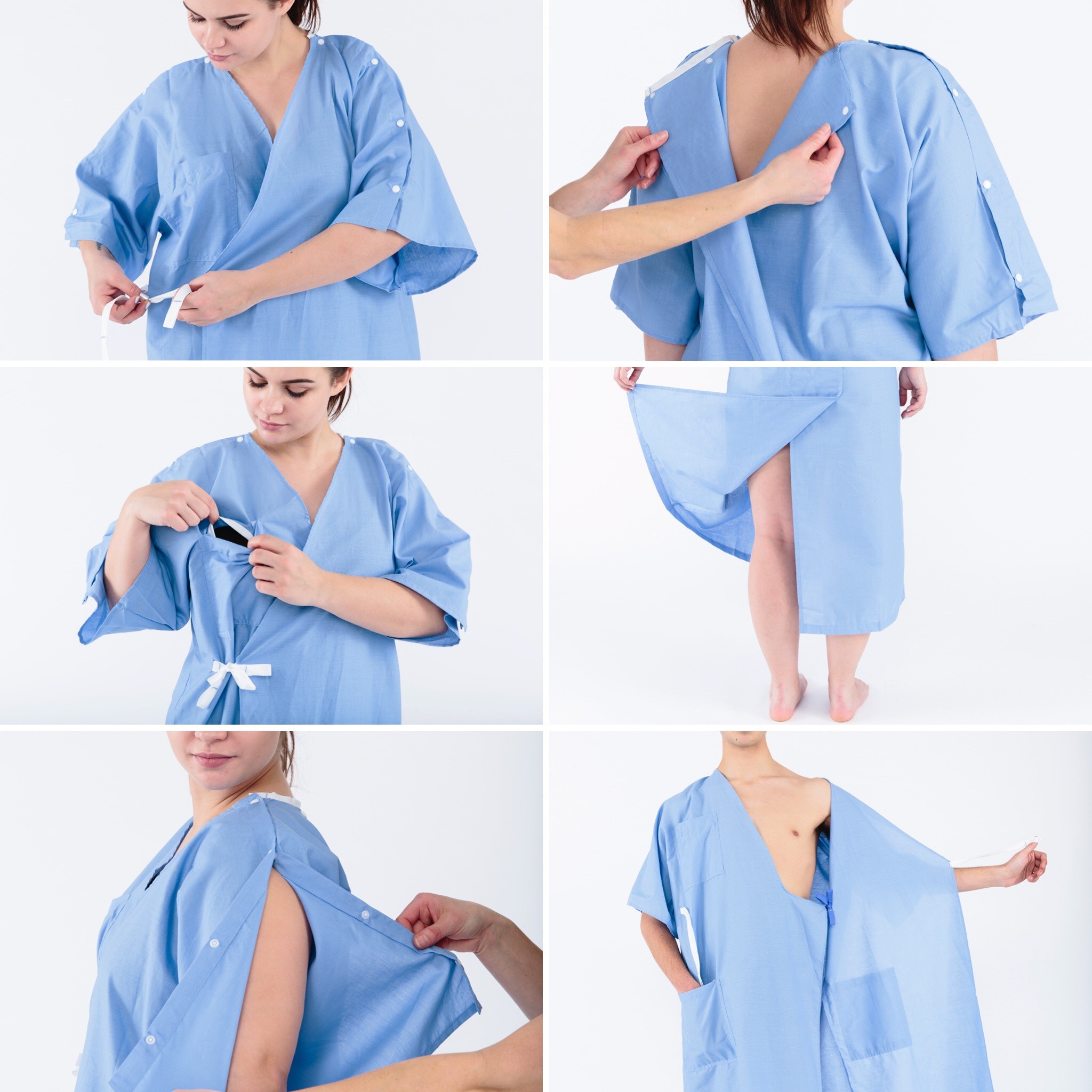 The Patient Gown. Photos by Sophie Barkham
New York, NY – January 4, 2018 – Innovative healthwear company Care+Wear and The New School's Parsons School of Design are proud to announce the launch of The Patient Gown by Care+Wear x Parsons, a reimagined patient gown designed to provide coverage, while allowing for necessary access to the body for clinicians. The gown, researched and envisioned during a course at Parsons in spring 2017, was designed by Parsons students and Care+Wear in conjunction with patients, fashion designers, nurses, doctors, hospital leaders and laundering experts to ensure the comfort and dignity of patients in the hospital.
"Our company was founded on the promise to improve the patient experience. When you visit a healthcare institution, your experience begins the second you're told to put on a hospital gown," said Care+Wear Co-Founder and CEO Chaitenya Razdan. "By partnering with Parsons and working together with patients and clinicians, we knew that we could create a better version of what's available so that patients are protected and have a sense of dignity while they undergo treatment."
The course, taught by fashion designers Lucy Jones and Brittany Dickinson, focused on studying and creating a design that considered the entire lifecycle of the patient gown, from production to transport, storage, user experience, laundering and disposal, with a goal of introducing the most successful prototype developed in this class into the marketplace with the help of Care+Wear. The students worked with patients as well as industry experts from leading hospitals who provided advice and feedback during all stages of the class, including NYU Langone Health, New York-Presbyterian Hospital, Massachusetts General Hospital, Cleveland Clinic, Catholic Medical Center, Sentara Healthcare, and the Sylvester Comprehensive Cancer Center at the University of Miami.
While oftentimes hospitals provide patients with two gowns in order to provide sufficient coverage, the final gown design both conceals the body and combines five different types of patient gowns (IV access, maternity, telemetry, bariatric, bedridden) into one. As a result, The Patient Gown both increases comfort and reduces costs for hospitals.
"This course was entirely unique in that it gave students a real-world design project that would help solve a pressing issue, and actually go into mass production," said Burak Cakmak, Dean of Fashion at Parsons School of Design. "The Parsons curriculum is focused on teaching students systems-based, user-centric design strategies that can affect real change in the world, and we are proud to partner with Care+Wear on this vital initiative."
As part of the course, AARP donated a cash prize to the participating students and Zappos.com sponsored a Parsons student to intern at Care+Wear to finalize the gown and help put it into production. Furthermore, as part of its ongoing commitment to shaping the next generation of healthwear designers, Care+Wear will direct a portion of sales from the gown toward a scholarship at Parsons focused on innovation and design in healthcare.
"At Zappos, customer service is paramount," explained Maggie Hsu, Chief of Staff of Zappos. "Recently we've been asking ourselves, what if we could take that customer service and bring it to other industries? Being a part of this class was an exciting way to both improve the hospital experience and further our commitment to human-centered design."
The gown will be available in a number of hospital systems including MedStar Health, the largest not-for-profit health system in Maryland and the Washington, D.C., region, and is available for purchase online. Global management consulting firm A.T. Kearney also provided critical consulting services to ensure a seamless production and supply chain for the patient gowns.
"Care+Wear is focused on using comprehensive design thinking methods so that the needs of all parties are met," commented Mr. Razdan. "We are honored to have worked with the best and brightest on this project to transform part of the patient experience."
For more information about the course and partnership, please visit http://www.careandwear.com/parsons.

Additional photos of The Patient Gown can be found here.