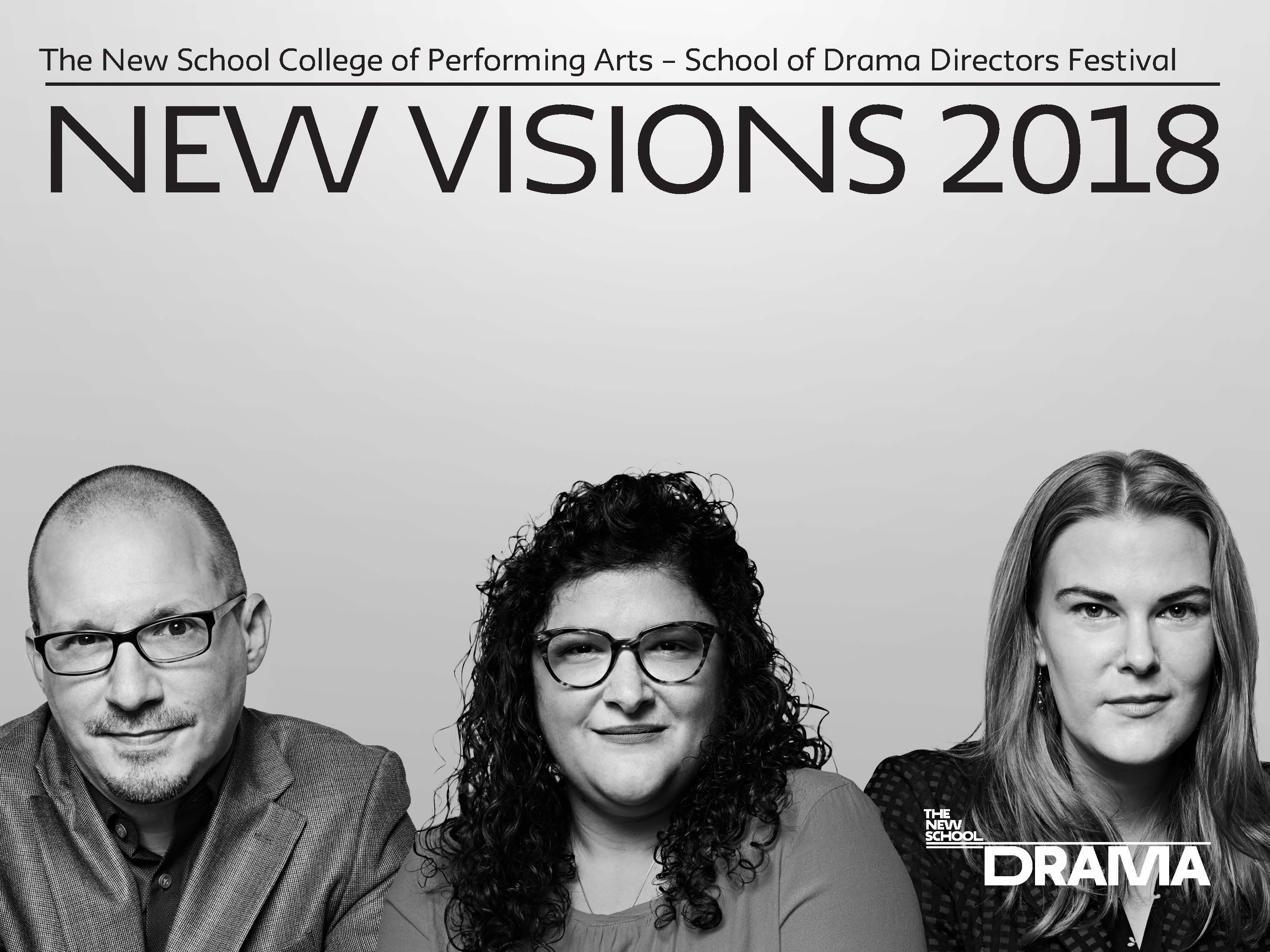 School of Drama Directors: Joey Rizzolo, Rebecca Etzine, Sarah Young. Photo by Joe Loper.
New York, September 24, 2018 - The New School's School of Drama's graduate directors will be on display during the New Visions Directors Festival with three original productions performed this fall. Showcasing the work of this year's graduating MFA directors, the festival also highlights Drama's graduating MFA actors.

For over a decade, graduating School of Drama MFA directors have been showcasing their thesis work for the public through the festival, which provides the students a comprehensive, hands-on experience in mounting a full production prior to leaving school. School of Drama is proud to present this festival of engaging new visions from the class of 2019.

Sueño
by José Rivera
directed by Sarah Young

Our first play of the 2018 New Visions Festival, Sueño is directed by third-year MFA student Sarah Young. Sueño is Obie Award-winning playwright José Rivera's translation and adaptation of Calderón de la Barca's classic Life Is a Dream. Set in 1635, this metaphysical drama—renowned as one of the jewels of the Spanish Golden Age—Sueño follows the life of young Prince Segismundo, heir to the Spanish throne, who is imprisoned at birth when astrologers predict that his reign as king will result in the country's ruin.
September 26 at 7pm
September 27 at 7pm
September 28 at 7pm
September 29 at 2pm and 7pm
99 Histories
by Julia Cho
directed by Rebecca Etzine
Our second play of the 2018 New Visions Festival is directed by third-year MFA student Rebecca Etzine. 99 Histories is a beautifully haunting and moving play about memory, legacy, and the unbreakable bond between mother and child.
October 31 at 7pm
November 1 at 7pm
November 2 at 7pm
November 3 at 2pm and 7pm
Roberto Zucco
by Bernard-Marie Koltés
directed by Joey Rizzolo
The third and final play in the 2018 New Visions Festival is directed by Joseph Rizzolo. Roberto Zucco was the last play by legendary French writer Bernard-Marie Koltès, "a pioneer of a wholly new style of dramatic writing" (The Times). In a series of poetic, fast-moving scenes, Koltès takes his titular hero on a mythical journey through a landscape of strange and violent beauty.
December 5 at 7pm
December 6 at 7pm
December 7 at 7pm
December 8 at 2pm and 7pm
All performances are at the School of Drama Theater, 151 Bank Street, 3rd Floor, New York City. Admission is free and reservations are recommended. Please call Ticket Central at 212.279.4200 or visit ticketcentral.com.