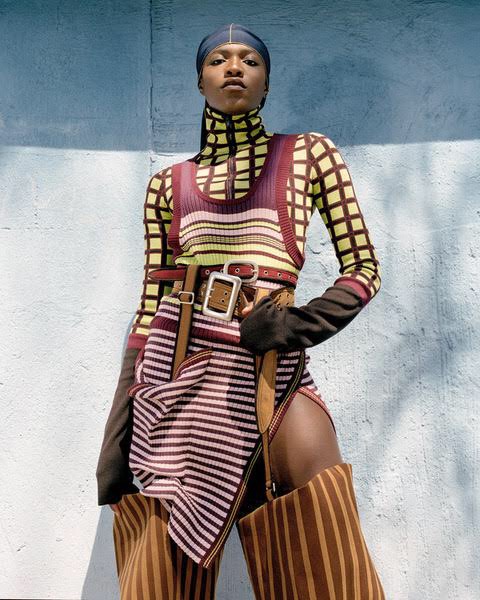 "Hood Dandy" ensemble designed by Katiuscia Gregoire, BFA Fashion '17, photo by Stevens Añazco, BFA Photography '17.
October 25, 2018, New York - The New School's Parsons School of Design presents Fashion and Race: Deconstructing Ideas, Reconstructing Identities, on view from October 27 through November 11 in the Arnold and Sheila Aronson Galleries at the Sheila C. Johnson Design Center. The exhibit showcases the work of eleven bold, outspoken students and alumni who interrogate issues such as misrepresentation, exclusionary beauty standards, the lack of inclusion and systemic violence in their creative practice. Curated by Kimberly M. Jenkins, the exhibition is framed by three select themes: 'Deconstructing Ideas, Reconstructing Identities,' 'The Racialized Body,' and 'The Intersection of Race and the Gaze in Fashion Photography.'
"It is an honor to curate an exhibition of student work that addresses the timely and socially-sensitive topic of race at the SJDC," says Jenkins. "Thanks to the support of the SJDC curatorial staff as well as the School of Fashion and ADHT, Fashion and Race will amplify the voices of those who wish to challenge and transform the fashion system. In addition, having an icon such as André Leon Talley to impart words of wisdom and celebrate this exhibition shows that there is work that needs to be done, and it is my hope that Fashion and Race can blaze a trail for the future of representation in fashion." 
The social problem of systemic racism and the residual effects of colonialism have received increased coverage in the media, and have created a need for safe and supportive spaces amidst a precarious political landscape. The exhibition encourages us to consider the questions, how can the next generation of artists reconcile an exclusionary past, imagining futures that radically revise what is possible in fashion, photography, and illustration?
Participating artists include: Stevens Añazco, Lashun Costor, Joy Douglas, Rachel Cassandra Gibbons, Katiuscia Gregoire, Carly Heywood, Myles Loftin, Kyemah McEntyre, Cecile Mouen, Jamilla Okubo, Avery Youngblood
Encompassing fifteen objects ranging from garments, adornment, photography, and zines to a video installation, this exhibition demonstrates that the racialized, lived experience is inextricably linked to the art that springs forth from these artists. Cecile Mouen's framed, conceptual garments titled Visual ID are the culmination of personal narratives about cultural identity and heritage gleaned through surveys. Avery Youngblood, a Beyoncé "Formation Scholar," simulates a 'how-to' guide with How to be Black, recording the everyday life of a young, multidimensional Black woman. Carly Heywood interrogates the centuries-old connection between blackness and animality with her collection Black Beasts, while Katiuscia Gregoire proposes a new kind of fashionability by exalting 'hood' garments and Jamilla Okubo's Hair as Identity zine reproduces and subverts historical, derogatory images of Black hair. Myles Loftin's series Hooded navigates the precariousness of being Black and joyful in the midst of police violence that targets Black men, while his series Colored riffs off of the (historically) reductive term used to identify Black people, instead celebrating the agency that can be found in wearing unnatural hair color. All of the work on view conveys self-preservation and implores the greater significance of inclusion and equitable representation. Fashion and Race: Deconstructing Ideas, Reconstructing Identities invites you to consider the ways in which race has affected the fashion system in terms of visibility, aesthetics, and power. It features a constellation of work from students and alumni who are harnessing their creativity to transgress the limitations they have been confronted with, deconstructing the very idea of 'race' as they endeavor to reconstruct identities of their own. Related programming will include a screening of the film, The Gospel According to André, featuring a Q&A with the fashion legend himself on November 5th.
Opening reception, November 1, 6:00-8:00 pm, Arnold and Sheila Aronson Galleries, 66 5th Avenue
Film screening and Q&A discussion: The Gospel According to André, November 5, 7:00-9:00 pm, Anna-Maria and Stephen Kellen Auditorium
Join us for a screening of the film, The Gospel According to André, followed by a Q&A with André Leon Talley and director Kate Novack, moderated by exhibition curator Kimberly M. Jenkins. This event is free and made possible by the School of Fashion with limited seating. RSVP here.
About the curator: Kimberly M. Jenkins is a part-time lecturer at Parsons School of Design with an interest in fashion, innovation, and social justice. In 2016, she developed a course at Parsons titled 'Fashion and Race,' and in 2018 she received the award for 'Outstanding Achievements in Diversity and Social Justice Teaching' from The New School. Fashion and Race is Jenkins' first exhibition, which is presented in tandem with her new digital humanities project, The Fashion and Race Database.

Related links:
Hashtag: #fashionandraceexhibition
Instagram: @parsonsschoolofdesign
Website: https://www.newschool.edu/parsons/all-exhibitions/?id=17179879264
This exhibition was made possible with support from the Sheila C. Johnson Design Center, Parsons School of Fashion, and Parsons School of Art and Design History and Theory.