music colleges and conservatories from around the world form new association to advance jazz education and social engagement
The new educational group will be comprised of the world's top institutions, including Berklee Global Jazz Institute, School of Jazz and Contemporary Music at The New School, the Conservatorium van Amsterdam, the Conservatoire National Supérieur de Musique et de Danse de Paris, and the Siena Jazz Academy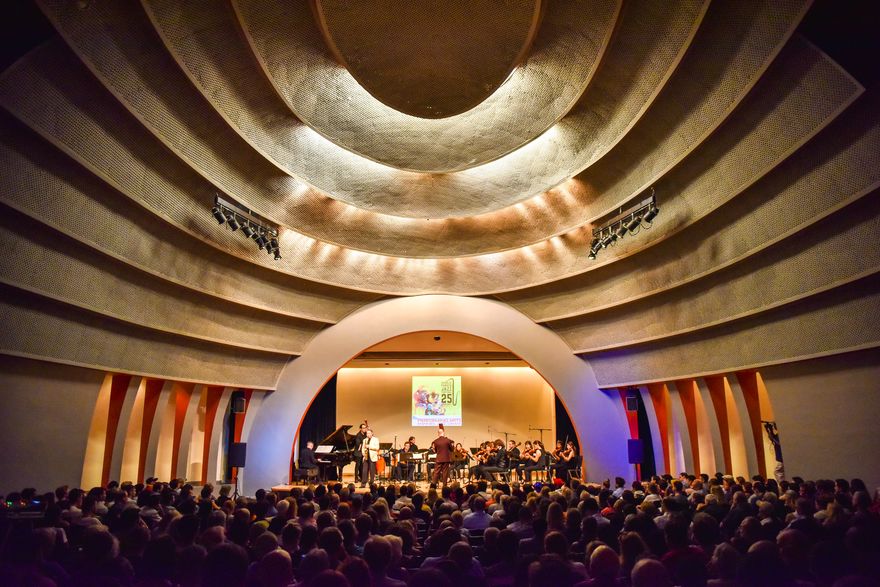 A concert at School of Jazz and Contemporary Music at The New School in New York City
October 2, 2018 – Boston, Amsterdam, New York, Paris, Siena – At the Panama Jazz Festival in January, a new international organization was formed by five of the world's most prestigious conservatories and music colleges to prepare young musicians to become ambassadors for jazz in and beyond their communities. The Global Association for Inter-connective Arts (GAIA)—comprised of Berklee Global Jazz Institute, the School of Jazz and Contemporary Music at The New School in New York, the Conservatorium van Amsterdam, the Conservatoire National Supérieur de Musique et de Danse de Paris, and the Siena Jazz Academy—will explore, define, and implement new ways of educating music students.

Led by Danilo Pérez, founder and artistic director of the Berklee Global Jazz Institute, and representatives from each of the schools, the GAIA's primary goal is the creation of a new cultural ecosystem to nurture sustainable careers for future generations of artists across the globe.

"Our hope is that the GAIA will foster an international platform that inspires young artists to find adventurous proposals of great pedagogical, artistic, and social significance, helping us rise to the challenge of living in peace, with dignity, justice, and freedom," said Pérez.

"The students, administrators, and faculty at The New School are all thrilled to be working with the incredible partner schools that have come together to form GAIA," says Keller Coker, Dean of The New School's School of Jazz and Contemporary Music. "We look forward to hearing the music that comes from this, and hope the collaborative work that these students will engage in will become a model for other collaborations in fields in and out of the arts."

"We encourage students to become ambassadors of music," said Edo Righini, Deputy Director and Head of the Jazz and Pop music departments at the Conservatorium van Amsterdam, "who inspire excellence, bridge cultural and ethnic differences, and create music that serves as a social experience."

"While remaining aware of the syncretism of music's origins to the numerous possible interactions between disciplines and diverse cultures, a musician might be able to invent a new music and new models of sharing knowledge as a socially committed artist," said Riccardo del Fra, Head of the Jazz Department at the Conservatoire National Supérieur de Musique et de Danse de Paris.

Initial activities for the partnership will include the creation of an ensemble consisting of students selected from each of the member institutions who embody artistry, individuality, and a dedication to their craft. The group will perform and study across the globe starting in March 2019 with a tour in the Netherlands recording and performing at venues such as the "Bimhuis" and at JazzFest in Amsterdam.

They will be ambassadors for the progressive values of the partner institutions, including diversity, inclusiveness, and social justice. Students will study, play, and perform together, as well as visit and collaborate with music schools and centers for social inclusiveness, including at hospitals, refugee centers, and more. Students and their mentors will become spokespeople for music that bears a message of respect and peace and that makes individuals aware of a musical community that connects and heals people.

In addition to touring, the GAIA will offer a dynamic learning environment with opportunities for dialogue and active social engagement to promote interconnectivity in the arts, humanities, and sciences.

"Through awareness and empowerment we motivate our students to find their own identity and realize their full potential as musicians, global thinkers and world citizens," added Pérez. "We will offer them perspectives that transcend categorization and stereotypes, while fostering a learning environment where fulfilling artistic, social, and intellectual experiences interconnects and shapes the personality of a new global musician."
The New School's School of Jazz and Contemporary Music, founded in 1986, is one of the most influential institutions of its kind. The quality and uniqueness of the school lie in its artist-as-mentor approach to learning, its progressive curriculum, small ensemble-based performance, a stellar faculty composed of artist-practitioners, and access to unique musical opportunities throughout New York City. Notable faculty include Reggie Workman, bassist, bandleader, composer; Ben Allison, bassist, bandleader, composer; Cecil Bridgewater, trumpet; Robert Hurwitz, President, Nonesuch Records; Yosvany Terry, saxophonist, percussionist, bandleader, composer; and Jimmy Owens, trumpet. Among the many remarkable artists who have given master classes or lecture presentations are Cassandra Wilson, Randy Weston, Geri Allen, George Lewis, Marc Ribot, Fred Wesley, Pat Metheny, Joshua Redman, Pauline Oliveros, Don Byron, Ben Sidran, Tommy LiPuma and George Wein.

Founded in 1919, The New School was born out of principles of academic freedom, tolerance, and experimentation. Committed to social engagement, The New School today remains in the vanguard of innovation in higher education, with more than 10,000 undergraduate and graduate students challenging the status quo in design and the social sciences, liberal arts, management, the arts, and media. The New School welcomes thousands of adult learners annually for continuing education courses and calendar of lectures, screenings, readings, and concerts. Through its online learning portals, research institutes, and international partnerships, The New School maintains a global presence.

MARKETING AND COMMUNICATION
79 Fifth Avenue
New York, NY 10003
www.newschool.edu
PRESS RELEASE
Media Contacts:
Amy Malsin,
The New School
212-229-5667 x 3094
malsina@newschool.edu
Follow @TheNewSchool