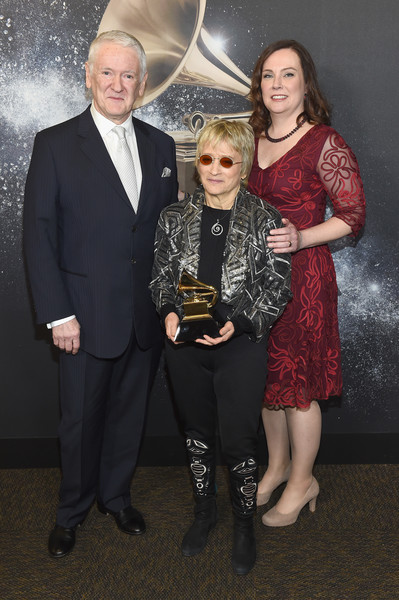 Jane Ira Bloom, center, with her Grammy award for Best Surround Sound Album
New York, January 30, 2018 - The New School's College of Performing Arts congratulates notable faculty and alumni who won Grammy's at the 60th Annual Grammy Awards, held in Madison Square Garden on January 28, 2018. Current faculty and alumni from Mannes School of Music, School of Jazz and Contemporary Music, and School of Drama were recognized across various genres for their contributions to albums and performances.
Faculty member and acclaimed soprano saxophonist Jane Ira Bloom produced "Early Americans," which won for Best Surround Sound Album. Greg Kurstin, who studied under Jaki Byard, won Producer of the Year, Non-Classical, his second time winning the award. Faculty member Arturo O'Farill composed "Three Revolutions," which won Best Instrumental Composition.
Anthony LaMarca, Jazz '09, is the guitarist for The War on Drugs, which won Best Rock Album for "A Deeper Understanding." Francesca Dardani, Mannes '10, performed with Kesha for her hit single "Praying," while Rachel Elise Sigman, Mannes '12, sang "The Little Boy" on the Houston Symphony's recording of "Wozzeck," which won for Best Opera Recording.
Jazzmeia Horn, Jazz '14, was nominated for Best Jazz Vocal Album for "A Social Call," and Marcus Baylor, Jazz '99, was nominated for both Best Jazz Vocal Album and Best Traditional R&B Performance for The Baylor Project's album "The Journey." Irene Sackoff, Drama '02, was nominated for Best Musical Theater Album as part of the cast of "Come From Away."
"We are thrilled to see our faculty and alumni recognized by the Grammys for the exciting music they write, perform, and produce," says Richard Kessler, Executive Dean of College of Performing Arts and Dean of Mannes School of Music. "Many faculty and alumni from The New School are Grammy winners and nominees, and we are proud to see this year's group join their storied ranks." 
The School of Jazz and Contemporary Music is a proud member of the Grammy Museum's University Affiliates program, which provides educational institutions with access to the rich musical history and archives of the Grammy Museum for educational purposes, curriculum resources, research programs, internship opportunities, professional development seminars, collaborative marketing and promotions, and project-based learning. This year, events on our New York City campus have included a concert in partnership with Take Me To The River, The Renaissance Youth Center, and the Grammy Museum, and the Grammy Museum's 9th Annual Grammy in the Schools Live concert.