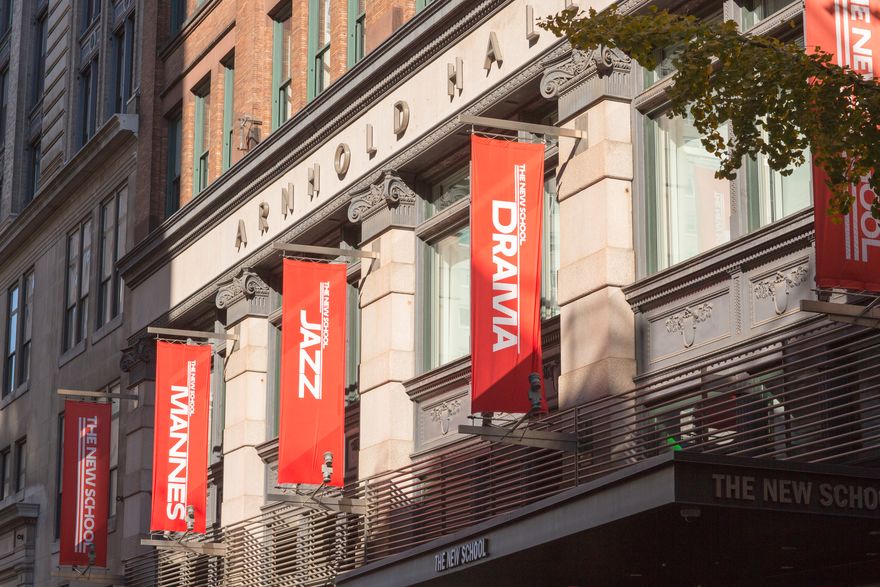 College of Performing Arts at The New School
NEW YORK, October 22, 2018 – The New School's Mannes School of Music will present two events in November featuring the work of the highly original and influential composer Julius Eastman, whose music has seen a dazzling resurgence over the last decade, following his death in 1990.
Guest conductor Luciano Chessa will lead the Mannes Orchestra in the world premiere performance of his own edition of Eastman's Symphony No. II - The Faithful Friend: The Lover Friend's Love for the Beloved, having restored the work from Eastman's original manuscript.
"At Mannes, we are drawn to opportunities to give voice to wonderful artists that have been overlooked or in need of discovery," said Richard Kessler, Dean of Mannes and Executive Dean for the College of Performing Arts. "Julius Eastman is one of those visionaries who, thanks to the work of his friends and dedicated followers like Luciano Chessa and Mary Jane Leach, will now survive to be heard by generations to come."

Performing this piece has been a dream of Chessa's for many years. Through the partnership between Chessa and Mannes, and thanks to support from Performa, NYC's Biennial of Performance Art, and Chessa's residency at the Steel House in Rockland, Maine, this important work will finally see its world premiere.
"[The Symphony No. II] has never been performed," said Chessa, "in part because it calls for rather ambitious forces (6 timpanists are needed, each one with 4 instruments, and then, well, 3 bass clarinets, 3 bassoons, 3 contrabass clarinets, 3 contrabassoons, 3 trombones, 3 tubas, etc., etc.), but also because the manuscript needed a lot of deciphering, and a lot of editorial intervention."
The performance of Eastman's Symphony No. II, his only known large orchestral work, is part of a full program to be performed by the Mannes Orchestra, led by David Hayes.
Alice Tully Hall, November 20 at 7:30 p.m.
David Hayes, Conductor
Luciano Chessa, Guest Conductor
Sarah Kirkland Snider: Something for the Dark
Julius Eastman: Symphony No. II - The Faithful Friend: The Lover Friend's Love for the Beloved (with guest conductor, Luciano Chessa)
Einojuhani Rautavaara: Symphony No. 3
Leading up to the world premiere performance of Eastman's Symphony, Mannes will present an Eastman-themed program curated by Luciano Chessa on November 3. The program consists in two parts: first, an open conversation between Chessa, composer Mary Jane Leach, and poet R. Nemo Hill - the dedicatee of Eastman's Symphony - in which the background of the piece and the process of editing the work from the single manuscript source will be discussed; and second, a performance of two of Eastman's piano works by Chessa and Adam Tendler: the premiere of his "Touch Him When" for piano four-hands in a transcription made by Sumanth Gopinath and Luciano Chessa; and a performance of "Hail Mary" [edited by Rocco di Pietro]. The program is co-presented by Performa and made possible by a generous grant from the Aaron Copland Foundation.
This event will occur at 3pm on November 3 at the New School's Auditorium at 66 West 12th Street.
Julius Eastman (1940-1990) was an artist who, as a gay, black man, aspired to live those roles to the fullest. He was not only a prominent member of New York's downtown scene as a composer, conductor, singer, pianist, and choreographer, but also performed at Lincoln Center with Pierre Boulez and the New York Philharmonic, and recorded experimental disco with producer Arthur Russell. 'Eastman is something of a cult figure among composers and singers', reads a 1980 press release.
Despite his prominence in the artistic and musical community in New York, Eastman died homeless and alone in a Buffalo, NY hospital, his death unreported until eight months later, in a Village Voice obituary by Kyle Gann. He left behind few scores and recordings, and his music lay dormant for decades until a three-CD set of his compositions was issued in 2005 by New World Records. In the years since, there has been a steady increase in attention paid to his music and life, punctuated by newly found recordings and manuscripts, the publication of Gay Guerrilla, a comprehensive volume of biographical essays and analysis, worldwide performances and new arrangements of his surviving works, and newfound interest from choreographers, scholars, educators, and journalists. 'The brazen and brilliant music of Julius Eastman…commands attention: wild, grand, delirious, demonic, an uncontainable personality surging into sound', writes Alex Ross for The New Yorker. (from musicsalesclassical.com)
Luciano Chessa is a composer, conductor, audiovisual and performance artist. His most recent record, Canti felice, has been released on the Parisian label Skank Bloc Records in Spring 2018. His compositions include Cromlech, a large organ piece that just premiered in Melbourne's Town Hall as part of a solo organ recital that received over 2,200 ticket bookings; the opera Cena oltranzista nel castelletto al lago—a work merging experimental theater with reality TV which required from the cast over 55 hours of fasting—and A Heavenly Act, an opera commissioned by the San Francisco Museum of Modern Art, with original video by Kalup Linzy. Chessa has been commissioned multiple times by the Performa Biennial, and in 2014 he presented three events at the Solomon R. Guggenheim Museum as part of the exhibition Italian Futurism, 1909-1944: Reconstructing the Universe. Chessa's work appeared more than once in Artforum, Flash Art, Art in America, and Frieze; and has been featured in the Italian issue of Marie Claire and in the September Issue of Vogue Italia. He has been interviewed twice by the British BBC, and has been the subject of two short documentaries: one produced by RAI World (2014), and the other by Vietnamese State TV VTV1 in the occasion of his first trip to Viet Nam (2015). Chessa is also a music historian specializing in 20th-century Italian and 21st-century American repertoire. He is the author of Luigi Russolo Futurist. Noise, Visual Arts, and the Occult (2012), the first monograph dedicated to Russolo and his "Art of Noise." In 2009, his Orchestra of Futurist Noise Intoners (OFNI) was hailed by the New York Times as one of the best events in the arts; Chessa has conducted this project across the USA and internationally to sold out houses including RedCat in Los Angeles, the New World Center in Miami, Radial System / Maerzmusik-Berliner Festspiele, the ArtScience Museum in Singapore, and Lisbon's Municipal Theater. With this project he collaborated with the likes of Joan La Barbara, Mike Patton, Lee Ranaldo, Ellen Fullman, Blixa Bargeld, Pauline Oliveros, among others. He just completed his residency at the Steel House in Rockland, ME, where he developed the audiovisual installation #00FF00 #FF00FF and prepared for Schirmer the diplomatic edition of Julius Eastman's Second Symphony, the world premier of which he is about to conduct at Lincoln Center's Alice Tully Hall with Mannes Orchestra. His chapter on Julius Eastman "Gay Guerrilla" closes the book of the same title—the first ever dedicated to Eastman's music. Edited by Mary Jane Leach and Renée Levine Packer for University of Rochester Press, "Gay Guerrilla" just came out on paperback.