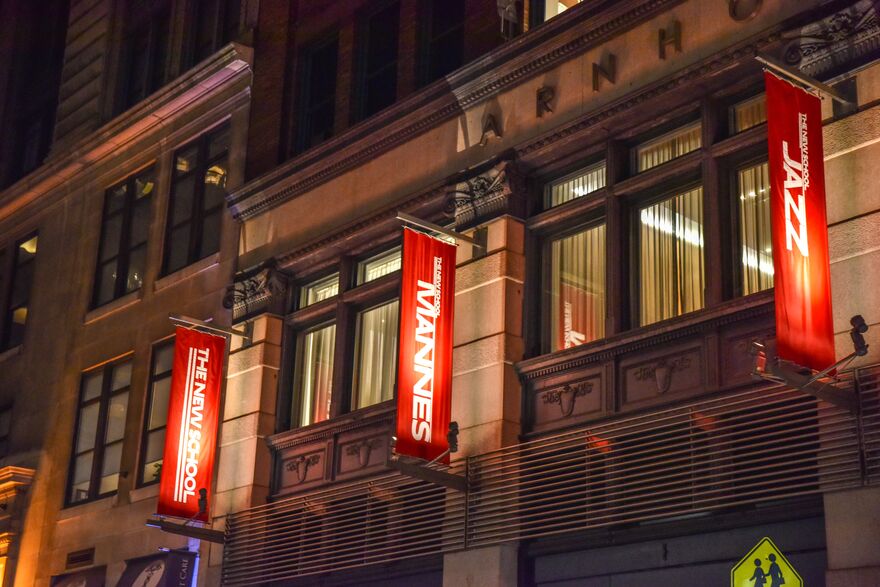 Arnhold Hall, home to Mannes School of Music in Greenwich Village
New York City, September 4, 2018 – Richard Kessler, Dean of Mannes School of Music and Executive Dean of the College of Performing Arts at The New School, has announced several new appointments to the Mannes faculty for the 2018/2019 academic year.
Among the distinguished artists and educators new to Mannes are the composer-pianist Timo Andres, pianist Xiayin Wang, trombonist-composer and founder of TILT Brass, Chris McIntyre, violinist and former member of the Chiara Quartet Rebecca Fischer, and Amirtha Kidambi and Gelsey Bell, both of whom are vocalists-composers-scholars.
"A cornerstone of what makes for a great music conservatory is the standard of excellence of its faculty," said Kessler. "This Mannes standard was set a century ago when David and Clara Mannes appointed Ernest Bloch and later George Szell, to teach composition and theory. Today, we are proud to announce the most recent additions to the faculty, an exemplary group of performers, composers, and pedagogues."
Andres, Wang, and Fischer will all have major lesson studios at Mannes. Additionally, Fischer will teach coursework in the areas of chamber music and musicianship. Chris McIntyre has been brought to Mannes to design a new course in small ensemble music for brass musicians, drawing on McIntyre's formidable expertise in experimental and new music. Kidambi and Bell have been appointed to radically rethink and teach music history at Mannes.
As previously announced: Emma Griffin has joined the Mannes faculty as Managing Artistic Director of the Mannes Opera; Matt Haimovitz joins as John Cage Fellow and Artist in Residence; and Jennifer Koh joins the violin faculty.
Other new faculty members include Yiheng Yang (fortepiano), Christina Lee (music theory), Sasha Zamler-Carhart (music history), and Ed Scarcelle (university librarian of The New School).
In addition to these new appointments, several current faculty step into expanded roles: Joan La Barbara, who has taught courses in experimental music and composition and who was the music director for Mannes's 2017 critically acclaimed production of Robert Ashley's Dust, has been appointed to both the composition and voice faculty, the first dual appointment of this kind in the history of Mannes. Nancy Wu, who has taught violin studio class for a number of years has also joined the violin faculty. Anthony Coleman, who has served in a number of roles, is now leading an ensemble course focused on John Zorn's legendary game based improvisation composition, COBRA.
About Timo Andres:
https://andres.com/
About Xiayin Wang:
http://xiayinwangpiano.com/
About Chris McIntyre:
http://www.cmcintyre.com/
About Rebecca Fischer:
http://www.rebeccafischerviolin.com/
About Amirtha Kidambi:
http://www.amirthakidambi.com/
About Gelsey Bell:
https://gelseybell.com/
Faculty of Mannes School of Music
Richard Kessler, Dean
INSTRUMENTAL
Violin
Shmuel Ashkenasi
David Chan
Miranda Cuckson
Ralph Evans
Rebecca Fischer
Lewis Kaplan
Christina Khimm
Michelle Kim
Jennifer Koh
Yibin Li
Curtis Macomber
Edna Michell
Daniel Phillips
Todd Phillips
Wen Qian
Todd Reynolds
Lucie Robert
Aaron Rosand
Ann Setzer
Mark Steinberg
Sally Thomas
Hiroko Yajima
Nancy Wilson
Nancy Wu
Viola
Paul Neubauer
Daniel Panner
Cynthia Phelps
Ira Weller
 
Cello
Timothy Eddy
Matt Haimovitz (artist-in-residence)
Myron Lutzke
Barbara Mallow
Peter Prosser
Marcy Rosen
Madeline Shapiro
Fred Sherry
Ronald Thomas
Jeff Zeigler
 
Double Bass
David Grossman
Orin O'Brien
Max Zeugner
Horn
Michelle Baker
Javier Gándara
David Jolley
Erik Ralske
Jeff Scott
 
Trumpet
Dave Douglas
Peter Evans
Mark Gould
David Krauss
Thomas Smith
 
Tuba
Alan Baer
 
Trombone
Demian Austin
George Curran
Chris McIntyre
Nicholas Schwartz
Weston Sprott
David Taylor
 
Bassoon
Marc Goldberg
Kim Laskowski
 
Clarinet
David Krakauer
Jon Manasse
Charles Neidich
Flute
Judith Mendenhall
Keith Underwood
 
Oboe
Elaine Douvas
Sherry Sylar
 
Percussion
James Baker
Maya Gunji
Joseph Tompkins
Glen Velez
Michael Werner
Piano
Eteri Andjaparidze
Arkady Aronov
Zelma Bodzin
Anthony Coleman
Jeremy Denk
Simone Dinnerstein
Pavlina Dokovska
Vladimir Feltsman
Hugo Goldenzweig
Richard Goode
Yuri Kim
Blair McMillen
Irina Morozova
Ursula Oppens
Jerome Rose
Thomas Sauer
Ann Schein
J Y Song
Nina Svetlanova
Vladimir Valjarevic
Xiayin Wang
Yiheng Yang (fortepiano)
Inessa Zaretsky
 
Collaborative Piano
Vlad Iftinca
Cristina Stanescu
 
Harpsichord
Arthur Haas
Harp
Barbara Allen
Emmanuel Ceysson
Susan Jolles
 
Guitar
Frederic Hand
Michael Newman
 
Saxophone
Allen Won
 
Orchestral Conducting
David Hayes
VOCAL AND THEATRICAL
Voice
William Burden
Amy Burton
Ruth Falcon
Bonnie Hamilton
Joan La Barbara
Arthur Levy
Dan Marek
Stephen Powell
Beth Roberts
Diana Soviero
 
Opera
Emma Griffin (Artistic Director)
Vocal Coaching and Performance
Lucy Arner
Thomas Bagwell
Susan Caldwell
Peter Castaldi
Pei-Wen Chen
Donna Gill
Neal Goren
Joshua Greene
William Gustafson
Vlad Iftinca
Anthony Manoli
Glenn Morton
Frank Nemhauser
Nils Neubert
Cristina Stanescu
Ted Taylor
Justin Williams
Susan Woodruff Versage
Choral Conducting
Mark Shapiro
 
Musical Theater
Melissa Rae Mahon
Kevin Newbury
Leslie Stifelman
 
Acting/Body Work
Julie Boyd
Irene Kling
Elizabeth Tobias
Rebecca Tuffey

THEORY, HISTORY AND COMPOSITION
Techniques of Music
Robert Cuckson
George Fisher
Jacob Garchik
Marylin Groves
David Loeb
Christina Lee
Rita Mitsel
Frank Nemhauser
Christopher Park
Nathan Pell
Simon Prosser
Lynne Rogers Edward Aldwell Professor in the Techniques of Music
Carl Schachter
Yuval Shapira
Ruka Shironishi
Hedi Siegel
Steven Smith
Michael Weinstein-Reiman
 
History and Literature of Music
Samantha Bassler
Gelsey Bell
Michael Charry
Allan Evans
Amirtha Kidambi
Jon Meadow
Sasha Zamler-Carhart
Composition, Arranging and Orchestration
Timo Andres
Michael Bacon
Anna Clyne
Robert Cuckson
Joan La Barbara
Lowell Liebermann
David T. Little
David Loeb
Missy Mazzoli
Paul Moravec
Rudolph Palmer
Huang Ruo

ENSEMBLES IN RESIDENCE
Imani Winds:
Valerie Coleman, Mark Dover, Monica Ellis,
Jeff Scott, Toyin Spellman-Diaz
The Newman and Oltman Guitar Duo:
Michael Newman, Laura Oltman
The Orion String Quartet:
Todd Phillips, Daniel Phillips, Steven Tenenbom, Timothy Eddy
COMPOSERS IN RESIDENCE
2018-2019: Jean-Baptiste Barrière
2017-2018: Jean-Baptiste Barrière
2016-2017: Kaija Saariaho and Jean-Baptiste Barrière
2014-2015: Aaron Jay Kernis
2013-2014: Uri Caine
2012-2013: Derek Bermel
2011-2012: Lowell Liebermann
2010-2011: Martin Bresnik
2009-2010: John Musto
2008-2009: Christopher Theofanidis
2007-2008: Jennifer Higdon
2006-2007: Paul Moravec
2005-2006: George Tsontakis
2004-2005: Chen Yi

21st CENTURY ARTIST PROFICIENCIES: ENTREPRENEURSHIP, COMMUNITY ENGAGEMENT, TECHNOLOGY AND INNOVATION

Stephen Buonanotte
John-Morgan Bush
William Brittelle
Elliot Cole
Joseph Colonna
Amanda Gookin
Jon Herbert
Robert Hurwitz Aaron Copland Fellow
Anna Jacobs
Tanya Kalmanovitch
Justin Kantor
Nathan Koci
Maggie Koozer
Elena Mannes
Kate Maroney
Martha McGaughey
Jannina Norpoth
Edward Rothstein
Daniel Roumain
Ed Scarcelle
Angela Shankar
Julie Shuchman
David Van Tieghem
David Williams