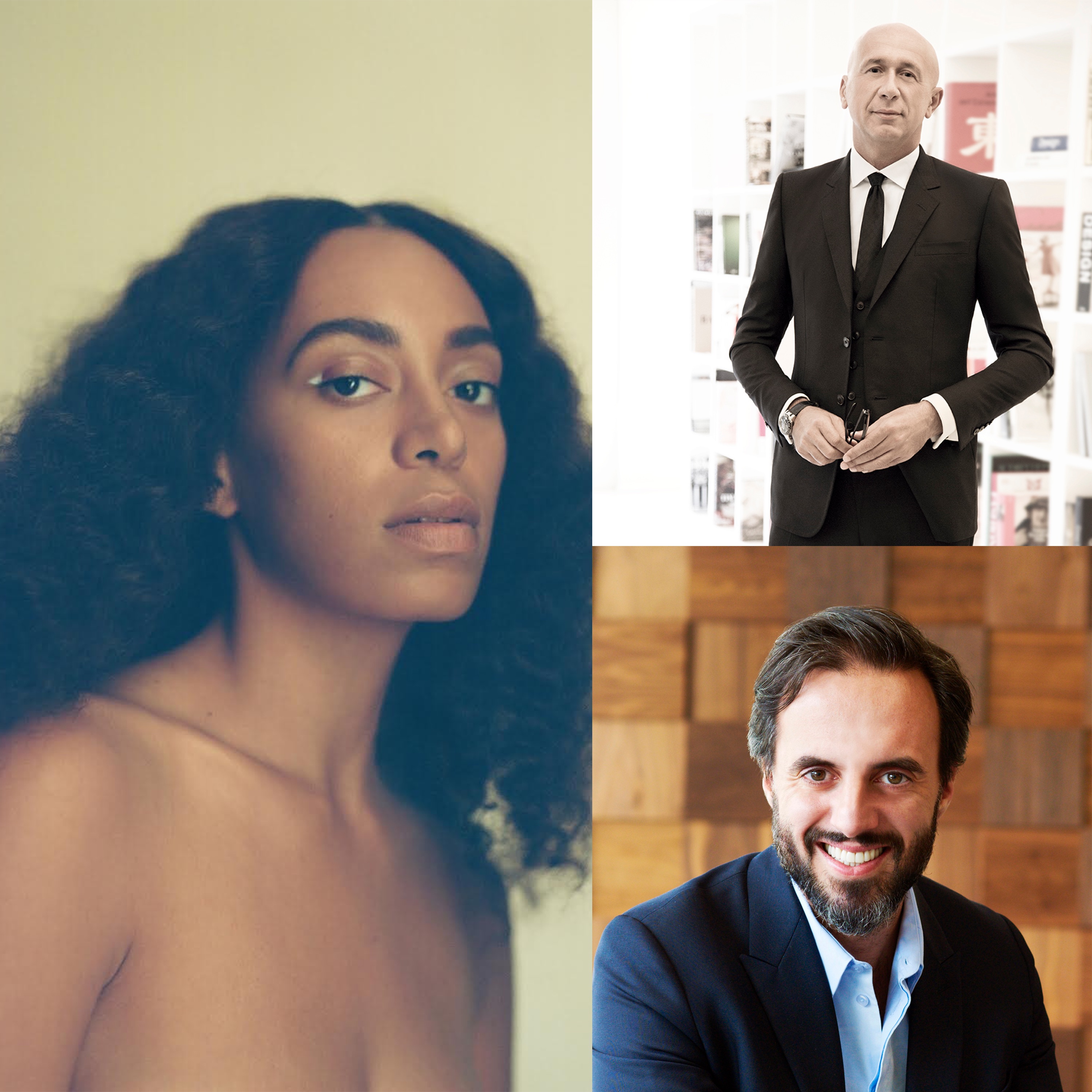 L-R: Solange Knowles, Marco Bizzarri, José Neves
New York, March 19, 2018 – The New School will celebrate the 70th anniversary of the Parsons Benefit by recognizing pioneering figures in fashion and the arts that embody the university's commitment to creativity and innovation. The evening honors acclaimed singer, songwriter, and artist Solange Knowles, Marco Bizzarri, President and CEO of the iconic Italian fashion house Gucci, and José Neves, Founder and CEO of the groundbreaking online retailer Farfetch, for their numerous innovative contributions to fashion, entrepreneurship, technology, and sustainability. The Parsons Benefit will take place on May 21, 2018 at Pier Sixty, New York, New York.
This honor recognizes the positive and far-reaching impact Solange, Gucci, and Farfetch have had within the fashion industry through their commitment to supporting future generations of designers and creating opportunities for inclusivity in design, entertainment, and fashion. Under the leadership of Marco Bizzarri and José Neves, Gucci and Farfetch have also embedded sustainability throughout their businesses, challenging our ideas about fashion's role in contemporary culture. These concepts of the transformative power of design are at the core of The New School and Parsons' mission and curriculum. Maybelline New York is the Silver Sponsor of the evening.
"We are thrilled to be honoring Solange for her notable contributions to the music and fashion industries, and Gucci and Farfetch for their deep commitment to fostering innovative and inclusive design," says Joel Towers, executive dean of Parsons School of Design. "Parsons was founded upon the idea that design can change the world, and our honorees are creating positive change that will impact the industry for years to come."
Parsons, one of the leading art and design schools in the world, hosts the Parsons Benefit, in collaboration with The New School's College of Performing Arts, each year to present and empower the next generation of fashion designers and performers, and to raise instrumental funds for student scholarships. Our donors' generosity through the Benefit supports education that enables students to pursue studies in art, design, liberal arts, music, technology, and social innovation.
"Today the ability to embrace change through innovation and creativity is fundamental. It's therefore an honor to be recognized by Parsons School of Design, one of this sectors most respected educational institutions that fosters this spirit in its graduates," says Marco Bizzarri. "We are proud to collaborate with other likeminded organizations that nurture maverick points of view and understand the power of artistic freedom."
"It is an honor to be recognized by Parsons alongside my friend Marco Bizzarri," says José Neves. "I believe strongly that institutions like Parsons help cultivate new generations of talent in design, technology and entrepreneurship who will innovate in our industry for years to come."
Solange, Marco Bizzarri, and José Neves join an esteemed list of past honorees. From Donna Karan to Tommy Hilfiger, LVMH to Macy's, Rihanna to Sarah Jessica Parker, The New School celebrates all creative talent.
This year's gala Benefit Chair is Julie Gilhart, along with Co-Chair Susan Rockefeller, and will include a show featuring the work of select graduating Parsons BFA Fashion Design students, as well as performances featuring students from the College of Performing Arts. The Benefit Committee for the event includes Imran Amed, Richard Baker, Natalie Massenet, Camillo Pane, François-Henri Pinault, and Anna Wintour.
About the Honorees:
Solange
Grammy Award-winning singer, songwriter, and visual artist, Solange Knowles has used her platform to advocate for representation and justice while providing constructive and empowering political messages. From her critically acclaimed album, A Seat at the Table, to performing for President Obama at the White House, Solange has invoked themes of identity, empowerment, grief and healing that have resonated with millions of voices that routinely feel silenced or overlooked. Her performance art shows at the Guggenheim Museum, the Chinati Foundation in Marfa, Texas, as well as her art installation at London's Tate Modern museum have all led to a defining career of visual art and activism.
Her efforts have led to her being a recipient of Glamour's Woman of the Year Award and Billboard's Impact Award at the end of 2017 and named Harvard University's Artist of the Year in March of 2018.
Solange Knowles released her debut album 'Solo Star' in 2002, bringing popularity to a new take on R&B that included Urban Contemporary elements. Proudly commanding her unique sound, she continued to explore the possibilities of straying from safe/radio-friendly jams by blending Jazz, Funk, Electonica and R&B/Soul elements in 'Sol-Angel and the Hadley St. Dreams' released in 2008 followed by her 'True' EP in 2012.
In 2016 Solange's album A Seat at The Table debuted at #1 on the Billboard Top 200 Chart, Apple Music, and iTunes Overall Top Albums Charts. The record's success led to her 2017 Orion's Rise performance series that included 2 sold out shows at Radio City Music Hall as well as shows at Hollywood Bowl, the Kennedy Center, the Greek Theatre, and Orpheum Theater. A portion of the proceeds from one of her Radio City Music Hall performances and all of the proceeds from her Orpheum Theater performance were donated to hurricane relief efforts.
Gucci
Marco Bizzarri was named president and CEO of Gucci in January 2015, after serving as CEO of Kering's Luxury – Couture & Leather Goods division, from April 2014 to January 2015, and as president and CEO of Bottega Veneta, from January 2009 to April 2014.
 
He first joined the Kering Group in January 2005 as president and CEO of Stella McCartney. Previously he was general manager of Marithé et François Girbaud in Paris. He also held various positions, including general manager, for the Mandarina Duck Group from 1993 to 2004, beginning his career as a consultant for Accenture.
 
Marco Bizzarri's mantra at Gucci has been to emphasize the importance of approaching the daily tasks of work in a different way, continually challenging and questioning the status quo and encouraging risk-taking within the framework of a learning organization – an organization based on a culture of empowerment, respect and inclusivity.
 
The astonishing turnaround that Gucci has achieved in the last three years – a unique case within the luxury fashion industry for a brand of its scale – has gained Marco Bizzarri a series of accolades, including the British Fashion Council's Business Leader of the Year Award for 2016 and 2017 and the WWD CEO/Creative Leadership Award for 2017. He was also the recipient of the Legion of Honour, France's highest decoration, in December 2017.
Farfetch
In 2008 José Neves launched Farfetch, bringing together his interests in fashion and technology, as well as his experience in design, wholesale and retail, to create a business that would celebrate and support the diversity of the global fashion industry. His vision was to create a single portal, offering independent boutiques the opportunity to compete with the leaders of fashion e-commerce.
Farfetch has since evolved into a platform for the luxury industry, connecting customers in over 190 countries with items from 700 of the world's best boutiques and brands from over 40 countries.
Prior to this, José launched footwear business SWEAR in 1996 and later founded SIX London, a fashion licensing and wholesale company selling to 600 retailers worldwide. In 2001 José opened B-Store, which won the British Fashion Award for Retailer of the Year in 2006.
José has received numerous accolades, including: Visionary Award at Decoded Fashion Futures Awards (2017), Business of Fashion's 500 People Shaping the Fashion Industry (2016 & 2015), Ernst & Young's 2013 Entrepreneur of the Year and Vogue's DirectorsOf.COM Top Entrepreneur in 2011. In July, 2016 José joined the British Fashion Council's board as a Non-Executive Director.
Tickets
Table sponsorships and individual tickets for the gala evening are available by contacting specialevents@newschool.edu. Visit our website for more information.