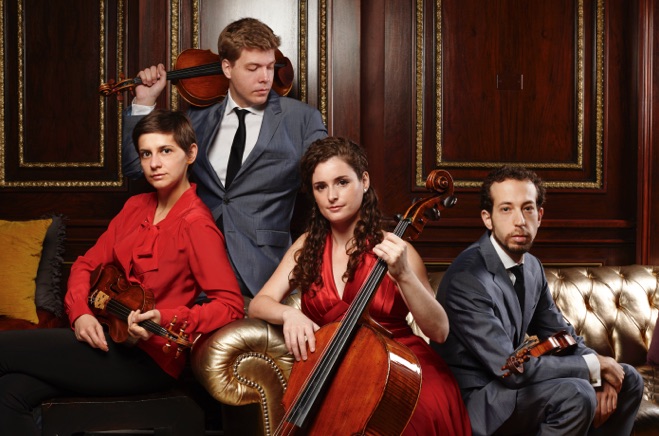 The Ariel String Quartet
NEW YORK, August 29, 2018 – The New School's Mannes School of Music announces the Schneider Concerts 2018-19 Season - six Sunday afternoon chamber music concerts.
The series opens with the chamber orchestra Shattered Glass in October 2018, closing with the Britain's Busch Piano Trio in April 2019, and in between will present the wind quintet Windsync and three string quartets, including the New York debut of the Callisto Quartet and the U.S. debut of Scotland's Maxwell String Quartet, as well as the Ariel Quartet. Each concert presents well-loved works of the chamber repertoire, along with contemporary pieces including works by Golijov, LeBoeuf, Shaw, Harbison, Turnage, and the premieres of new quartets by John Steinmetz and Francisco Coll.
The Schneider Concerts' mission to offer first-rate music at accessible admission fees means that these exceptional programs are available for less than the cost of a movie. Subscriptions are $80/6-concerts and $56/4-concerts for these Sunday at 2PM concerts presented in The New School's intimate Tishman Auditorium, located at 66 W. 12th Street in Greenwich Village. Single tickets are available $18 general admission and $16 for seniors. Call (212) 229-5873 or visit newschool.edu/mannes/schneider-concerts for more information.
In 1957, when the series was founded, excellent and mixed programs offering the wealth of great chamber music were a rarity, let alone financially and physically accessible concerts. Lincoln Center had just been built, and the Chamber Music Society of Lincoln Center was still more than a decade away. Founding artistic director Alexander Schneider saw this need and brought outstanding, affordable concerts to The New School. After his death in 1993 the series was renamed The Schneider Concerts in his honor. Artistic leadership is now under the auspices of a committee of noted musicians: John Dalley, Pamela Frank, Jennifer Koh, Jaime Laredo, Cho-Liang Lin, Anthony McGill, Kurt Muroki, Tara Helen O'Connor and Arnold Steinhardt.
Hailed in the New York Times as "one of the best deals in town for lovers of classical music," for more than six decades, The New School's Schneider Concerts series has presented outstanding young artists and ensembles at non-exclusionary ticket prices. The series' remarkable history that includes the New York debuts of pianist Peter Serkin and the Guarneri, Cleveland, Vermeer, and Johannes String Quartets and TASHI. Artists such as Yefim Bronfman, Richard Goode, Jaime Laredo, Yo-Yo Ma, and Murray Perahia were introduced to New York audiences early in their careers. More recently, the series has presented the New York debuts of the Dover, Calidore, Calder and Verona string quartets.
Today, audiences need outstanding, accessible, affordable, and adventurous concerts as much as they did in 1957 when this series was founded.
Visit newschool.edu/mannes/Schneider-Concerts or call (212) 229-5873 for tickets and information.
Sunday, October 14, 2018, 2:00 p.m.
SHATTERED GLASS chamber orchestra
A collaborative, conductorless, versatile and virtuosic chamber orchestra
Pascal Le Boeuf Transition Behavior (2016)
Caroline Shaw Entr'Acte (2011/2014)
Osvaldo Golijov Last Round (1996)
Béla Bartók Divertimento (1939)

Program approximately 1 hour and 30 minutes, including intermission
Sunday, November 11, 2018, 2:00 p.m.
WINDSYNC wind quintet
Garrett Hudson, flute
Emily Tsai, oboe
Julian Hernandez, clarinet
Kara LaMoure, bassoon
Anni Hochhalter, horn
This prizewinning Houston-based wind quintet builds highly thematic programs that feature landmark quintets, new works by American composers, and premiere arrangements of standard repertoire with the goal of increasing accessibility and cultural significance of wind chamber music.

Miguel Del Aguila Quintet No. 2 for Winds (1994)
Anton Reicha Quintet in E flat major, Op. 88 No. 2 (1818)
Alberto Ginastera Three Argentinian Dances (1937)
Dietrerich Buxtehude Passacaglia in D minor, BuxWV 161(c. 1690)
John Steinmetz What's Going On (2018) – NY Premiere

Program approximately 1 hour and 45 minutes, including intermission
Sunday, December 2, 2018, 2:00 p.m.
CALLISTO STRING QUARTET – NY DEBUT
Paul Aguilar and Rachel Stenzel, violin
Eva Kennedy, viola; Hannah Moses, cello
2018 Grand Prize Winner Fischoff Chamber Music Competition

Franz Schubert - String Quartet in C Minor, D 703 (1820)
Béla Bartók String Quartet No. 6 (1939)
Francisco Coll Cantos (2017) - NY premiere
Ludwig van Beethoven String Quartet Op. 59, No. 2 (1806)
Program approximately 2 hours, including intermission
Sunday, January 20, 2019, 2:00 p.m.
MAXWELL STRING QUARTET - US Debut
Colin Scobie and George Smith, violins
Elliott Perks, viola; Duncan Strachan, cello
1st Prizewinner and Audience Prizewinner at the 9th Trondheim International Chamber Music Competition in 2017, and hailed as "brilliantly fresh, unexpected and exhilarating" by The Scottish Herald, and "superb storytelling by four great communicators" by The Strad Magazine
Franz Joseph Haydn String Quartet in E flat Op 71, No 3 (1793)
Joey Roukens Visions at Sea (2011)
Robert Schumann String Quartet Op. 41, No. 1 (1842)
Program approximately 2 hours, including intermission
Sunday, March 16, 2019 2:00 p.m.
ARIEL STRING QUARTET
Alexandra Kazovsky and Gershon Gerchikov, violin
Jan Grüning, viola; Amit Even-Tov, cello
"...blazing, larger-than-life performance…" – The Washington Post
Wolfgang Amadeus Mozart Quartet No. 23 in F major, K. 590 (1790)
John Harbison Quartet No. 6 (2016)
Felix Mendelssohn Quartet No. 6 in F minor, Op. 80 (1847)
Program approximately 1 hour and 50 minutes, including intermission
Sunday, April 28, 2019, 2:00 p.m.
BUSCH PIANO TRIO
Omri Epstein, piano
Mathieu van Bellen, violin
Ori Epstein, cello

" ...effortless musicianship and unity of thought and attack" - London Times

Wolfgang Amadeus Mozart Piano Trio G Major, KV 564 (1788)
Mark-Anthony Turnage I. Slow Pavane (2004-05) II. Fast Stomp (2004) III. Short Procession (2003)
Johannes Brahms Piano Trio in B Major, Op. 8 (1854)
Program approximately 2 hours, including intermission
The 2018-19 Schneider Concerts Season is supported by the Alexander Schneider Foundation and with public funds from the New York City Department of Cultural Affairs, in partnership with the City Council.