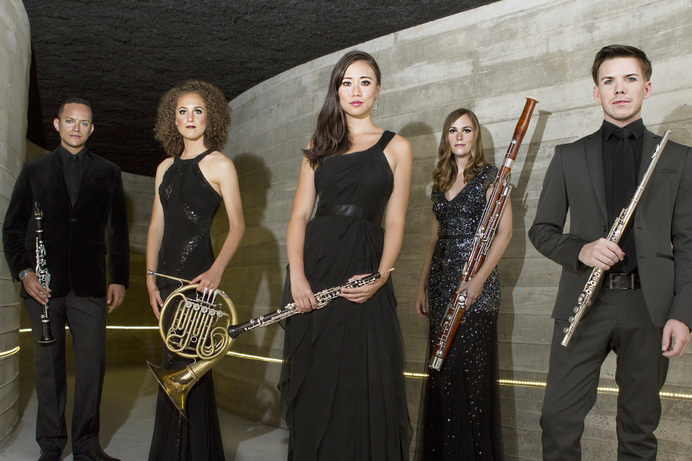 WindSync. Photo by Shannon Langman.
NEW YORK, October 12, 2018 – On Sunday, November 11, 2018 at 2p.m. the Schneider Concerts, a program of The New School's Mannes School of Music, presents WindSync in a program of Ginastera, Reicha, Buxtehude, Miguel Del Aguila and a John Steinmetz premiere.
The performance will take place in The New School's Auditorium at 66 W. 12th Street. Visit newschool.edu/mannes/Schneider-Concerts or call (212) 229-5873 for tickets and information.

Sunday, November 11, 2018, 2:00 p.m.
WindSync
Garrett Hudson, flute
Emily Tsai, oboe
Julian Hernandez, clarinet
Kara LaMoure, bassoon
Anni Hochhalter, horn
Miguel Del Aguila Quintet No. 2 for Winds (1994)
Anton Reicha Quintet in E-flat Major, op. 88 No. 2 (1818)
Alberto Ginastera Three Argentinian Dances (1937)
Dieterich Buxtehude Passacaglia in D Minor, BuxWV 161 (c. 1690)
John Steinmetz What's Going On (2018) NY Premiere
Program approximately 1 hours and 45 minutes, including intermission
Single tickets on sale now
$18 single ticket general admission
$16 single ticket seniors 65+ and people with disabilities
$ 5.00 standby, students 30 and younger with school ID
For details and to purchase tickets, visit www.newschool.edu/mannes/schneider-concerts
In its ninth season, WindSync, the prizewinning Houston-based wind quintet builds highly thematic programs that feature landmark quintets, new works by American composers, and premiere arrangements of standard repertoire with the goal of increasing accessibility and cultural significance of wind chamber music. WindSync is recognized for dramatic, fully memorized concert presentations. WindSync tours nationally and internationally, appearing at venues including the Schubert Club (MN), Met Museum, Shanghai Oriental Arts Center, and Weill Recital Hall at Carnegie Hall. Advocates of 21st century musicianship models and community-oriented programming, the members of WindSync have led master classes at New World Symphony, Texas Music Festival, and the University of Maryland Renegade Series, among others. Premieres include works by Paul English, Garrett Schumann, Paul Lansky, Michael Gilbertson, and Mark Buller. WindSync has also served as ensemble-in-residence for the Chamber Music Festival of Lexington (KY), Grand Teton Music Festival, and the Da Camera of Houston Young Artists Program.
Hailed in The New York Times as "one of the best deals in town for lovers of classical music," for six decades, The New School's Mannes School for Music's Schneider Concerts series has presented outstanding young artists and ensembles at non-exclusionary ticket prices. The series' remarkable history includes the New York debuts of pianist Peter Serkin and the Dover, Calidore, Guarneri, Cleveland, and Vermeer String Quartets and TASHI. Artists such as Yefim Bronfman, Richard Goode, Jaime Laredo, Yo Yo Ma, and Murray Perahia were introduced to New York audiences early in their careers. The series was founded at The New School in 1957 as New School Concerts by violinist and conductor Alexander Schneider, who led the series until his death in 1993, at which time the series was renamed The Schneider Concerts in his honor. Artistic leadership is now under the auspices of a committee of ten noted musicians: John Dalley, Pamela Frank, Jennifer Koh, Jaime Laredo, Cho-Liang Lin, Anthony McGill, Kurt Muroki, Tara O'Connor, and Arnold Steinhardt.