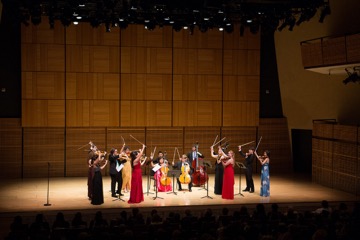 Shattered Glass. Photo by Brian Hatton.
NEW YORK, September 17, 2018 – On Sunday, October 14, 2018 at 2 p.m. the Schneider Concerts, a program of The New School's Mannes School of Music, presents the Shattered Glass Chamber Orchestra in a program of Golijov, Bartok, Pascal LeBoeuf and Caroline Shaw. The performance will take place in The New School's Auditorium at 66 W. 12th Street.

Sunday, October 14, 2018, 2:00 p.m.
Shattered Glass Chamber Orchestra
Pascal Le Boeuf Transition Behavior (2016)
Caroline Shaw Entr'Acte (2011/2014)
Osvaldo Golijov Last round (1996)
Bela Bartok Divertimento (1939)
Program approximately 1 hour and 30 minutes, including intermission
In 2012 a group of friends in New York City came together to form a conductorless string ensemble that was truly collaborative and self-operated. Virtuosic and versatile, Shattered Glass has performed repertoire ranging from J.S. Bach and W.A. Mozart to Krzysztof Penderecki and crossover projects with Grammy nominated hip-hop artists. From the concert hall to the salon, Shattered Glass adapts in size to fit the venue and repertoire, transforming from an intimate duo to a full chamber orchestra – at times within a single performance.
In the spirit of collaboration, Shattered Glass members regularly rotate the role of principal player and participate in a democratic system for creating and selecting programs. The result is a fresh and exciting approach to all aspects of performance which has led to a wide array of opportunities: A self-governed Midwest tour, performances at high profile events such as at TEDxEAST, a Carnegie Hall premiere at Zankel Hall in 2013, and a performance in Carnegie Hall's Stern Auditorium in 2014 featuring violin soloist Alexander Markov. Equally active in educational outreach, Shattered Glass has worked with hundreds of young artists at schools and programs in New York, New Jersey, Iowa, Illinois, and Michigan.
Hailed in the New York Times as "one of the best deals in town for lovers of classical music," for more than six decades, The New School's Schneider Concerts series has presented outstanding young artists and ensembles at non-exclusionary ticket prices. The series' remarkable history that includes the New York debuts of pianist Peter Serkin and the Guarneri, Cleveland, Vermeer, and Johannes String Quartets and TASHI. Artists such as Yefim Bronfman, Richard Goode, Jaime Laredo, Yo-Yo Ma, and Murray Perahia were introduced to New York audiences early in their careers. More recently, the series has presented the New York debuts of the Dover, Calidore, Calder and Verona string quartets.
Today, audiences need outstanding, accessible, affordable, and adventurous concerts as much as they did in 1957 when this series was founded.
The 2018-19 Schneider Concerts season is supported by the Alexander Schneider Foundation and with public funds from the New York City Department of Cultural Affairs.
Visit newschool.edu/mannes/Schneider-Concerts or call (212) 229-5873 for tickets and information.
Single tickets on sale now
$18 single ticket general admission
$16 single ticket seniors 65+ and people with disabilities
$ 5.00 standby, students 30 and younger with school ID
For details and to purchase tickets, visit www.newschool.edu/mannes/schneider-concerts