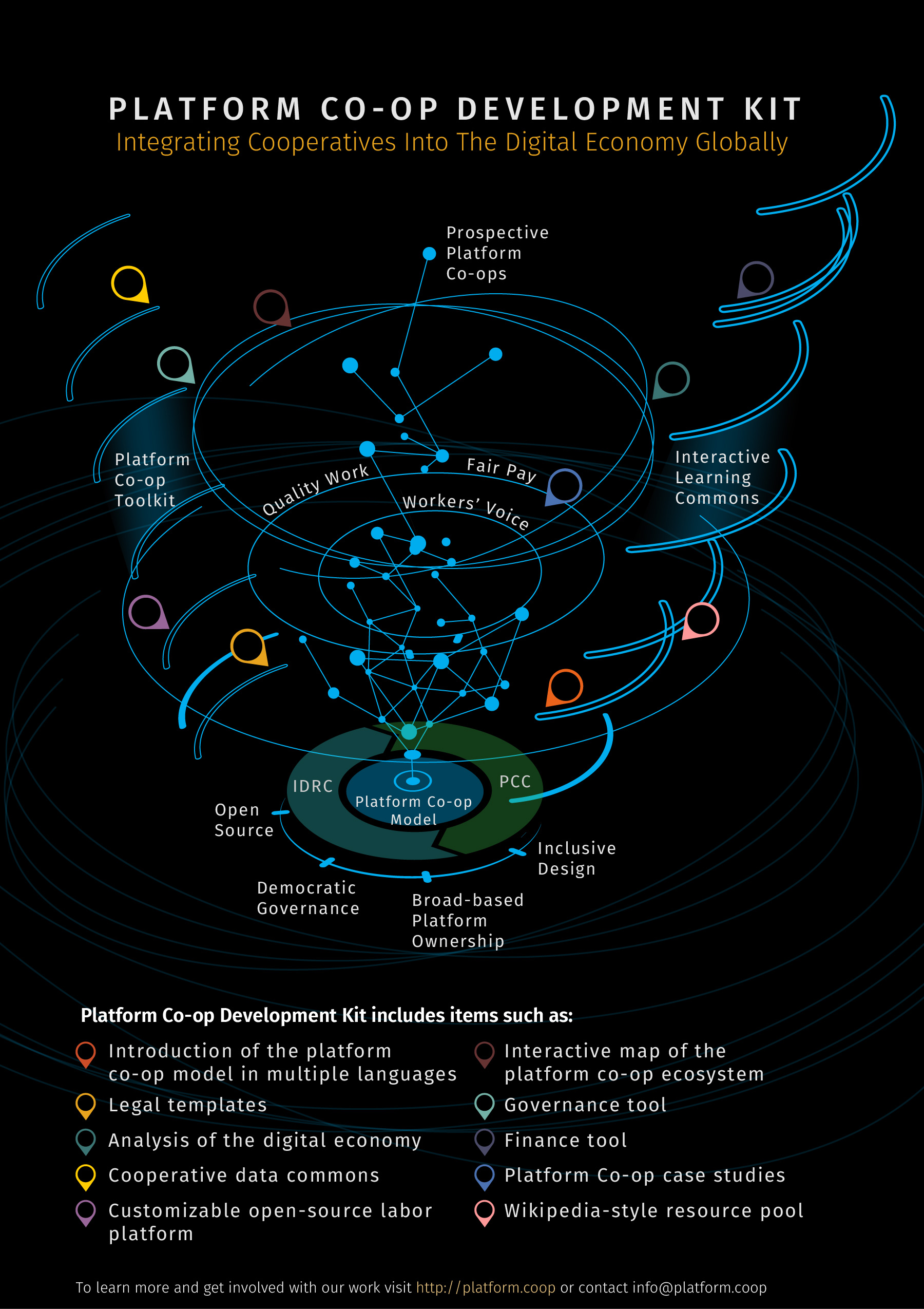 The Platform Co-Operative Kit

New York City, May 30, 2018 – The New School is proud to announce that the Platform Cooperativism Consortium, founded and directed by Trebor Scholz, Associate Professor of Culture and Media at Eugene Lang College, has received a Google.org grant for pioneering work on Platform Cooperativism.

The grant supports the economic development of cooperatives in the digital economy. It focuses specifically on creating a critical analysis of the digital economy, and designing open source tools that will support platform co-ops working in sectors such as child care, elder care, home services, and recycling​ in the United States, Brazil, Australia, Germany, and India. Platform co-ops are websites or apps that are owned and democratically governed by workers and/or users. This initiative will be led by Trebor Scholz --founder of the Platform Cooperativism Consortium (PCC) at The New School-- in collaboration with the Inclusive Design Research Center (IDRC) at OCAD University, headed by Jutta Treviranus.

Planning for this project has taken place throughout the 2017/2018 academic year, and work will begin in July 2018.

"This grant is a big win for the cooperative movement and for platform co-op pioneers all over the world," says Trebor Scholz. "This Kit will make it easier to start and run platform co-ops. It will also provide an interactive map of the co-op ecosystem and essential community-edited resources. Google.org has provided funding to develop the Kit, which will combine the research of the PCC and the practical knowledge of the thriving platform co-op community with the inclusive design and development strengths of the IDRC. But to build out this critically important and timely project into further territories and sectors, additional funding will be needed."

The grant will also allow Scholz and the Consortium to engage other leading organizations committed to creating jobs with fair pay and good working conditions for diverse populations working in the digital economy. By applying the cooperative model to digital labor, the Platform Co-op Development Kit offers a compelling alternative to the otherwise extractive and on-demand digital economy.

"I offer my congratulations to Trebor Scholz and thank the Google Foundation for its support," says David Van Zandt, President of The New School. "The Platform Co-op Development Kit exemplifies The New School's commitment to the best kind of cross-disciplinary research and design."


Workers, policymakers, industry leaders and cooperative experts from across the globe also expressed their support of the project and the grant.
"This project by the Platform Cooperative Consortium is offering critical support to help us build technology that we own, that meets our needs, and elevates our profession." - Pam Franks, family childcare provider (Springfield, Illinois) and CoRise Cooperative advisor

"The International Co-operative Alliance has called on co-operators to explore the potential of platform co-operatives. In November 2017, our General Assembly approved a motion on the Platform Co-operatives unanimously. When looking at the digital economy, platform cooperatives can provide a real stake in the business to workers and good quality service for users." - Ariel Guarco, President of the International Co-operative Alliance

"Ownership of the web is increasingly centralized in the hands of a few companies. Projects like The Platform Co-op Development Kit give us the power to change that." - Mark Surman, CEO of Mozilla


"One key to revitalizing our political democracy is to build more economic democracy. So I'm thrilled to support the platform co-op model." - Brad Lander, New York City Council Member
​
"The British Labour Party is committed to building a 21st century cooperative economy which places workers and consumers in charge of their own lives. In particular, we will foster the development of platform cooperatives that can provide higher wages, more job security and mutual ownership within the digital economy. The Platform Co-op Development Kit will be an important contribution to achieving our ambitious goals. I encourage more funders to support this initiative." - John McDonnell MP, Shadow Chancellor of the Exchequer

"Platform co-ops will make for a stronger economy that works for more people. It's a very promising, exciting possibility for the world. I predict the platform co-op movement will continue to grow - and projects like the Platform Co-Op Development Kit will help!" - Scott Heiferman, founder and CEO of Meetup.com

"The Platform Co-op Development Kit connects the economic advantages of co-ops with genuine innovation in the digital economy. The project could change the lives of many people in Brazil for the better. The Brazilian cooperative numbers counts with more than 6.600 coops with 13 million members and 375 thousands direct jobs. The entire movement can be benefited by the Platform Co-op Development Kit."
- Márcio Lopes de Freitas, President of the Organization of Brazilian Cooperatives

"The platform co-op model helps cooperatives to participate in the digital economy. Platform ownership, high quality services, and fair work are powerful points of differentiation that matter to customers and that are not available to any other type of business in the digital economy. The Platform Co-op Development Kit will significantly advance this important work."
- Howard Brodsky, Chairman and CEO of CCA Global Partners, Chairman of Cooperatives for a Better World, Board Member of National Cooperative Business Association

"Through the Google.org Work Initiative, we're supporting new efforts to help underserved communities prepare for and adapt to our rapidly changing economy. Google.org is proud to support The Platform Cooperativism Consortium (PCC) at The New School as part of this initiative, as they experiment with innovative ways of organizing businesses" -  Andrew Dunckelman, Economic Opportunity Lead at Google.org

"Co-operatively owned platforms are needed urgently to address the power imbalance between the people who do the work on platforms and the owners of the platforms. In areas like social care, platform co-ops deliver agency and empowerment for workers and high quality and consistent services for consumers of disability and aged care. But their potential use is much more varied and wide. The Australian co-operative sector which counts 2000 businesses and 8 in 10 Australians as members, is proud to be a part of this important initiative through our support for the Platform Cooperative Consortium." - Melina Morrison, CEO Business Council of Co-operatives and Mutuals, Australia