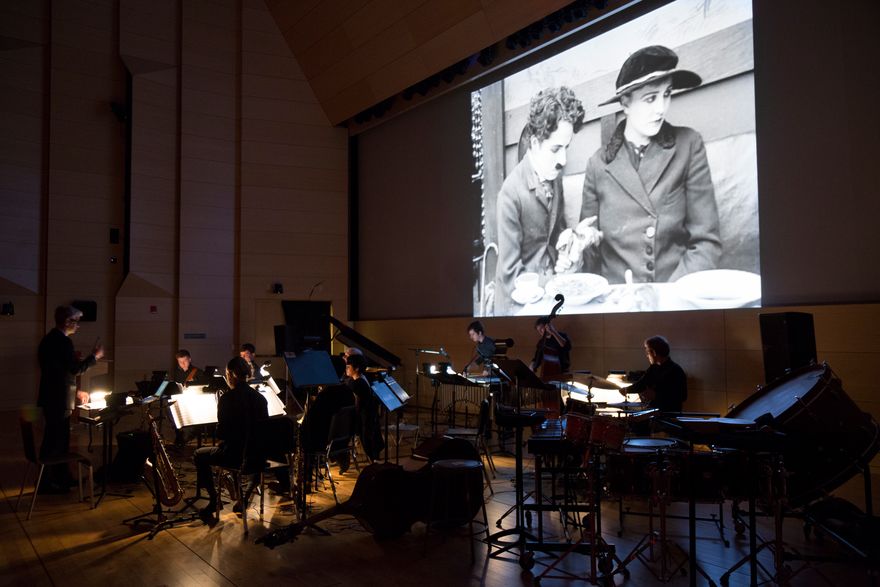 Students performing to a Charlie Chaplin film during (Un)Silent Film Night
February 28, 2018 – The New School's College of Performing Arts welcomes the public for the seventh edition of its ever popular (Un)Silent Film Night series, with four short films, encompassing both live action and animation. Members of the faculty of the School for Jazz and Contemporary Music will lead the College of Performing Arts Theater Orchestra, incorporating improvisational elements in the performance.
"(Un)Silent Film Night is one of our most exciting events of the year, bringing our world-renowned faculty and students together in a unique and adventurous performance," says Keller Coker, Dean of School for Jazz and Contemporary Music. "This year, groups of students will perform improvised soundtracks to four short films, which will showcase their diverse skills and deep knowledge of music for a lively evening of entertainment."  
Now in it's 7th edition, this year's (Un)Silent Film Night will feature students performing to four short films, including Shadows Choose Their Horrors, Charlie Chaplin's The Pawnshop, and Superman a.k.a. The Mad Scientist and The Mechanical Monsters. The ensembles will be led by Marc Ribot, Kris Davis, and Reggie Workman and Andrew Cyrille, respectively.
Previous editions of this popular event have drawn capacity crowds to the Tishman Auditorium and have been hosted by Matthew Broderick, Rob Bartlett, and Ed Rothstein. The series has been critical in advancing the resurgence of film screenings with live music and has presented the world premiere of works composed for The Birds, The Immigrant (by Nathan Kamal and Alexis Cuadrado respectively), an NYC premiere of a score by Hollywood composer Craig Marks for the film Sherlock, Jr and Charlie Chaplin's original score for the film, Gold Rush.
(Un)Silent Film Night: Improv Edition will take place on Friday, March 16th at 7:00 pm in The New School's Tishman Auditorium at 63 5th Avenue.