the vera list center for art and politics at the new school announces endowment from new york city gallerist jane lombard
Endowment funds the Jane Lombard Prize for Art and Social Justice, a biennial and international award honoring artists who have advanced social justice with a bold project that has long-term impact and is recognized for artistic excellence

Prize winner and finalists to be announced at the inaugural Vera List Center Forum Thursday, October 4th and Friday, October 5th at 6:30 p.m. at The New School's Tishman Auditorium, 63 5th Avenue, New York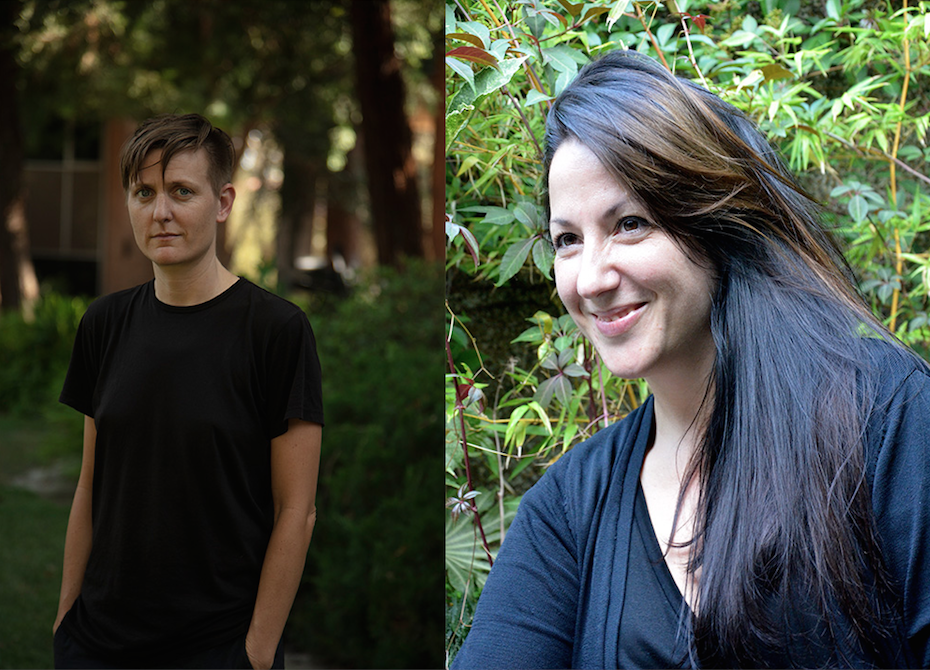 2018-2020 Vera List Center Fellows L-R: Dean Erdmann. Photo by Valerie Greene. Helene Kazan. Photo by Manca Bajec.

October 2, 2018 – NEW YORK, NY – The Vera List Center for Art and Politics at The New School — a scholarly research center and a public forum for art, culture, and politics — announces a gift from gallerist Jane Lombard of one Alexander Calder's signature mobiles, Red Tulip (1950), which is currently on display at The New School's University Center. In recognition of this generous gift, the Vera List Center has renamed its biennial and international award the Jane Lombard Prize for Art and Social Justice. Additionally, Ms. Lombard's family has made a major grant through the Kettering Fund to support the Vera List Center.

The prize — which was previously awarded to Theaster Gates for Dorchester Projects (2012–14), anonymous Syrian film collective Abounaddara (2014–16), and Brazilian artist Maria Thereza Alves for Seeds of Change (2016-2018) — honors an artist or group of artists who have advanced social justice with a bold project that has long-term impact and is recognized for artistic excellence. The winner and finalists will be announced on the first day of the inaugural Vera List Center Forum on Thursday, Oct. 4.


More than a singular moment of recognition, the prize offers a $25,000 financial award in addition to an international conference on the winning project, an exhibition at Parsons School of Design at The New School in October 2019, and a publication. With the new endowment, the projects by the prize recipient and the finalists will become a focus of interdisciplinary curriculum at The New School supplemented by text-based and multimedia resources made available to artists, scholars, and the public.

"The Vera List Center offers a platform on which artists can be identified and honored for speaking to the many social and political problems existing today," said Lombard, a Vera List Center advisory board member whose New York-based Jane Lombard Gallery has long promoted emerging and mid-career artists whose work engages with contemporary political and social issues around the world. "My hope is that this prize will enable artists to educate New School students and the public and bring much-needed awareness to critical issues."


"Jane Lombard's extraordinary gift speaks to her conviction that artists everywhere are needed to help address urgent social and political issues in our communities," says Carin Kuoni, VLC director and chief curator. "We share this belief, and are honored to be invited to contribute to international understanding and social change through an expanded prize initiative."

"If Art is Politics" features thought leaders in art, policy and academia in a discussion of the political viability of art. An annual international convening in October, the Forum will each year explore particularly pertinent topics of that moment. The forum will feature a keynote address on Thursday, Oct. 4. by artist and curator Jolene Rickard (Tuscarora).


Additionally, at the Forum, visual artist Dean Erdmann and artist, curator, and writer Helene Kazan will be announced as the 2018-2020 Vera List Center Fellows. Erdmann and Kazan will join Vera List Center Director and Chief Curator Carin Kuoni in a conversation about their projects on Friday, Oct. 5 at 6 p.m.

This Center's fellowships support individuals whose work advances the discourse on art and politics, in relation to the Vera List Center's 2018-2020 curatorial focus theme of "If Art is Politics." Fellows receive research support through New School faculty and graduate student assistants, a public platform for the presentation of their work, short-term residencies in New York City, and a stipend of $10,000. Among former fellows are Maurice Berger, Lawrence Abu Hamdan, Jill Magid, Walid Raad, and Lorraine O'Grady.


Fellowship Projects
Dean Erdmann's work often engages perception and transformation, addressing the politics of place, class, and the body. During her Fellowship at the Vera List Center, and in collaboration with the New School community, Dean Erdmann will create a semi-autobiographical, environmental installation on the subject of American illiberalism. Weaving together film, sculpture, photography, and text, Dean Erdmann will consider how our historical pasts have produced our current moment of social and political crisis. Dean Erdmann's Fellowship project will draw global links between America, Germany, and Japan, as well as the comparatively cheap thrills of motorcycling and the high price of stimulant use, to tie together the working class and poor, legacies of war, and the subcultural thrill of speed.
 
Helene Kazan's work explores the intersection of international law and the revolutionary potential of the poetic testimony of violence, in the production of legal justice. Building on the model of inter-disciplinary practice recently established in the exhibition and public program Points of Contact in Lebanon, Kazan will collaborate with the wider community of The New School to create a multi-media and inter-disciplinary platform through an exhibition and public program. Kazan's project will explore and answer complex questions on the legal agency of poetic testimony of violence, towards a reparative process of international legal justice. In doing so, Kazan will raise questions central to thinking of what role the curator, artist, exhibition space, or cultural institution plays, in regards to the register of slow, structural and spectacular modes of enacting violence.
Dean Erdmann's work addresses the politics of place, class, and the body. Erdmann uses still and moving images from found and original footage to create her work, and often creates or uses archives as source material. She manipulates footage into new forms, rearranging, destabilizing, and building anew its form. Through the intensity of the visual experience, which may entail meditative, hypnotic, or hallucinatory experiences, the viewer becomes acutely aware of their perceptive capacities and how those link to their bodies, feelings, and knowledges. Through this sensorial and experiential engagement, she proposes new strategies for viewing that challenge habitual engagement. In doing so, Erdmann invites the audience to become collaborators, as they synthesize ideas and experiences, and become agents in the creative process as well.
 
Helene Kazan's work observes the architecture of the lived built environment in Lebanon as a material sensor of risk, produced through an evolving integrated limit condition of conflict and capitalism. Forcing its impact through slow, structural, and spectacular modes of enacting violence, Helene Kazan's research traces a historic inscription of these technologies of governance, read through an intersectional observation of international law, architecture, and the human bodily experience of affect. Framing the often chaotic or hysteric nature of voicing evidence as poetic testimony, Helene Kazan's research questions the politics of dominant methods of producing evidence that often excludes or render the human body invisible.
The Vera List Center for Art and Politics is a scholarly research center and a public forum for art, culture, and politics. It was established at The New School in 1992—a time of rousing debates about freedom of speech, identity politics, and society's investment in the arts. A pioneer in the field, the Center is a nonprofit that serves a critical mission: to foster a vibrant and diverse community of artists, scholars, and policymakers who take creative, intellectual, and political risks to bring about positive change.
Founded in 1919, The New School was born out of principles of academic freedom, tolerance, and experimentation. Committed to social engagement, The New School today remains in the vanguard of innovation in higher education, with more than 10,000 undergraduate and graduate students challenging the status quo in design and the social sciences, liberal arts, management, the arts, and media. The New School welcomes thousands of adult learners annually for continuing education courses and calendar of lectures, screenings, readings, and concerts. Through its online learning portals, research institutes, and international partnerships, The New School maintains a global presence.

MARKETING AND COMMUNICATION
79 Fifth Avenue
New York, NY 10003
www.newschool.edu
PRESS RELEASE
Media Contacts:
Amy Malsin,
The New School
212-229-5667 x 3094
malsina@newschool.edu
Follow @TheNewSchool