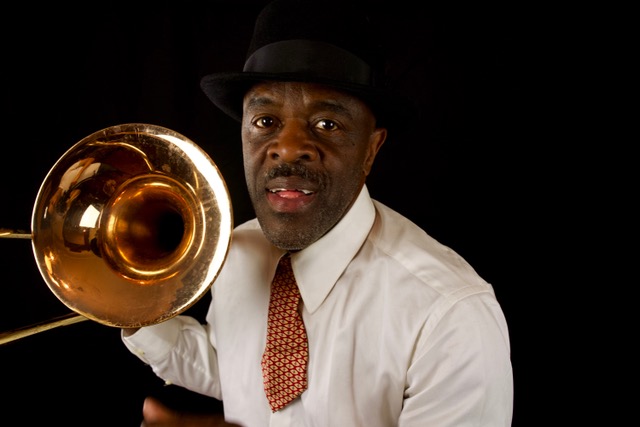 Craig Harris

NEW YORK, NY – Oct 10, 2019 – The New School's Vera List Center for Art and Politics is proud to present the re-creation of a historic performance of FESTAC '77 by jazz legend Craig Harris as the culminating event of its 2019 Forum dedicated to art as a political practice. The Forum highlights African artist collective Chimurenga, winner of the Jane Lombard Prize for Art and Social Justice, in a three-day installation of its Pan African Space Station (PASS), a roving curatorial platform which stages exhibitions, puts on radio shows, and facilitates research. The special one-night performance of Harris' FESTAC '77 will be presented on Friday, October 25, from 7:30 to 8:30 p.m. at The New School's Tishman Auditorium.

In 1977, Lagos, Nigeria, hosted FESTAC '77, the largest cultural festival in Africa, celebrating the cultures of the continent and in the African diaspora after centuries of colonial occupation. The arrival of PASS at the Vera List Center features a three-day broadcast that will explore the participation of African American artists, activists, and intellectuals in this 2nd World Black and African Festival of Arts and Culture held in January-February 1977. The nearly 700-strong U.S. delegation at FESTAC '77 was "the largest single group of African Americans ever to return to Africa in one body" (Ebony magazine), and included luminaries such Sun Ra, Stevie Wonder, Audre Lorde, Alice Walker, Jayne Cortez, Barkley Hendricks, Betye Saar, Louis Farrakhan, Faith Ringgold and many, many more.

This PASS landing will feature many participants from the 1977 event, closing on October 25 with a rare performance of composer and trombonist Craig Harris' suite titled FESTAC '77 inspired by his experience travelling to Lagos for the festival as a member of Sun Ra's Arkestra. The concert will be the first in over thirty-five years, since its original world premiere in March 1982 at Saint Peter's Church and a June 1982 performance at Carnegie Hall in New York City.

The presentation of FESTAC '77 is co-produced by Arts & Education Continuum and the Vera List Center for Art and Politics. The 2019 Vera List Center Forum is curated by Carin Kuoni and Eriola Pira.

Statement from Craig Harris, David Randolph Distinguished Artist in Residence at the Vera List Center, on FESTAC '77:


In January of 1977, I attended FESTAC, the Second World Black and African Festival of Arts and Culture in Lagos, Nigeria, as a member of the Sun Ra Arkestra. This trip informed me as to my place in the world as a musician and a person. It was deeply impactful to see and interact with people from the entire African Diaspora. Every day, I would go to the different compounds of different countries and absorb myself into my people — so different, yet so alike. The long, daily conversations about music, dance, food, religion, etc. made every day like a master class, from the members of the Guiana Ballet to the theater group from Australia to the night time highlight at Fela Anikulapo Kuti's infamous Shrine. As a composer, I had no choice but to convey this in music. In the spring of 1981, I started and completed FESTAC '77. The world premiere was in March 1982 at Saint Peter's Church, New York City. In June 1982, a section of it was performed and recorded at Carnegie Hall and released on Warner Brothers Elektra/Asylum records as "The Young Lions."

The work is for a small chamber ensemble of five strings, three reeds, two brass, four percussions, and voice, and is divided into eight sections. It reflects my experience from and meditations on my trip and the significance of being a young African American on the continent for the first time, joining so many others from the diaspora, celebrating ourselves and our culture.

For FESTAC to be presented again at this time in history, the year 2019, four hundred years since the first Africans were kidnapped and brought to this continent, is to acknowledge our strength as a people. It is taking the tragic and making it magic! It is excelling against all odds and still standing.


Performers: 
Craig Harris - Composer/Trombone/ Didgeridoo
Shanyse Strickland– french horn
Frank Vacin – woodwinds
Jim Ferraiulo – woodwinds
Patience Higgins – woodwinds
Jessica McJunkins – violin
Chiara Fasi – violin
Crystal Garner - viola
Terrence Thornhill - cello           
Melissa Slocum – bass       
Shirazette Tinnin – drums
Neil Clarke - percussion
Abdou Mbaye - percussion
Brehima Gueye - percussion
Althea SulleyCole - kora
Amma Whatt – vocals

About Craig Harris
When Craig Harris exploded onto the jazz scene in 1976, he brought the entire history of the jazz trombone with him.  From the growling gutbucket intensity of early New Orleans music through the refined, articulate improvisation of the modern era set forth by J.J. Johnson, and into the confrontational expressionism of the '60s avant-garde, Craig handled the total vernacular the way a skilled orator utilizes the spoken word. He has performed with a veritable Who's Who of progressive jazz' most important figures – including Sun Ra, Cecil Taylor, Sam Rivers, Abdullah Ibrahim, Jaki Byard, Muhal Richard Abrams, David Murray, Henry Threadgill, Lester Bowie, The WORLD Saxophone Quartet, The Roots, RAKIM and the list goes on and on – his own projects displayed both a unique sense of concept and a total command of the sweeping expanse of musical expression. And it's those two qualities that have dominated Craig's past 15 years of activity, bringing him far beyond the confines of the jazz world and into the sphere of multimedia and performance art as composer, performer, conceptualist, curator and artistic director.


About Chimurenga
Chimurenga is a Pan-African platform of writing, art and politics founded by Ntone Edjabe in 2002. Drawing together myriad voices from across Africa and the diaspora, Chimurenga takes many forms operating as an innovative platform for free ideas and political reflection about Africa by Africans. 

Outputs include a journal of culture, art and politics of the same name (Chimurenga magazine); a quarterly broadsheet called The Chronic; The Chimurenga Library—an online resource of collected independent Pan-African periodicals and personal books; the African Cities Reader—a biennial publication of urban life, Africa-style; and the Pan African Space Station (PASS)—an online radio station and pop-up studio.

Taking advantage of both the intimacy and unpredictability of the live radio studio space and the reach and scope of the internet, the Pan African Space Station seeks to forge new collaborations across time and space. A combination of live conversations, discussion sessions, and performances, together with exhibitions of new and archival material, interrogate our shared histories.

About the Vera List Center for Art and Politics
The Vera List Center for Art and Politics is a scholarly research center and a public forum for art, culture, and politics. It was established at The New School in 1992—a time of rousing debates about freedom of speech, identity politics, and society's investment in the arts. A pioneer in the field, the Center is a nonprofit that serves a critical mission: to foster a vibrant and diverse community of artists, scholars, and policymakers who take creative, intellectual, and political risks to bring about positive change.