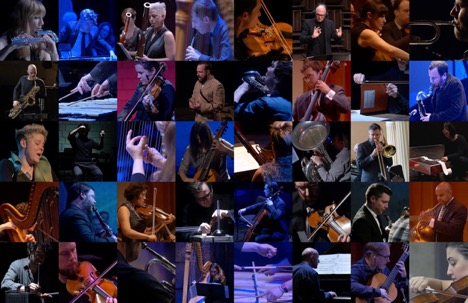 The International Contemporary Ensemble
New York, October 2, 2019 – The New School's College of Performing Arts (CoPA) and the International Contemporary Ensemble (ICE) are pleased to announce an exciting new partnership focused on training and inspiring emerging artists to redefine the role of classical music in the world today.
CoPA and ICEensemble have joined forces to develop new programs and curricula that give young artists the tools and resources to bridge the gap between the collegiate and professional worlds. By creating a space for developing and emerging musicians to work side-by-side with members of the renowned International Contemporary Ensemble, this new partnership opens a window for young artists into the processes and methods used by one of today's most renowned new music ensembles to commission, develop, workshop, and premiere new work. Several initiatives developed by the Ensemble will find a unique curricular home at The New School, emphasizing shared values of innovation, sustainability, and social engagement and inviting students into every step of each process.
"We knew back in 2016 when Mannes partnered with ICE to produce Kaija Saariaho's Passion du Simone that we wanted to continue working with them and build something out of the ordinary," said Richard Kessler, Executive Dean of CoPA and Dean of Mannes School of Music. "Three years later we have rolled up our sleeves with ICE to create a foundational partnership that places ICEensemble at the absolute center of what the Mannes School of Music, School of Drama, and School of Jazz and Contemporary Music are all about."
"The New School is teeming with creative talent and radical thinkers," said Ross Karre, Co-Artistic Director, ICEensemble. "It is a nexus of important inquiries into how performing arts can be created and experienced."
The partnership begins this fall with a collaborative course inspired by the Ensemble's OpenICE series. The residency will continue throughout the academic year and include ICEensemble's summer intensive, Ensemble Evolution, which will take up residency at the College of Performing Arts.
OpenICEensemble Moves Into the Classroom
Beginning in September, eighteen CoPA students will participate alongside seven members of the International Contemporary Ensemble and CoPA faculty members in a new iteration of OpenICE – the landmark initiative that shares ICEensemble's most essential elements of their working process with the public. In this version of OpenICE, members of the Ensemble and students at CoPA will collaboratively produce a series of concerts featuring newly developed works via the ICEcommons platform. The new works will be performed at CoPA's Glassbox Theater and Stiefel Hall, as well as at the New York Public Library for the Performing Arts at Lincoln Center.
Ensemble Evolution in Residence at CoPA
Ensemble Evolution, ICEensemble's renowned summer program where young artists explore the ever-evolving range and depth of meaning that accompanies ensemble playing today, will move to the College of Performing Arts in the summer of 2020.
Previously in residence at Banff, Ensemble Evolution is a summer intensive that gives young musicians the opportunity to create side-by-side with members of ICEensemble and renowned guest artists, where together they engage in a holistic approach to making music, building community, and imagining pathways forward for the future of collective music making. One hallmark of the program is the democratic principles that underpin its operation: contrary to the dominant model of summer music intensives, at Ensemble Evolution, participants have a key role in shaping all elements of the program. They take increasing responsibility for programming, rehearsing, and producing concerts, which culminates in a participant-driven day of performance. Ensemble Evolution will take advantage of CoPA's Arts Management and Entrepreneurship curriculum and faculty to broaden the experience for participants. Students will work alongside ICEensemble, CoPA faculty, and community partners to conceive, workshop, rehearse, and premiere new works.
As the 21st century musical landscape continues to evolve, new models that will allow artists and organizations to thrive in the creative economy are plentiful and growing. This partnership will ensure that young artists are equipped with the skills needed to take advantage of new technologies and platforms to shape the music of tomorrow. Through a range of collaborative courses, performances, and initiatives that tie those skills together with their shared values of equity, sustainability, and social justice, ICEensemble and CoPA seek to help young artists do just that.
"ICE is thrilled to be joining the virtuosically forward-thinking ethos of The New School", says Co-Artistic Director Rebekah Heller. "Together, we aim to empower young artists to think holistically about the future of musical arts — using collaboration as a guide to increasing sustainability, responsibility and openness."