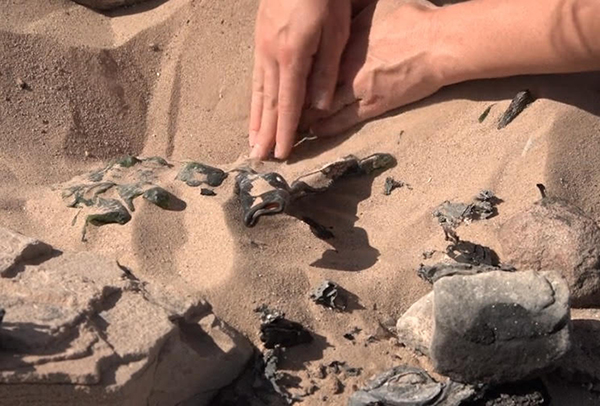 Dean Erdmann, Video still from Glass, 2019, (c) Dean Erdmann.

New York, January 10, 2020 --The New School's Sheila C. Johnson Design Center and Vera List Center for Art and Politics in conjunction with Urban Glass, presents And, Apollo, a work in progress by artist Dean Erdmann that combines experimental documentary, video, and sculpture to connect autobiography to historical pasts. The exhibition will be on view at the Arnold and Sheila Aronson Galleries of The New School from January 16 - February 11, 2020.

Erdmann has been developing And, Apollo, which ties personal narrative to current moments of social and political crisis, as a 2018-2020 Fellow at Vera List Center for Arts and Politics. The narrative of the exhibition is anchored in the Mojave Desert, the place where the artist grew up and the background for their ongoing exploration of Americana, the body, and queerness.

"The Vera List Center is proud to have supported Dean Erdmann's research project as a 2018-2020 VLC Fellow and the presentation of this semi-autobiographical, environmental installation at The New School," says Eriola Pira, Curator, Vera List Center for Art and Politics. "The project draws global links between America, Germany, and Japan in addressing politics of place, class, and the body, through an exploration of speed and methamphetamine use."


Using artifacts and storytelling, Erdmann turns the Californian desert into a landscape reverberating with connections between the Cold War Space Race, militarization, technological acceleration, All Terrain Vehicle (ATV) culture, class, and meth addiction. What might seem to be unrelated histories and cultural expressions, rituals, or diseases, are distilled into a complex narrative that crystallizes intersections between the deeply personal and geopolitical.

Untitled (Sand), a meditative, almost mystical video work on sand, sound, wind, underscores And, Apollo's exploration of speed, technology, and time, and foreshadows the project's very specific connections to working-class Desert Americana. Riding ATVs, descendants of the lunar landing vehicle of the Apollo Missions, has a rich culture in the desert, and local ATV riders often build giant bonfires, which litter the desert terrain with translucent glass detritus.


The glass objects on view in And, Apollo — ranging from tires to handlebars — reference the bonfires of ATV culture. Glass is also a nickname for crystal meth, which in the exhibition, is embodied in Ephedra sinica plants, containing the ephedrine used by amateurs to illegally manufacture crystal meth. Erdmann's video Glass (work in progress) weaves voice and screen logs from Apollo's Space Command with descriptions of meth use by German World War II soldiers, and includes conversations Erdmann had with their family about meth use.

Together, the works on view become a multifaceted reflection of the artist's intimate knowledge of the desert's physical force, its potential for radical openings and different forms of being, as well as its geopolitical complexities. In the desert landscapes of And, Apollo, Dean Erdmann discovers materialities and their transformation, queer fragmentation, and cosmic exploration.


"In a highly poetic way, And, Apollo takes us on an associative trip through the desert that reveals deep connections between subcultures and global narratives of progress," says Christiane Paul, Director/Chief Curator, Sheila C. Johnson Design Center.


The exhibition is organized by:

Christiane Paul, Director/Chief Curator, Sheila C. Johnson Design Center


Eriola Pira, Curator, Vera List Center for Art and Politics

Press preview and walk-through with the artist and Christiane Paul is scheduled for January 16, from 4 pm to 6 pm. In conjunction with the exhibition, the Vera List Center hosts Queer Archives: Between the personal and the institutional, a conversation with artists Dean Erdmann, Tiona Nekkia McClodden, Carlos Motta and The New School Professor, Shannon Mattern, moderated by Christiane Paul. Monday, January 27th, 7-9 PM.

And, Apollo: A Laboratory is a 2018-2020 Vera List Center Fellowship project and has been supported by funds, research assistance, and residencies in New York and Berlin provided by the Vera List Center for Art and Politics. Additional support has been provided by Urban Glass and the Sheila C. Johnson Design Center.