Parsons School of Design Appoints two new faculty members to join school of fashion
Joshua Williams and Christopher Lacy will join Parsons on July 1st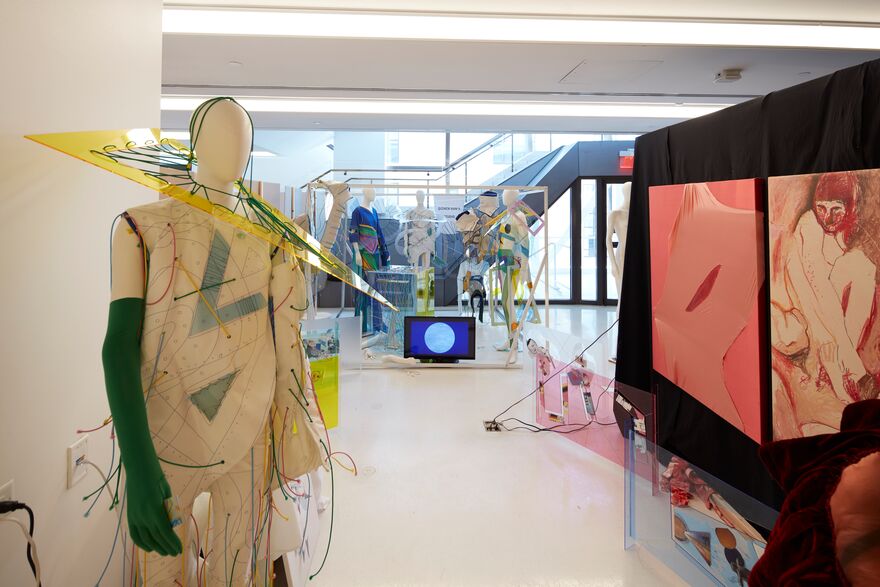 An installation of student work at Parsons' recent graduate exhibit
New York, June 26, 2019 – The New School's Parsons School of Design today announced that Joshua Williams and Christopher Lacy have been appointed Assistant Professors in the School of Fashion. They will formally join Parsons, one of the world's leading art and design schools, on July 1, 2019.
Williams and Lacy will primarily teach in the new MPS in Fashion Management, which welcomes its first cohort of students beginning in September, 2019. Overseen by award-winning fashion designer, musician and author Keanan Duffty, the state-of-the-art program will prepare students to advance and transform their careers and teach them how to create innovative ideas for fashion businesses, start-ups, and other fashion-related services.
"I am delighted to welcome Joshua Williams and Christopher Lacy to the faculty at Parsons," said Duffty. "Both bring unparalleled levels of experience in fashion retail, branding, and education to the new MPS in Fashion Management program."
The MPS in Fashion Management is a year-long, immersive program that explores the fashion industry from a range of perspectives, including entrepreneurship, consumer psychology, technology, and new business models, among others. Students engage in conversations around the balance of creativity and commerce, how businesses and start-ups can reinvent existing systems, solutions for social media and e-commerce, and the crucial need for sustainability and social responsibility at all levels of the industry. As part of the School of Fashion at Parsons School of Design, students will benefit from the academic leadership, resources, and industry networks that have placed Parsons at the forefront of fashion education.
"It is my honor to join Parsons as an Assistant Professor," said Joshua Williams. "Redefining a graduate level education for a new generation of students is imperative to meeting the demands of a fast-changing fashion business environment. This program breaks the traditional four walls of the classroom, connecting rigorous academic theory and research with a real-world, real-time experience. It is entrepreneurial in approach, challenging students to think differently—to innovate at the nexus of creativity and commerce. I look forward to engaging with students, faculty, and administration in this exciting endeavor."
"I am truly privileged to join Parsons School of Design as Assistant Professor," said Christopher Lacy. "Parsons is an institution that firmly believes in creativity, leadership, and the power of change when we share knowledge in a collaborative environment. It is an honor for me to join a brand with innovative faculty and students who will continue to change the way we see ourselves, our community, and our industries."
Joshua Williams is an experienced creative director, consultant, educator and personality. Joshua has a master's degree in Global Fashion Management (FIT, IFM, HKPU) and a bachelor's degree in Theatre Arts (BYU). His expertise includes fashion branding, advertising, social media and retail. Clients include: JM, Adornia, Miguelina, Anne Valerie Hash, Andrew Marc, Vh1 Save the Music, and "West East" magazine. He is the co-founder of QueerCut, an LGBTQ marketplace and is currently working on a book that considers the intersection between gender, sexuality and fashion.  Joshua was a full-time professor and chair of Fashion Merchandising & Management at Berkeley College for five years, responsible for 1,000+ students and 30+ faculty across nine campuses. In 2016, he developed the fashion design program for Bergen Community College. Additionally, he has taught for FIT, LIM, The New School, Gateway (Telemark, Norway) and as a guest lecturer at EAFIT (Medellin & Bogota, Colombia), ISEM (Madrid, Spain) and University of Navarre (Pamplona, Spain). He recently developed three courses for the MFA and MPS graduate programs at FIT, which he taught. Each week, he hosts Faces & Places in Fashion, interviewing iconic fashion innovators.
Christopher Lacy is a strategic customer experience, and operations executive who has worked across multiple markets in the US including New York, Los Angeles, and Dallas over the last 20 years. Throughout the course of his career he has managed and strategized for businesses such as Armani, Hugo Boss, Donna Karan, Omega, Zilli and Gucci. Most recently, Christopher leveraged his expertise to evolve the business and client engagement at Barneys New York as the Director of Customer Experience, Learning and Strategy. He was a Chairperson for the Barneys New York Foundation with an objective to support key causes in LGBT, education and the arts. Currently, Christopher supports RuiRu Rising, Native Son Now, and New Alternatives; organizations that focus on the enhancement of education in Kenya, the empowerment of gay men of color and support for teens who are in the process of transitioning. Christopher is the founder and owner of Christopher Lacy Consulting, a business committed to assisting companies build and execute training initiatives and client development strategies that improve external and internal customer journeys. He has developed curriculum for the Parsons Executive Global Leadership Team as well as conducted lectures and workshops at Polimoda.

Parsons School of Design is one of the leading institutions for art and design education in the world. Based in New York but active around the world, the school offers undergraduate and graduate programs in the full spectrum of art and design disciplines. Critical thinking and collaboration are at the heart of a Parsons education. Parsons graduates are leaders in their respective fields, with a shared commitment to creatively and critically addressing the complexities of life in the 21st century. For more information, please visit www.newschool.edu/parsons.
Founded in 1919, The New School was established to advance academic freedom, tolerance, and experimentation. A century later, The New School remains at the forefront of innovation in higher education, inspiring more than 10,000 undergraduate and graduate students to challenge the status quo in design and the social sciences, liberal arts, management, the arts, and media. The university welcomes thousands of adult learners annually for continuing education courses and public programs that encourage open discourse and social engagement. Through our online learning portals, research institutes, and international partnerships, The New School maintains a global presence.

MARKETING AND COMMUNICATION
79 Fifth Avenue
New York, NY 10003
www.newschool.edu
PRESS RELEASE
Media Contacts:
Will Wilbur,
The New School
212.229.5667x3990
wilburw@newschool.edu
Follow @TheNewSchool