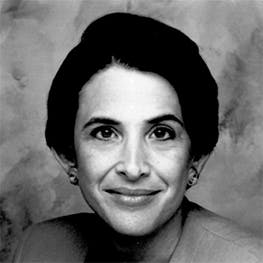 Linda E. Rappaport
New York, October 7, 2019 -- The Board of Trustees at The New School today announced that Linda E. Rappaport, a leading executive compensation and corporate governance lawyer, New School Trustee and longtime supporter of the university, has been elected Board Chair. She succeeds Joseph R. Gromek, who has held that position since 2012 and will remain a member of the Board of Trustees. 
Ms. Rappaport's three-year term will begin when The New School's new president joins the university. The New School is currently engaged in a search for a new leader as David Van Zandt concludes his presidency after nearly a decade in the role.
"As a Trustee, Linda has played a critical role in some of the most important initiatives across The New School," Mr. Gromek said. "She has been involved in virtually every aspect of the Board's activities – always collaborative and always available to offer insight and knowledge – and has been especially active with the university's Mannes School of Music. Her formidable skills along with her passion for The New School will help us continue to build on and sustain the remarkable legacy of the university. I look forward to working with Linda as she takes on the role of Board Chair."
"Our Board of Trustees plays a vital role in assuring The New School's unwavering commitment to the ideals of academic excellence, innovation, and engaged citizenship," said President Van Zandt. "Linda embodies the leadership and dedication that our Trustees bring to the work of the governing boards. Over the past decade, she has been instrumental in setting us on the path toward becoming a stronger university."
Ms. Rappaport is an internationally recognized lawyer with the firm of Shearman & Sterling, where she focuses on all aspects of executive compensation and corporate governance. Her practice also encompasses corporate acquisitions, divestitures, public offerings, restructurings and related transactions. She has served as counsel to major global corporations and their Boards of Directors. Ms. Rappaport is an active lecturer and prolific author on board governance and legal practice. She earned her B.A. from Wesleyan University and her J.D. from NYU School of Law.
Ms. Rappaport was elected to The New School Board of Trustees in 2009 and serves on a number of Committees, including as Co-Chair of the President Search Committee and as a member of the Executive Committee and Committee on Trusteeship. Long active in New School affairs, Ms. Rappaport's association with the university began in 2004, when she joined the Mannes School of Music Board of Governors. She was appointed Chair in 2009 and continues to serve in that role. Ms. Rappaport is also active in other social justice and women's empowerment organizations.
As Chair of the Mannes Board of Governors, Ms. Rappaport has overseen a transformational period for the acclaimed conservatory, helping to further establish the School as a leading destination for talented musicians around the world. She was closely involved in uniting Mannes with the university's Schools of Drama and Jazz and Contemporary Music to form the College of Performing Arts at The New School. Ms. Rappaport is also an accomplished flutist and plays in the Mannes Community Orchestra as well as other orchestras in the New York area.
"I am honored to be elected Chair of the Board of Trustees," Ms. Rappaport said. "It is a privilege to serve this wonderful university, with our dedicated fellow Trustees, under President Van Zandt's leadership, and alongside the talented members of our faculty, administration, student body and alumni. Working together, we will continue to support this special university's vital mission of advancing scholarship, leadership, innovation and social justice."
Ms. Rappaport takes the helm of The New School Board as the university celebrates its Centennial and looks ahead to the next 100 years. With more than 10,000 undergraduate and graduate students and 146 degree programs, The New School is the only university with a large, comprehensive design school, strong social sciences, humanities, and the performing arts. The university continues to expand its offerings through new degree programs and interdisciplinary study options designed to equip graduates for globalization, urbanization, and technological innovation.
Ms. Rappaport added, "I greatly appreciate and admire the dedicated service and vision that Joe Gromek has provided during his seven-year term as Board Chair. The New School is fortunate to have had his leadership, and I look forward to continuing the strong partnership between the Board and the President."