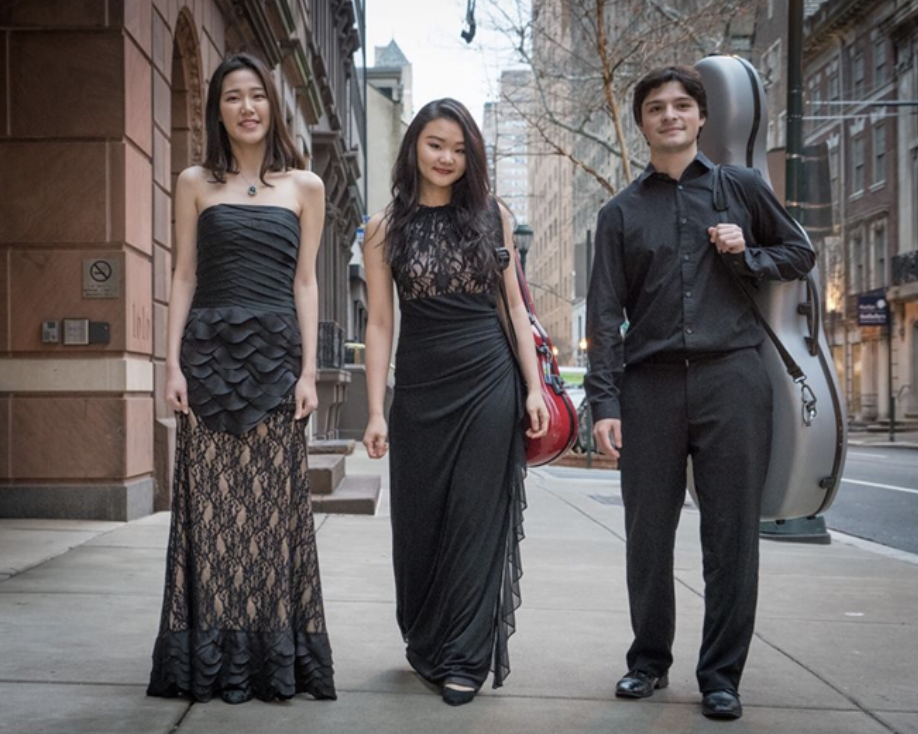 The Aya Trio
NEW YORK, November 11, 2019 – On Sunday, December 8, 2019 at 2p.m. The Schneider Concerts, a program of The New School's Mannes College of Music, presents the Aya Piano Trio in a program of Mozart, Arensky and Ravel. The performance will take place in The New School's Auditorium at 66 W. 12th Street. Visit newschool.edu/mannes/Schneider-Concerts or call (212) 229-5873 for tickets and information.

Sunday, December 8, 2:00 p.m.
Aya Piano Trio
https://youtu.be/WnfrWVq0wgw  (Performs Mozart Trio No.4 in C major, K. 548)
Wolfgang Amadeus Mozart Piano Trio C Major, K. 548 (1788)
Anton Arensky Trio No. 1 in D Minor, Op. 32 (1894)
Maurice Ravel Trio in A Minor (1914)
Program approximately 1 hour and 30 min., including intermission
Single tickets on sale now
$18 single ticket general admission
$16 single ticket seniors 65+ and people with disabilities
$ 5.00 standby, students 30 and younger with school ID
For details and to purchase tickets, visit www.newschool.edu/mannes/schneider-concerts
Based in Philadelphia, AYA Trio was formed in 2013 at the Curtis Institute of Music where they have since studied with Peter Wiley as their main coach and regularly with Jonathan Biss, Arnold Steinhardt, and Meng-Chieh Liu.

The trio have performed extensively across the U.S. In 2018, they won the WDAV Young Chamber Musicians Competition in NC, where they were just recently re-invited for a residency of recordings and concerts. They have participated in chamber music festivals including the Shouse Institute of Music of the Great Lakes Chamber Music Festival in Detroit and the Norfolk Chamber Music Festival in CT. The trio have also had masterclasses with Ida & Ani Kavafians, Boris Berman, Peter Frankl, Peter Stumpf, Robert deMaine, members of the Emerson Quartet and Brentano Quartet, Peter Wiley, Robert Levine, and Noah Bendix-Balgley.

Highlights for the group's upcoming engagements include a residency in Memphis as part of the Concerts International Series and a Beethoven Triple concerto performance with the Waterbury Symphony.

Hailed in The New York Times as "one of the best deals in town for lovers of classical music," for six decades, The New School's Mannes School for Music's Schneider Concerts series has presented outstanding young artists and ensembles at non-exclusionary ticket prices. The series' remarkable history includes the New York debuts of pianist Peter Serkin and the Dover, Calidore, Guarneri, Cleveland, and Vermeer String Quartets and TASHI. Artists such as Yefim Bronfman, Richard Goode, Jaime Laredo, Yo Yo Ma, and Murray Perahia were introduced to New York audiences early in their careers. The series was founded at The New School in 1957 as New School Concerts by violinist and conductor Alexander Schneider, who led the series until his death in 1993, at which time the series was renamed The Schneider Concerts in his honor. Artistic leadership is now under the auspices of a committee of eight noted musicians: John Dalley, Pamela Frank, Jaime Laredo, Cho-Liang Lin, Anthony McGill, Kurt Muroki, Tara O'Connor, and Arnold Steinhardt.
The 2019-20 Schneider Concerts season is supported by the Alexander Schneider Foundation and with public funds from the New York City Department of Cultural Affairs.