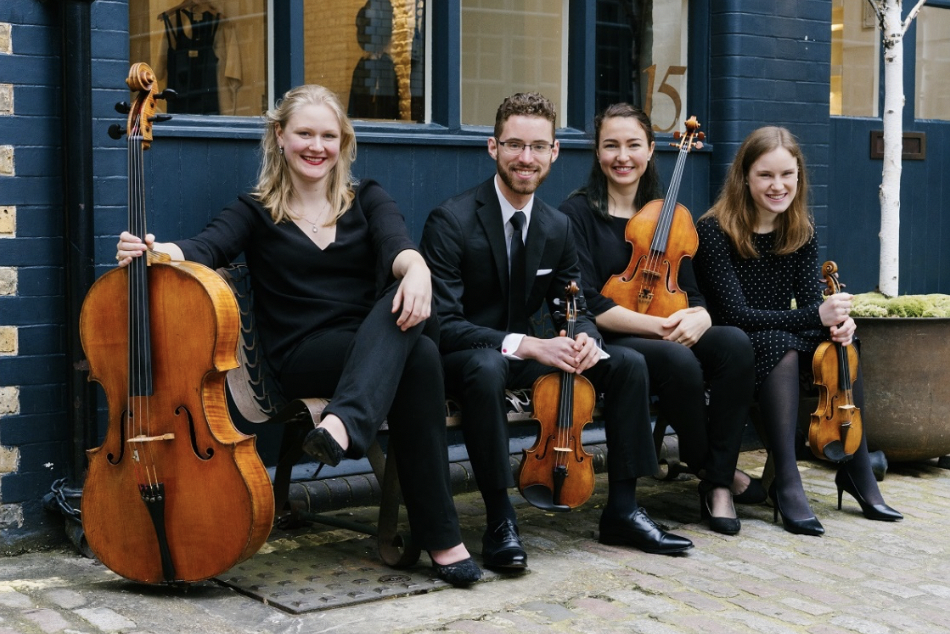 Callisto String Quartet, photo by Mike Grittani
NEW YORK, October 29, 2019 – On Sunday, November 17, 2019 at 2p.m. The Schneider Concerts, a program of The New School's Mannes School of Music, presents the return of the Callisto String Quartet (which made its New York debut on this series last season) in a program of Haydn, Ligeti, Beethoven and the New York Premiere of Annika Socolofsky's 2019 quartet, "The Dictionary of Obscure Sorrows: the meantime." The performance will take place in The New School's Auditorium at 66 W. 12th Street. Visit newschool.edu/mannes/Schneider-Concerts or call (212) 229-5873 for tickets and information.

Sunday, November 17, 2:00 p.m.
Callisto String Quartet
Franz Josef Haydn String Quartet in B-flat Major, Op. 76, No. 4 "Sunrise" (1799)
Gyorgi Ligeti String Quartet No. 1 "Metamorphoses Nocturnes" (1953-54)
Annika Socolofsky "The Dictionary of Obscure Sorrows: the meantime" (2019) – NEW YORK PREMIERE
Ludwig van Beethoven String Quartet in F Minor, Op. 95 "Serioso" (1810)
Program approximately 1 hour and 45 min., including intermission
Single tickets on sale now
$18 single ticket general admission
$16 single ticket seniors 65+ and people with disabilities
$ 5.00 standby, students 30 and younger with school ID
For details and to purchase tickets, visit www.newschool.edu/mannes/schneider-concerts
Grand prize winners of the 2018 Fischoff National Chamber Music Competition, the Callisto Quartet formed in 2016 at the Cleveland Institute of Music and brings together four dedicated and passionate musicians who share a love for chamber music. Highlights of their achievements include recognition as top prize winners at both the 2019 Bordeaux International String Quartet Competition, and the 2018 Melbourne International Chamber Music Competition where they were also the only North American quartet selected to compete. Additionally, they were prizewinners at the 2018 Wigmore Hall International String Quartet Competition and took second place at the 2019 Banff International String Quartet Competition. They are also Grand Prize winners of the 4th Manhattan International Music Competition Chamber Music Division, which featured the quartet in Carnegie's Weill Recital Hall in July 2019. Beginning in the fall of 2019, they will serve as the Graduate String Quartet in Residence at the Shepherd School of Music at Rice University where they will work closely with James Dunham, Norman Fischer, and Kenneth Goldsmith. They have also been invited to study with Günter Pichler of the Alban Berg Quartet at the Escuela Superior de Musica Reina Sofia in Madrid, Spain.

The quartet has participated and performed in many renowned chamber music festivals such as the Norfolk Chamber Music Festival, the McGill International String Quartet Academy, the Shouse Institute, the Juilliard String Quartet Seminar, and the Robert Mann String Quartet Institute. In April 2018, at the invitation of Gerhard Schulz, they attended the Prussia Cove International Musicians Seminar where they also worked with Gidon Kremer and Thomas Ades.

Hailed in The New York Times as "one of the best deals in town for lovers of classical music," for six decades, The New School's Mannes School for Music's Schneider Concerts series has presented outstanding young artists and ensembles at non-exclusionary ticket prices. The series' remarkable history includes the New York debuts of pianist Peter Serkin and the Dover, Calidore, Guarneri, Cleveland, and Vermeer String Quartets and TASHI. Artists such as Yefim Bronfman, Richard Goode, Jaime Laredo, Yo Yo Ma, and Murray Perahia were introduced to New York audiences early in their careers. The series was founded at The New School in 1957 as New School Concerts by violinist and conductor Alexander Schneider, who led the series until his death in 1993, at which time the series was renamed The Schneider Concerts in his honor. Artistic leadership is now under the auspices of a committee of eight noted musicians: John Dalley, Pamela Frank, Jaime Laredo, Cho-Liang Lin, Anthony McGill, Kurt Muroki, Tara O'Connor, and Arnold Steinhardt.

The 2019-20 Schneider Concerts season is supported by the Alexander Schneider Foundation and with public funds from the New York City Department of Cultural Affairs.