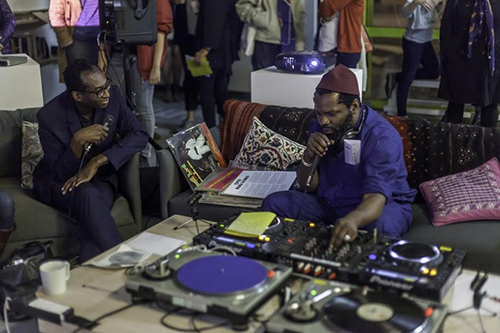 Chimurenga,, winner of the Jane Lombard Prize for Art and Social Justice
New York, NY, October 1st, 2019 -- The Vera List Center announces its 2019 Forum dedicated to art as a political practice. The Forum highlights African artist collective Chimurenga, winner of the Jane Lombard Prize for Art and Social Justice who will install its Pan African Space Station (PASS) at The New School, culminating in the re-creation of a historic performance of FESTAC '77 by jazz legend Craig Harris. The Forum will also include conversations on art and politics with Jane Lombard Fellows hailing from four continents: Liz Johnson Artur, Tiffany Chung, Dar Yusuf Nasri Jacir for Art and Research, Naine Terena de Jesus, and Jasmeen Patheja.
PASS will appear at The New School's Arnold and Sheila Aronson Galleries from October 23–25, open to the public from 12 to 6 p.m. On Friday, October 25 from 7:30 to 8:30 p.m. Chimurenga will present Craig Harris' FESTAC '77at The New School's Tishman Auditorium. The Jane Lombard Fellows will host a conference on Saturday, October 26, from 12 to 6 p.m.
In 1977, Lagos, Nigeria, hosted FESTAC '77, the largest cultural festival in Africa, celebrating the cultures of the continent and in the African diaspora after centuries of colonial occupation. The arrival of PASS at the Vera List Center features a three-day broadcast that will explore the participation of African American artists, activists, and intellectuals in this 2nd World Black and African Festival of Arts and Culture held in January-February 1977. The nearly 700-strong U.S. delegation at FESTAC '77 was "the largest single group of African Americans ever to return to Africa in one body" (Ebony magazine), and included luminaries such Sun Ra, Stevie Wonder, Audre Lorde, Alice Walker, Jayne Cortez, Barkley Hendricks, Betye Saar, Louis Farrakhan, Faith Ringgold and many, many more.
In 2008, PASS was founded by Chimurenga in collaboration with musician and composer Neo Muyanga as a periodic, pop-up live radio studio; a performance and exhibition space; a research platform and living archive and an ongoing, internet based radio station. PASS is also the project for which Chimurenga was awarded the Vera List Center's Jane Lombard Prize, in recognition of "the Pan-African collective's bold and unapologetic reclamation of African imaginary," as declared by prize jury chair Koyo Kouoh, "and the outstanding quality, originality and impact of their productions, for challenging established definitions and segregations of knowledge and expression, for stimulating Pan-African culture and development in a global context of rising xenophobia, and for their unwavering commitment to intellectual autonomy, diversity and freedom."
Derived from Chimurenga's insistence that music is a vital element of the African and diasporic experience, PASS works in transitory spaces and at the intersections of different fields. Organizing sound, music, and words into new forms of knowledge, it borrows its slogan "There are other worlds out there they never told you about" from the philosopher, composer, and bandleader, Sun Ra. PASS seeks to challenge contemporary concepts of Africa, as well as to excite new transitory and transient communities with each iteration, bringing focus to collective experience, while targeting an investigation into how we locate ourselves and how we mediate our human and historic commonality.
This PASS landing will feature many participants from the 1977 event, closing on October 25 with a rare performance of composer and trombonist Craig Harris' suite titled FESTAC '77 inspired by his experience traveling to Lagos for the festival as a member of Sun Ra's Arkestra. The concert will be the first in over thirty-five years, since its original world premiere in March 1982 at Saint Peter's Church and a June 1982 performance at Carnegie Hall in New York City.
"For FESTAC to be presented again in 2019, four hundred years since the first Africans were kidnapped and brought to this continent, is to acknowledge our strength as a people," Craig Harris said. "It is taking the tragic and making it magic! It is excelling against all odds and still standing."
Serving as a laboratory and broadcasting space this PASS installation will also include a presentation of Chimurenga's new book on FESTAC '77, the first publication to consider FESTAC in all its cultural-historic complexity, addressing the planetary scale of the event alongside the personal and artistic encounters it made possible.
"Chimurenga charts a path to collective culture making and experience across historical time and geographical space, at a time when political fissures deepen. PASS will provide the entry points to the living legacy of FESTAC in New York City, for students at The New School and anyone interested in the political agency of cultural production," said Carin Kuoni, Director/Chief Curator at the Vera List Center.
From October 28th to November 10th after the conclusion of PASS' three-day-day broadcast, the gallery space will continue to function as a listening and reading space for the Chimurenga radio archives and publications as well as host additional programming by WNSR New School Radio, a student-run media platform, and performances by students at the College of the Performing Arts at The New School.
Additionally, for the first time, the finalists of the Jane Lombard Prize for Art and Social Justice will be invited to New York for a short-term residency as Jane Lombard Fellows, culminating in the Vera List Center Forum on October 25 and 26. On October 26, the Fellows will participate in a conversation with their nominators Maria Thereza Alves, Kaelen Wilson Goldie, Bala Starr; artist David Hartt and other writers and curators. Ann Laura Stoler, Willy Brandt Distinguished University Professor of Anthropology and Historical Studies, The New School, delivers a keynote lecture on art as political practice. The week-long residency aims to connect the finalists with each other, as well as to strengthen their network of practitioners operating in between the fields of art and politics. This residency and distinction as Jane Lombard Fellows reflect the Vera List Center's commitment to supporting artists whose ambitious work improves the lives of people in their communities.
"The Jane Lombard Fellows--and more importantly their visionary projects around the world—share with each other a commitment to the artistic and political advancement of social justice and the Forum invites audiences in New York City to an ongoing public conversation on art and social justice as a global issue," said Eriola Pira, Curator at the Vera List Center.
About the Jane Lombard Fellows, Vera List Center Biennial Prize Finalists
Since 1991, the Russian-Ghanaian photographer Liz Johnson Artur has been taking analog photographs of black diasporic communities. The Black Balloon Archive (1991 - ongoing) was nominated for its candid portraiture of these communities within everyday social spaces that are rarely recognized as legitimate sources of culture. Antawan I. Byrd writes in his nomination essay, "Artur imputes a politics of visibility in approaching these spaces with high seriousness, producing vivid and intimate portraits that honor how these venues operate as powerful sites of political expression, diasporic solidarity, and identity formation."
Tiffany Chung is a Vietnamese American artist based in Ho Chi Minh City, Vietnam. Her practice responds to issues of forced migration, internal displacement, and urban transformation through ethnographic and archival research. Her work integrates refugee narratives and statistical analysis to "remap" histories that are invisible in official narratives. Chung presents her works in photography, video, sculptures, archaeological discoveries, and delicate yet powerful cartographic drawings. She was nominated for her work on The Vietnam Exodus Project, which seeks to reflect on how asylum policies impact refugee communities and pursue changes in international asylum policy.
Dar Yusuf Nasri Jacir for Art and Research has recently been restored to house a major research center for artists, filmmakers, and scholars; a social center for the local community around it; and the Jacir family archive, which includes documents from the Ottoman era, attesting to the cosmopolitan and commercially bustling days of Bethlehem. The space, founded by sisters Emily and Annemarie Jacir, was nominated for its work towards creating a space for local and international encounters and "provoking a radical rethinking of how history is used today." At the Vera List Center Forum, Dar Yusuf Nasri Jacir will be represented by Emily and Annemarie Jacir and Hassan Muamer.
Initiated by Naine Terena de Jesus and run by Indigenous people, Oráculo Comunicação responds to the multiple needs of its community with art and education, as well as legal advocacy, and by taking part in demonstrations, and retomadas (retaking of ancestral lands). Oráculo provides workshops on Augusto Boal's Theater of the Oppressed as well as acting as a communications agency focusing on broadening knowledge about Indigenous culture and making sure this knowledge is transmitted on their own terms and in their voice. The project was nominated for the urgency with which it responds to its community's needs, such as Terena's "current research into psychology due to the suicide attempts in her community."
Jasmeen Patheja's work responds to the acute problem of sexual harassment in India and around the world. Blank Noise, initiated by Patheja, is a volunteer-led project that has been working against sexual harassment on the streets in India since 2003. It is run by 'action heroes,' a network of volunteers from different age groups, gender, and sexual orientations and seeks to transform public attitudes towards sexual violence. The group uses various strategies, including staging public protests, advocating for legal mechanisms, and applying new technology to publicize offenses.
About Chimurenga
Chimurenga is a Pan-African platform of writing, art and politics founded by Ntone Edjabe in 2002. Drawing together myriad voices from across Africa and the diaspora, Chimurenga takes many forms operating as an innovative platform for free ideas and political reflection about Africa by Africans.
Outputs include a journal of culture, art and politics of the same name (Chimurenga magazine); a quarterly broadsheet called The Chronic; The Chimurenga Library—an online resource of collected independent Pan-African periodicals and personal books; the African Cities Reader—a biennial publication of urban life, Africa-style; and the Pan African Space Station (PASS)—an online radio station and pop-up studio.
Taking advantage of both the intimacy and unpredictability of the live radio studio space and the reach and scope of the internet, the Pan African Space Station seeks to forge new collaborations across time and space. A combination of live conversations, discussion sessions, and performances, together with exhibitions of new and archival material interrogate our shared history.