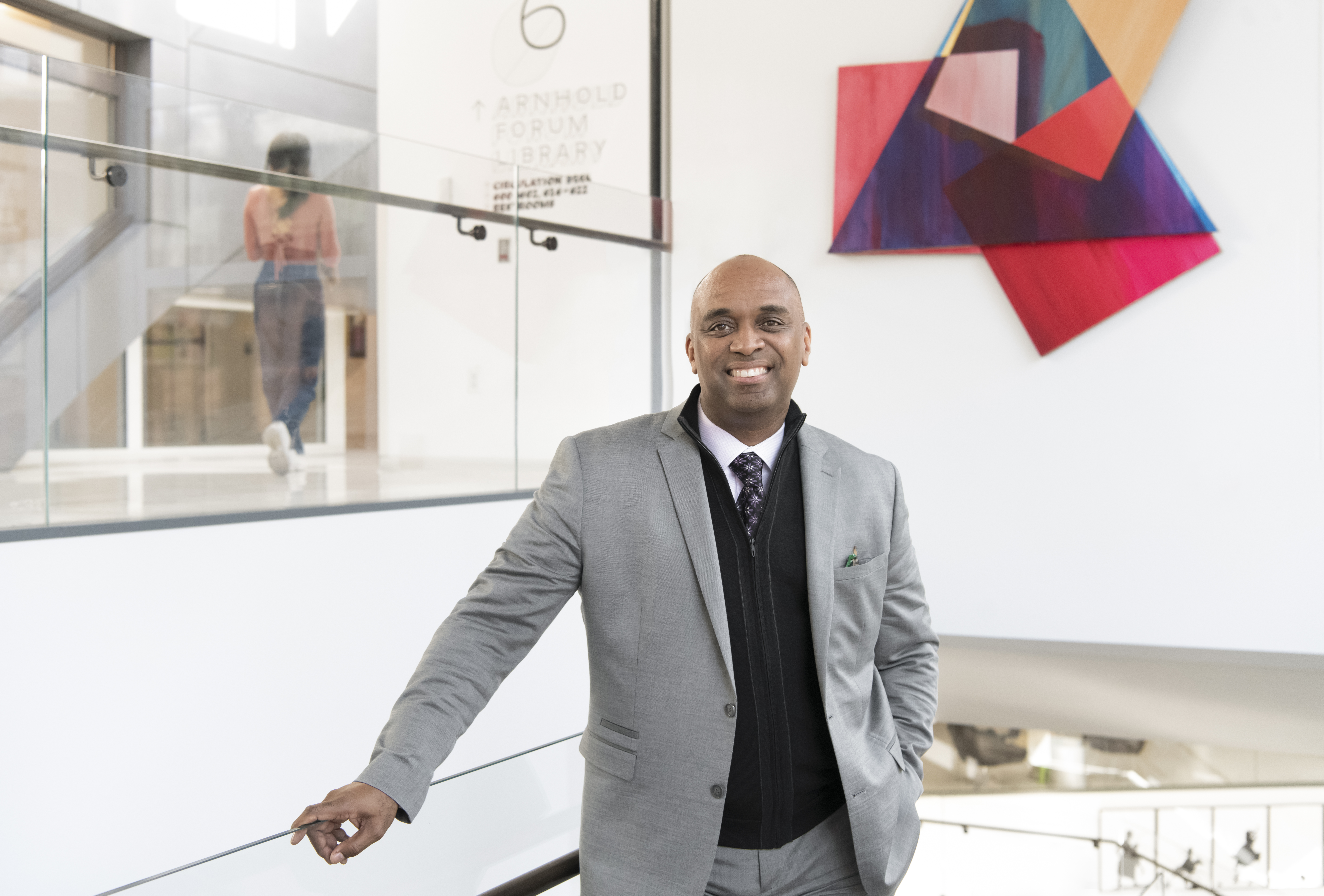 President Dwight A. McBride in The New School's University Center
New York, April 16, 2020 -- Today, The New School community officially welcomes Dr. Dwight A. McBride as the university's ninth president. An accomplished scholar, academic, leader, educator, and author who most recently served as Provost and Executive Vice President for Academic Affairs at Emory University, President McBride also joins The New School faculty as a University Professor. He succeeds Dr. David E. Van Zandt, who concludes his service after nearly a decade as The New School's president. The New School is the only university in the world with a large and comprehensive design school alongside outstanding schools in social sciences, humanities, and the performing arts. The university last year celebrated its centennial, marking 100 years of innovation in higher education.
President McBride's arrival at The New School comes at a time of unexpected and unprecedented challenges for the world and higher education stemming from the coronavirus pandemic. He is immediately focusing on both The New School's short-term response and the planning necessary to ensure the university's resilience for the longer term.
Recognizing the significant personal and financial stress students are experiencing in the wake of the coronavirus and the disruption this has caused to their education, President McBride has made a personal, lead pledge of $100,000 to the university's Student Emergency Assistance Program. The program provides short-term financial support to students with specific urgent needs, focusing in these times on needs arising from the Covid-19 pandemic. In recent weeks, New School trustees, alumni, faculty, and staff have all stepped up to support the fund.

"I am honored and excited to join The New School's extraordinary community of scholars, artists, designers and thought leaders," said President McBride. "The New School has redrawn and redefined the boundaries of intellectual and creative thought as a preeminent academic center, offering some of the nation's most respected degree programs in the humanities and social sciences, design, and the performing arts. One of my immediate goals is to bring the university community together during this difficult time and signal our primary commitment to our talented and dedicated students."

"I can think of no one better suited than Dwight McBride to lead The New School forward, as we chart a course of inspired scholarship and creativity for the university's next 100 years,'' said Linda E. Rappaport, Chair of The New School's Board of Trustees. "President McBride's deep experience as a scholar and higher education leader embodies a commitment to all aspects of academic excellence. I am delighted to welcome him to our storied and progressive university."

Prior to his appointment at The New School, President McBride was Provost and Executive Vice President for Academic Affairs at Emory University, where he also held the position of Asa Griggs Candler Professor of African American Studies, Distinguished Affiliated Professor of English, and Associated Faculty in Women's, Gender, and Sexuality Studies. President McBride previously served at Northwestern University as Dean of The Graduate School, Associate Provost for Graduate Education, and Daniel Hale Williams Professor of African American Studies, English, and Performance Studies. He has been Dean of the College of Liberal Arts & Sciences at the University of Illinois at Chicago and served on the faculty of the University of Pittsburgh.

A leading scholar of race and literary studies, President McBride has published award-winning books, essays, articles, and edited volumes that examine connections between race theory, Black studies, and identity politics. He is co-founder and co-editor of the James Baldwin Review, an annual journal that catalyzes the literary, political, and cultural influence of Baldwin's writing and political activism. President McBride received his BA in English with a certificate in African American Studies from Princeton University, and both his MA and PhD in English from the University of California, Los Angeles.
With its distinctive cores of excellence in design, the performing arts, the humanities, and social sciences, The New School draws students from around the world to its New York City and Paris campuses. Over the past 10 years, it has become more academically integrated and consolidated its New York campus in the heart of Greenwich Village so that students can benefit from all of The New School's leading, innovative programs. The university continues to expand its offerings through new degree programs and interdisciplinary study options designed to equip graduates to succeed in a dramatically changing world.
Plans for President McBride's official inauguration ceremony are evolving as the university and New York City move through the most critical phase of Covid-19 and anticipate the shape of activities in the months ahead. More information about the ceremony will be available soon.
NOTE TO EDITORS: Photos of President McBride can be downloaded here.