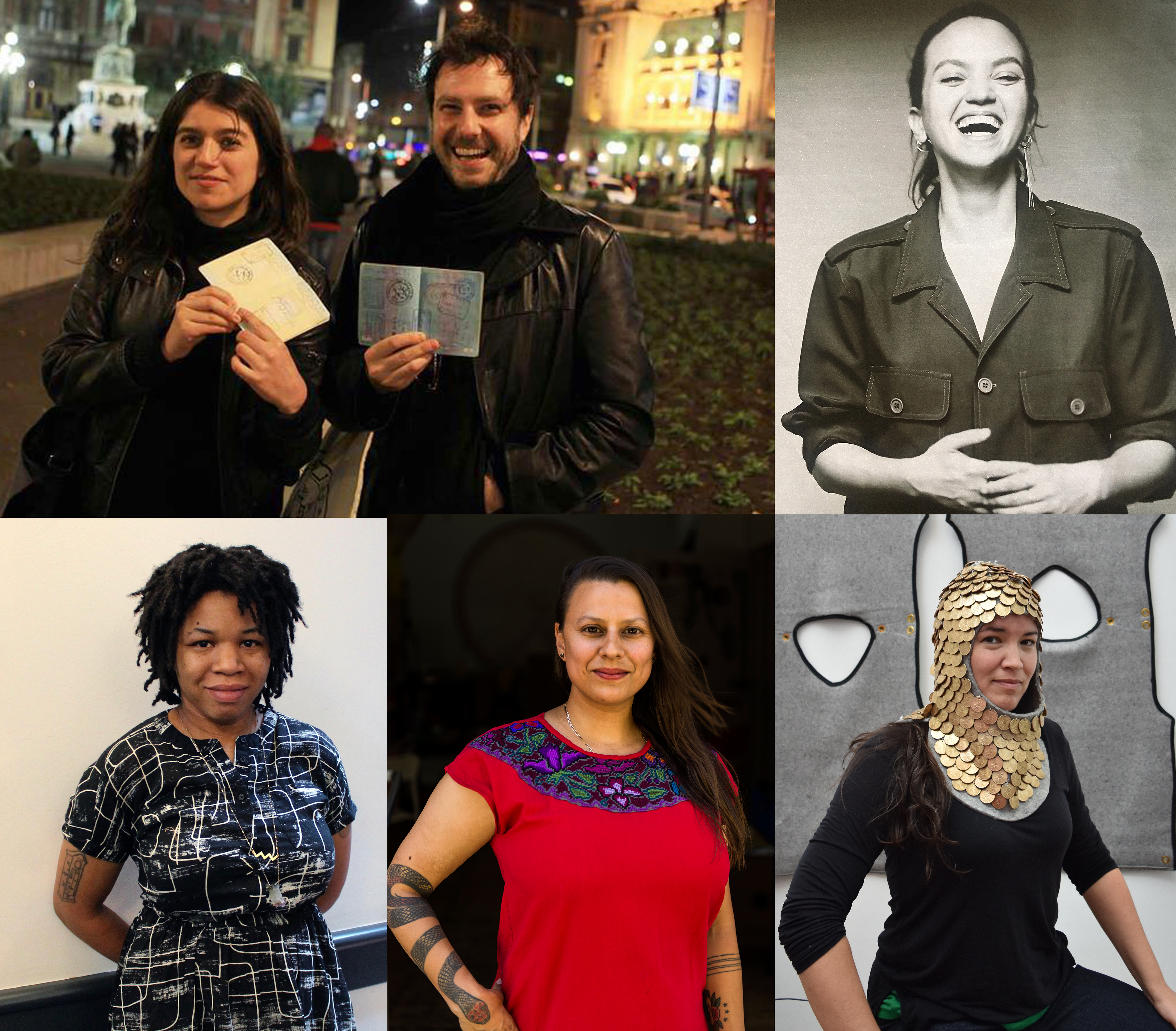 Top, left to right: Etcétera (Loreto Garín Guzmán and Federico Zukerfeld) and Adelita Husni-Bey. Bottom: Rasheedah Phillips, Carolina Caycedo, and Maria Hupfield. Images courtesy the artists
New York, June 24, 2020 -- The Vera List Center for Art and Politics (VLC) at The New School proudly announces the appointment of five fellows for the upcoming 2020-2022 program cycle, including Boris Lurie Fellow Etcétera, and Borderlands Fellows Carolina Caycedo and Maria Hupfield. In addition, the VLC has selected Adelita Husni-Bey and Rasheedah Phillips as 2020-2022 VLC Fellows. Their appointment begins in Fall 2020 and runs through Spring 2022.
With the addition of the Boris Lurie Fellow and Borderlands Fellowships, this cycle represents a significant growth of the VLC's fellowship program and its support to artists. The expansion from two to five fellows, at a time when artists have been significantly impacted by the pandemic, enables these artists to undertake research-intensive and ambitious art projects that encourage social and political change.
The Boris Lurie Fellow and Borderlands Fellowships continue the VLC's tradition of providing a culturally rich environment for artists to thoughtfully engage in work that considers the political and historical impact of contemporary art. The Boris Lurie Fellow, established with a grant from the Boris Lurie Art Foundation, is awarded to an artist living outside the U.S. with special consideration of those who have faced political hardship. The Borderlands Fellowships will focus on the relevance of place, thus seeking to support and apply an Indigenous lens to reflect on questions of borderlands.
The fellows are appointed under the VLC's 2020-2022 thematic focus, As for Protocols, investigating both the urgency of the global pandemic and the protocols of power and control that are exerted over people, places, and the environment. These protocols of power impact marginalized groups -- especially Black and Indigenous people -- in systemic ways. While each fellow's practice is distinct in form and focus, their work represents a common commitment to community-building, bridging political and geographic borders, and a vital connection to others that incorporates protocols and is especially important during a time of social distancing and growing socio-political division.
The VLC has championed the arts as expressions of political moments since its founding in 1992. Today, debates around freedom of speech, deep political polarization, and identity politics make the VLC's charge as critical now as it has ever been.
Since its inception in 1993, the Vera List Center fellowship program has supported 33 distinguished artists and scholars including Lawrence Abu Hamdan, Maurice Berger, Jill Magid, Lorraine O'Grady, Walid Raad, and most recently, Dean Erdmann and Helene Kazan. Each fellow receives a $15,000 research grant and substantial curatorial, research, and production support over the two-year period and will present at public events, with access to The New School community. The VLC and Boris Lurie Ffellows were selected from among 254 applicants, from 52 countries, through a rigorous selection process that included an advisory panel of curatorial peers, former fellows, New School students and faculty, and experts on the Vera List Center's board.
"The intimacy of the fellowship experience intersects with urgent concerns affecting people throughout the world. We're thrilled to be able to support the work of these exceptional artists over the next two years, and to significantly broaden the fellowship initiative in response to the needs of artists," said Carin Kuoni, Senior Director and Chief Curator of the Vera List Center for Art and Politics.
The Boris Lurie Fellow is named for Boris Lurie, an artist who arrived in New York in 1946, having survived nearly four years in Hitler's death camps. His art became a way to confront the overwhelming representation and commercialization of violence, as well as the complacency of those in power, through an extraordinarily layered and continuously evolving artistic oeuvre, consisting of collage, painting, writing, and sculptural pieces.
"The selection of Etcétera -- with its sense of subversiveness and bold political views -- is an exciting and auspicious choice for this inaugural Boris Lurie Fellow," said Gertrude Stein, Director of the Boris Lurie Art Foundation. "Our hope is that this fellowship with the Vera List Center will serve as an inspiration to artists everywhere to express their political views in their art. Boris Lurie was an artist who was not intimidated by the establishment and whose art was a reaction against the materialism and consumerism of the post-Second World War baby boom. His work, like that of Etcétera, shakes up the viewer and strives to make us take notice of our reality."
The Borderlands Fellowship is a collaboration of the VLC and the Center for Imagination in the Borderlands at Arizona State University in Tempe, Arizona, to support research projects that create communities across different geographical, cultural, and political landscapes. Borderlands Fellows were selected from a pool of invited applicants who were nominated by experts in the field.
"The Center for Imagination in the Borderlands uses a lens of Indigeneity which centers our connection to the land and waters of the borderlands, what exists beneath and around the man-made borders, and the connections -- through body, language, ceremony, care-taking of land body and water, and movement -- that honor both autonomy and our relationship to one another as people and also as non-human living beings," said Natalie Diaz, Akimel O'odham poet and director of the Center for Imagination in the Borderlands at Arizona State University.
The Vera List Center Fellowships support individuals whose work advances the discourse on art and politics. The two-year, low-residency appointments provide the opportunity to research and develop a project drawing from the curatorial, academic, and professional resources of the Vera List Center and The New School, and to bring the research and resulting work to the public through the Vera List Center's interdisciplinary public programs and organizational networks. Through their projects, the fellows contribute to the intellectual foundation of the Center and benefit from the engagement of New School faculty and students.
2020-2022 VLC Fellowship Projects and Artists
Adelita Husni-Bey – Milano, Italy, and Brooklyn, New York
School of Pandemics
Drawing upon historical and contemporary protocols, policy responses, and decrees in response to viral pandemics, Husni-Bey's temporary School of Pandemics will unfold as a series of theater workshops and subsequent short films that propose the virality of mutual aid and international solidarity networks as transformative social forces that emerge and are instituted under quarantine.
Adelita Husni-Bey is an artist and pedagogue invested in anarcho-collectivism, theater, and critical legal studies. She organizes workshops, produces publications, broadcasts, and exhibition work using non-competitive pedagogical models through the framework of contemporary art. Involving activists, architects, jurists, schoolchildren, spoken word poets, actors, urbanists, physical therapists, students, and teachers, the work consists of making sites to practice in collectively. Her work was part of the Italian pavilion at the 57th Venice Biennale, Venice, 2017, and her most recent solo exhibition was Chiron, New Museum, New York, 2019. She has participated in Being: New Photography 2018, The Museum of Modern Art, New York, 2018; Dreamlands, Whitney Museum of American Art, New York, 2016; The Eighth Climate, 11th Gwangju Biennale, 2015; Really Useful Knowledge, Reina Sofia Museum, Madrid, 2014; and Utopia for Sale?, MAXXI Museum, 2014.
Rasheedah Phillips – Philadelphia, Pennsylvania
Time Zone Protocols
Time Zone Protocols explores rules underlying Westernized concepts of time, standardized at the 1884 International Meridian Conference in Washington, D.C., and their role in the systemic, temporal oppression of Black and other marginalized communities. Resulting in inter-media work--including maps, zines, and digital films--and the Prime Meridian Unconference, the project rewrites the protocols of time with a Black temporal lens.
Rasheedah Phillips is a queer Philadelphia-based public interest attorney, mother, interdisciplinary artist, and Black Futurist cultural producer whose writing has appeared in Keywords for Radicals, Temple Political and Civil Right Journal, The Funambulist Magazine, Recess Arts, and more. She is the founder of The AfroFuturist Affair, a founding member of Metropolarity Queer Speculative Fiction Collective, co-founder of Black Quantum Futurism, and co-creator of Community Futures Lab. She is a social justice advocate, a 2016 graduate of Shriver Center's Racial Justice Institute, and a 2018 Atlantic Fellow for Racial Equity. As part of BQF Collective and as a solo artist, Phillips has been A Blade of Grass and Velocity Fund Fellow, and has exhibited, presented, been in residence, and performed at Institute of Contemporary Art London, The Metropolitan Museum of Art, Philadelphia Museum of Art, Serpentine Gallery, Red Bull Arts, Chicago Architecture Biennial, Akademie Solitude, and more.
Boris Lurie Fellowship
Etcétera (Loreto Garín Guzmán and Federico Zukerfeld) – Buenos Aires, Argentina
NEO-EXTRA-ACTIVISM: For a Protocol of Buen Vivir (Good Living)
As a counter position to multinational agreements and treaties for the protection of the environment that often fail or disappoint, Etcétera will develop NEO-EXTRA-ACTIVISM, a two-year platform for collecting and creating new and existing protocols protecting the environment that are based on or inspired by those of farmers and Indigenous peoples, socio-environmental organizations and activists, art and ecology groups, and, more recently, mutual aids, and incorporate the Indigenous concept of Buen Vivir.
Formed in 1997 in Buenos Aires, Etcétera is a multidisciplinary collective composed of visual artists, poets, and performers. Since 2007 it has been led by co-founders Soledad Garín Guzmán (Chile) and Federico Zukerfeld (Argentina). In 2005, they were part of the founding of the International Errorist movement, an international organization that proclaims error as a philosophy of life. In addition to participating in exhibitions in museums and biennials such as the biennials of Jakarta (2015), São Paulo (2014), Athens (2013), Istanbul (2009), and Taipei (2008), they often work with street-art, public interventions, actions, and performances that are necessarily contextual, ephemeral, and circumstantial. In 2015, they received the Prince Claus Award in the Netherlands. Their work has been recognized for its denouncement of human rights and environmental abuses through theatrical and poetic actions and statements often exercised at personal risk.
Borderlands Fellowship
Carolina Caycedo – Los Angeles, California
The Collapsing of a Model
The Collapsing of a Model advances the artist's work on the construction of "borders" as an extractive infrastructure serving multiple corporate and state interests, from homeland security to the oil industry. Her examination within the framework of fair energy transition focuses on local, popular, and self-sustaining energy production alternatives that challenge the current mining-energy model.
Carolina Caycedo is a London-born Colombian multidisciplinary artist known for her performances, video, artist's books, sculptures, and installations that examine environmental and social issues. Her work contributes to the construction of environmental historical memory, as a fundamental element for non-repetition of violence against human and non-human entities. Among others, she held residencies at the DAAD in Berlin, and The Huntington Libraries, Art Museum, and Botanical Gardens in San Marino, California; received funding from Creative Capital, California Community Foundation, and Prince Claus Fund; participated in the Chicago Architecture, São Paulo, Istanbul, Berlin, Venice, and Whitney Biennials. Recent and upcoming solo shows include Care Report at Muzeum Sztuki in Łódź, Poland; Wanaawna, Rio Hondo and Other Spirits at Orange County Museum of Art; Cosmoatarrayas at ICA Boston; and From the Bottom of the River at MCA Chicago. Caycedo is the 2020 Wanlass Artist in Residence at Occidental College in Los Angeles. She is a member of the Los Angeles Tenants Union and the Rios Vivos Colombia Social Movement.
Borderlands Fellowship
Maria Hupfield – Toronto, Canada
Breaking Protocol
Breaking Protocol will embody anthropologist Audra Simpson's theory on the politics of refusal and Indigenous feminist scholarship on ethical collaboration. Using performance art and museum display strategies this project will visualize Native women, non-binary, and transgender people as the decolonial heart of art-making in North America.
Maria Hupfield is a transdisciplinary artist working in performance and media arts. She was awarded the Hnatyshyn Foundation Award for Outstanding Achievement by a Canadian mid-career artist (2018) and a Lucas Artists Fellowship in Visual Arts, Architecture & Design, Montalvo Arts Center (2019-2020). Hupfield is a Guest Curator for the Artists of Color Council, Movement Research at Judson Church, Winter 2020, and an inaugural resident of the Surf Point Foundation Residency 2020. Her solo Nine Years Towards The Sun at the Heard Museum, Phoenix, (2019) focuses on exhibiting performance as living culture and follows her first major institutional solo exhibition in Canada, The One Who Keeps on Giving, a production of The Power Plant Contemporary Art Gallery, Toronto. Her work has shown at the Museum of Arts and Design, BRIC, Smithsonian National Museum of the American Indian, represented Canada at SITE Santa Fe (2016) and traveled nationally with Beat Nation: Art, Hip Hop and Aboriginal Culture (2012-14); with recent performances at the National Gallery of Canada. Hupfield is an off-rez citizen of Wasauksing First Nation, Ontario, Anishinaabe Nation, and the recently appointed Canadian Research Chair in Transdisciplinary Indigenous Arts at the University of Toronto.