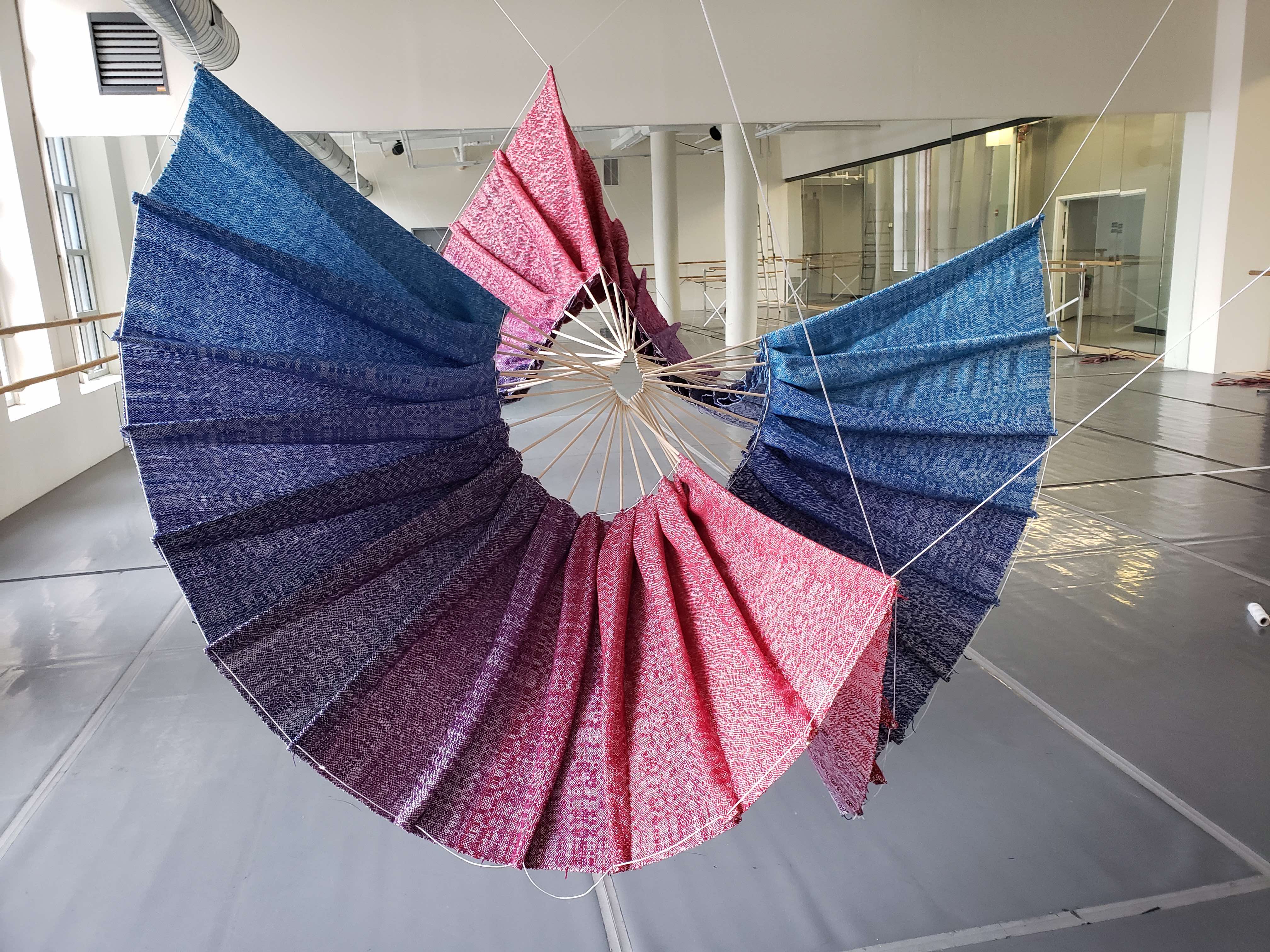 Work by Jeremy Ripley

New York, June 30, 2020 -- The New School's Parsons School of Design announced today the debut of the thesis capstones from the 2020 graduates of the inaugural MFA Textiles program. The 16 students in the program have each created textiles centered around the intersectionality of craft, technology, and sustainability.

The MFA Textiles program was envisioned by Li Edelkoort in 2015, and launched under the leadership of Program Director Preeti Gopinath in 2018. The pioneering graduate program is housed within the top-ranked School of Fashion at Parsons School of Design, where students are guided by exceptional faculty to engage with heritage and innovation, seeking to dissolve the boundaries between craft and technology in order to create a new paradigm for textiles in the 21st century.

"The first graduates of this program have emerged as thoughtful makers with a humane, global perspective who have created spectacular, meaningful, groundbreaking work," said Program Director Preeti Gopinath. "I am incredibly proud of our students for persevering through the Covid-19 pandemic in their final semester. Their work has created a new vernacular for the 21st century through the medium of textiles, and addresses issues related to social justice, sustainability, identity, activism and wellbeing."

The 2020 graduates re-imagine new making and consumption systems for this century. Their work will trigger a paradigm shift for a variety of disciplines, from fashion, interiors, and architecture, to manufacturing and business as they begin to integrate methods of fast-paced, hi-tech making with mindful, slow craft into their practices.

"The 2020 graduates of the MFA textiles are prepared as no other to find their way in a post-Covid society that will search for authenticity and aim for a better world, considering planet and people," said Lidewij Edelkoort, Dean of Hybrid Design Studies at Parsons School of Design. "With their art and craft skills they are able to create original work and design another vision of the future, bringing high-tech and slow-craft together as one."

The unique projects from the inaugural cohort range from uniting the natural world into textiles through whimsical tapestry weaving, dyeing with natural dyes, botanical and food waste, and imbuing fabric installations with fragrance and movement. The students have also created 3D architectural structures using hemp from 2D handloom weaves, designed material innovations in bioplastics and textiles made with kelp, and felted new designs with wool. They have crafted new sourcing systems, blended activism and social change utilizing crochet and tufting, and addressed issues of cultural sustainability with backstrap loom weaving, material sustainability through hand knitting with e-waste and 3D knitting on the Shima Seiki, and climate change through knitting landscapes of the Aral Sea, to healing through color, light and form.

"The future of the world is in good hands as these brilliant graduates head out into a world of uncertainty and seismic change," shared Gopinath. "They will take their rightful place as visionaries, leaders, makers and creative luminaries in our design industry."

The full portfolio of capstone projects can be found here.