the new school's parsons paris expands its campus to new cultural hub at romainville dedicated to contemporary art
The expansion highlights the continued integration of Parsons Paris into the Parisian artistic ecosystem and the European design education landscape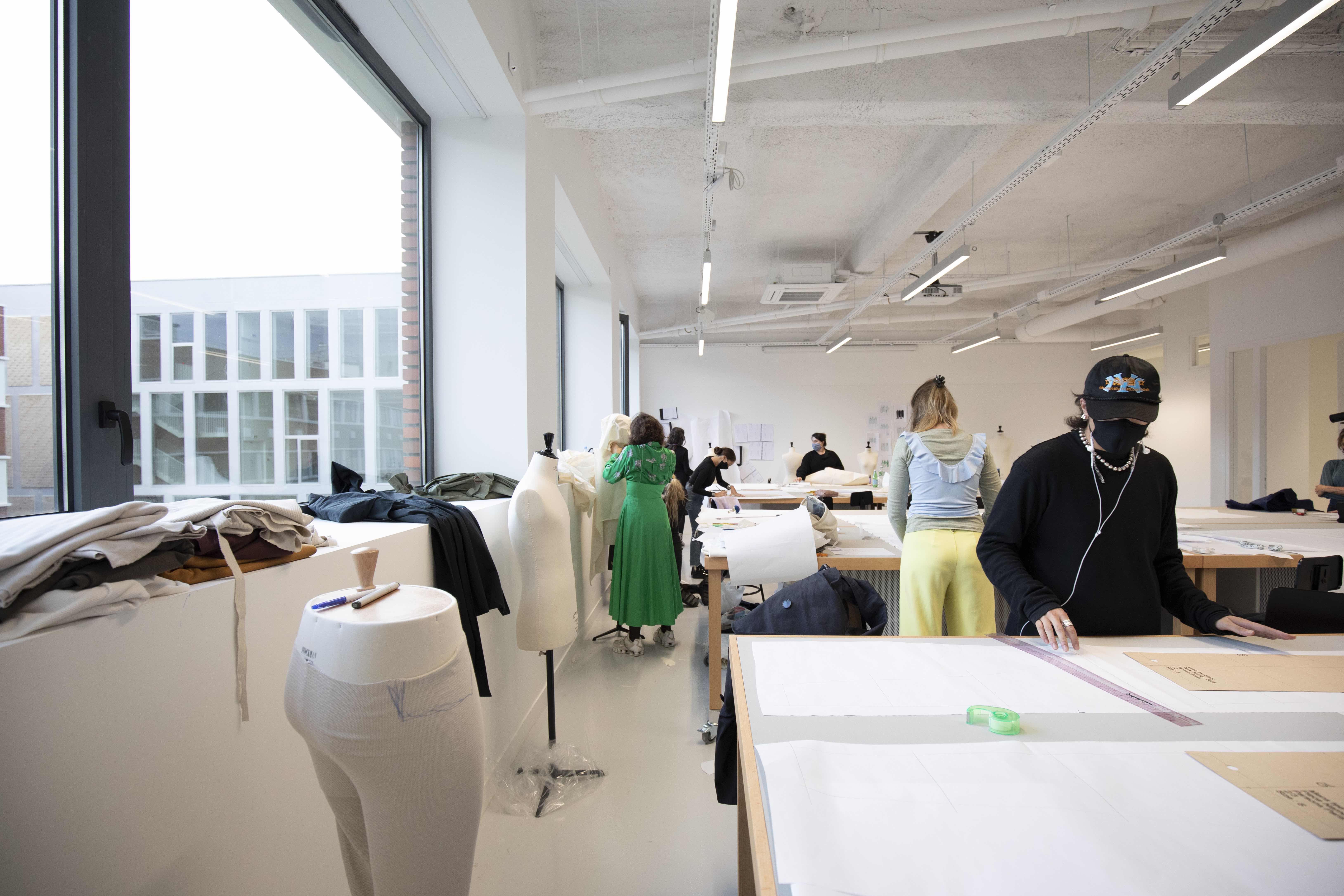 Students at work in the new Romainville campus
New York, October 14, 2020 -- Parsons Paris, the European campus of The New School's Parsons School of Design, an innovative university based in New York City, has announced the expansion of its campus to the new Fiminco Foundation site in Romainville. The creation of the new making and studio spaces will offer students in their final year of undergraduate studies in Fashion Design (BFA) and Art, Media and Technology (BFA) new possibilities for creative expression, surrounded by galleries, artists in residence, and exhibition spaces. 
The prestigious art and design school joins the new cultural hub of Greater Paris dedicated to contemporary art, next to the Fiminco Foundation's international artist residencies, art galleries, the Association de Jeune Création, and the Fonds Régional d'Art Contemporain – Frac Ile-de-France building scheduled to open on November 27, 2020.
"The opening of our new campus at Romainville is an exciting milestone in the remarkable, 100-year history of Parsons Paris," said Florence Leclerc-Dickler, Dean of Parsons Paris. "As we prepare to mark our Centennial in 2021, we are so proud to celebrate our rich heritage, and we enthusiastically look forward towards what is to come." 
To complement its existing building at 45, rue Saint-Roch 75001, the new "Paris-Romainville" space is a second campus for Parsons Paris, housing over 700m2 dedicated to fashion design, art, media and technology as well as making labs. Facilities include digital fabrication and prototyping equipment such as 3D and laser cutting machines, printing facilities including book-binding and large format printers, a wet room, photography studio, and a fashion lab.
The campus expansion comes in parallel with the recent appointment of Tuomas Laitinen as Associate Program Director of the BFA in Fashion Design, as well as the announcement of the Fall 2021 launch of the new MFA in Fashion Design and the Arts.

Established in 1921 as the first American art and design school in Paris, Parsons Paris today is an international community of students and distinguished faculty committed to tackling the challenges of an evolving world with creativity and intellectual rigor. Parsons Paris offers innovative English language bachelor's and master's degree programs in fashion, strategic design management, and art, media, and technology. Curricula bring together the globally renowned pedagogy of Parsons School of Design and the unique resources of Paris, with its heritage brands, forward-looking entrepreneurial culture, and access to Europe and beyond. Together with Parsons in New York and The New School—Parsons' parent university—Parsons Paris maintains a network of local and global universities, cultural institutions, and organizations and businesses. Inspired by this dynamic city and a collaborative, interdisciplinary culture, graduates go on to pioneer new industries and pursue creative careers in Paris and worldwide.    
Founded in 1919, The New School was established to advance academic freedom, tolerance, and experimentation. A century later, The New School remains at the forefront of innovation in higher education, inspiring more than 10,000 undergraduate and graduate students to challenge the status quo in design and the social sciences, liberal arts, management, the arts, and media. The university welcomes thousands of adult learners annually for continuing education courses and public programs that encourage open discourse and social engagement. Through our online learning portals, research institutes, and international partnerships, The New School maintains a global presence.
Parsons School of Design at The New School is one of the leading institutions for art and design education in the world. Based in New York but active around the world, the school offers undergraduate and graduate programs in the full spectrum of art and design disciplines, as well as online courses, degree and certificate programs. Critical thinking and collaboration are at the heart of a Parsons education. Parsons graduates are leaders in their respective fields, with a shared commitment to creatively and critically addressing the complexities of life in the 21st century.