mannes school of music's schneider concert Series presents rosamunde string quartet

Repertoire Will Include Mendelssohn,Schubert, and Kevin Puts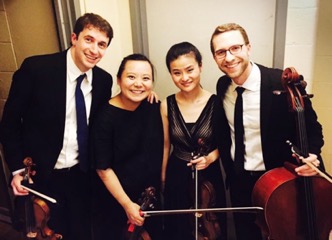 Rosamunde Quartet
NEW YORK, January 7, 2020 – On Sunday, January 26, 2020 at 2p.m. The Schneider Concerts, a program of The New School's Mannes School of Music, presents the Rosamunde String Quartet in a program of Mendelssohn, Schubert, and Kevin Puts. The performance will take place in The New School's Auditorium at 66 W. 12th Street. Visit newschool.edu/mannes/Schneider-Concerts or call (212) 229-5873 for tickets and information.

Sunday, January 26, 2:00 p.m.
Rosamunde String Quartet
Felix Mendelssohn Quartet in F Minor, Op. 80 (1847)
Kevin Puts String Quartet "Credo" (2007)
Franz Schubert String Quartet in D Minor, D 804 "Rosamunde" (1824)
Program approximately 1 hour and 40 min., including intermission
Single tickets on sale now
$18 single ticket general admission
$16 single ticket seniors 65+ and people with disabilities
$ 5.00 standby, students 30 and younger with school ID
For details and to purchase tickets, visit www.newschool.edu/mannes/schneider-concerts
The Rosamunde String Quartet was founded in 2015 so that its members could take time away from their international careers to pursue their passion for the string quartet repertoire together. Its members include members of three of the world's greatest orchestras: Noah Bendix-Balgley, 1st concertmaster of the Berlin Philharmonic; Shanshan Yao (violin) and Nathan Vickery (cello) of the New York Philharmonic; and Teng Li, principal violist of the Los Angeles Philharmonic. Each member is an accomplished soloist and musician, and brings a unique voice to the ensemble. By uniting their experiences, they create a distinctive sound and unanimity of expression.
Hailed in The New York Times as "one of the best deals in town for lovers of classical music," for six decades, The New School's Mannes School for Music's Schneider Concerts series has presented outstanding young artists and ensembles at non-exclusionary ticket prices. The series' remarkable history includes the New York debuts of pianist Peter Serkin and the Dover, Calidore, Guarneri, Cleveland, and Vermeer String Quartets and TASHI. Artists such as Yefim Bronfman, Richard Goode, Jaime Laredo, Yo Yo Ma, and Murray Perahia were introduced to New York audiences early in their careers. The series was founded at The New School in 1957 as New School Concerts by violinist and conductor Alexander Schneider, who led the series until his death in 1993, at which time the series was renamed The Schneider Concerts in his honor. Artistic leadership is now under the auspices of a committee of eight noted musicians: John Dalley, Pamela Frank, Jaime Laredo, Cho-Liang Lin, Anthony McGill, Kurt Muroki, Tara O'Connor, and Arnold Steinhardt.

The New School's Mannes School of Music develops classical musician/citizens by combining music conservatory traditions with the cutting-edge advantage of being part of The New School, the nation's foremost progressive university. Founded in 1916, the Mannes formula for quality education capitalizes on its world-class faculty, location in the heart of the global arts capital, small class size, and a living tradition of rigor and depth that develops strong technique and great artistry.

The 2019-2020 Schneider Concerts season is supported by the Alexander Schneider Foundation and with public funds from the New York City Department of Cultural Affairs and the New York State Council on the Arts.
Founded in 1916 by America's first great violin recitalist and noted educator, David Mannes, Mannes School of Music is a standard-bearer for innovative artistry, dedicated to developing citizen artists who seek to make the world a better and more beautiful place. Through its undergraduate, graduate, and professional studies programs, Mannes offers a curriculum as imaginative as it is rigorous, taught by a world-class faculty and visiting artists. Distinguished Mannes alumni include the 20th century songwriting legend Burt Bacharach, the great pianists Richard Goode, Marray Perahia, and Bill Evans, acclaimed conductors Semyon Bychkov, Myung-Whun Chung, Joann Falleta, and Julias Rudel, beloved mezzo-soprano Frederica von Stade, as well as the great opera stars of today, Yonghoon Lee, Danielle de Niese, and Nadine Sierra.

Founded in 1919, The New School was born out of principles of academic freedom, tolerance, and experimentation. Committed to social engagement, The New School today remains in the vanguard of innovation in higher education, with more than 10,000 undergraduate and graduate students challenging the status quo in design and the social sciences, liberal arts, management, the arts, and media. The New School welcomes thousands of adult learners annually for continuing education courses and calendar of lectures, screenings, readings, and concerts. Through its online learning portals, research institutes, and international partnerships, The New School maintains a global presence.


MARKETING AND COMMUNICATION
79 Fifth Avenue
New York, NY 10003
www.newschool.edu
PRESS RELEASE
Media Contacts:
Rohana Elias-Reyes,
The New School
212.229.5873
eliasrer@newschool.edu
Follow @TheNewSchool