the college of performing arts at the new school launches a remote summer festival that celebrates and explores creativity and pushes the boundaries of remote performance
Faculty from Mannes School of Music and the School of Jazz and Contemporary Music are partnering with the International Contemporary Ensemble to bring the College of Performing Arts together in a vibrant, interactive, and inspiring atmosphere

The online festival explores compelling ways to engage and interact with music, sound, and each other under the current conditions of social distancing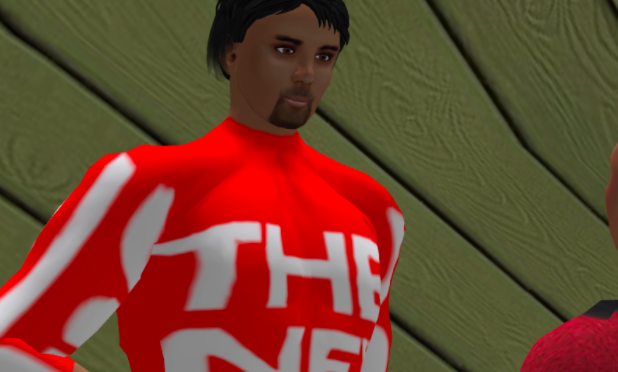 Avatar of Master of Music 2021 student Ricardo Arbiza testing positional audio in a custom 3D simulation environment.
June 29, 2020, New York - The New School's College of Performing Arts (CoPA) announces a week-long series of workshops and performances that explore the cutting edge possibilities of remote music and sound collaboration.
The COVID-19 pandemic has presented the performing arts community with unique challenges. As cultural institutions across the country are forced to cancel or adapt this summer's programming, CoPA looks to the parameters of social distancing as a new mode of artistic creation. Among the themes to be explored, students will look at how to create meaningful connections and communicate expressively over the internet; public performance in the digital space; the concept of venue in the digital space; and possibilities of telematic performance. The CoPA Virtual Summer Festival aims to explore these themes while equipping students with context, skills, and experience to navigate a post-pandemic music industry by utilizing and building on over two decades of already existing work in telematic performance. More than just an intensive technology workshop, the festival will serve as an artistic medium and virtual expressive space that demands the attention of performing artists in light of COVID-19.

The inaugural summer festival will include workshops and events that explore high-level remote performances, led by leading faculty at the forefront of distributed creativity and co-curated by the International Contemporary Ensemble. While the festival will be primarily centered on music and sound, it will be an interdisciplinary experience that challenges students to work across geographical boundaries, time zones, and musical traditions. Key faculty will include Ross Karre, Co-Artistic Director of the International Contemporary Ensemble and numerous guest presenters who will guide students through internet-based ensembles, 3D immersive environments, and personal storytelling portraits.
"While we can't be certain what the landscape of live performance will look like in a post-COVID-19 world, we can be certain that it will be different," says Richard Kessler, Executive Dean for the College of Performing Arts and Dean of Mannes School of Music, "It is our responsibility to prepare students and provide them with the skills necessary to continue their work in light of the pandemic. Our faculty and students have shown incredible flexibility and creativity in the work that they have already produced remotely and it is our hope to support and expand that work with this inaugural festival. The prospect of synchronous remote performance is one that is particularly relevant to the CoPA community, which has members across the globe. Incorporating this work into our community would provide unprecedented educational access and performance opportunities to our whole community, regardless of their time zone."
Levy Lorenzo, Assistant Professor of Creative Technologies, says "This festival is one of a kind in its courageous approach to explore the leading edge of what is possible within our modern conditions. As we face new questions and challenges in the performing arts, I am optimistic about what will come from collaborative, open-source problem-solving and fearless creative experimentation. Rather than ask how to replicate our working performance models pre-COVID-19, I would urge us to dream forward to seek how we can extend those models to find new expressive, vital ways to cultivate experiences that engage and inspire both performers and audiences."
"I would especially encourage artists to apply who may think of themselves as "non-tech savvy" or might have zero experience with technology in their practice. One thing I clearly see as certain for the future is that the experimentation, practice and play in the realm of technology will be absolutely crucial for the upcoming generation of performing artists."
The festival will run Sunday, August 2nd to Friday, August 7th, 2020 with the opening day dedicated to anti-oppression training and community building. Continuing and newly admitted students are highly encouraged to participate; the festival is free of charge. We invite artmakers from all disciplines to apply and attend, especially those with an interest in music, sound, and audio. More information can be found at festival.coparemote.com.

The College of Performing Arts at The New School (CoPA) was formed in 2015 and brings together the iconic Mannes School of Music, the legendary School of Jazz and Contemporary Music, and the ground-breaking School of Drama. With each school contributing its unique culture of creative excellence, the College of Performing Arts is a hub for cross-disciplinary collaboration, bold experimentation, innovative education, and world-class performances. 


As a part of The New School, students across CoPA experience a supportive and rigorous environment that provides abundant opportunities for collaboration with students and faculty in a wide array of disciplines including the visual arts, fashion, design and technology, architecture, philosophy, psychology, public policy, advocacy, and more. CoPA has over 1100 students seeking degrees and diplomas in performance, composition, acting, writing, as well as arts management and entrepreneurship. New York City's Greenwich Village provides the backdrop for the College of Performing Arts, which is housed at Arnhold Hall on West 13th Street and the historic Westbeth Artists Community on Bank Street.

Founded in 1919, The New School was established to advance academic freedom, tolerance, and experimentation. A century later, The New School remains at the forefront of innovation in higher education, inspiring more than 10,000 undergraduate and graduate students to challenge the status quo in design and the social sciences, liberal arts, management, the arts, and media. The university welcomes thousands of adult learners annually for continuing education courses and public programs that encourage open discourse and social engagement. Through our online learning portals, research institutes, and international partnerships, The New School maintains a global presence.

The International Contemporary Ensemble is an artist collective that is transforming the way music is created and experienced. As performer, curator, and educator, the Ensemble explores how new music intersects with communities across the world. The Ensemble's 36 members are featured as soloists, chamber musicians, commissioners, and collaborators with the foremost musical artists of our time. Works by emerging composers have anchored the Ensemble's programming since its founding in 2001, and the group's recordings and digital platforms highlight the many voices that weave music's present.

A recipient of the American Music Center's Trailblazer Award and the Chamber Music America/ASCAP Award for Adventurous Programming, the International Contemporary Ensemble was also named the 2014 Musical America Ensemble of the Year. The group currently serves as artists-in-residence at Lincoln Center for the Performing Arts' Mostly Mozart Festival, and previously led a five-year residency at the Museum of Contemporary Art Chicago. The International Contemporary Ensemble was featured at the Ojai Music Festival from 2015 to 2017, and at recent festivals abroad such as gmem-CNCM-marseille and Vértice at Cultura UNAM, Mexico City. Other performance stages have included the Park Avenue Armory, The Stone, ice floes at Greenland's Diskotek Sessions, and boats on the Amazon River.

OpenICE, made possible with lead funding from The Andrew W. Mellon Foundation, offers free concerts and interactive, educational programming wherever the Ensemble performs. As the Ensemble in Residence of the Nokia Bell Labs Experiments in Art and Technology, the International Contemporary Ensemble advances music technology and digital communications as an empowering tool for artists from all backgrounds. Curricular activities include a residency and coursework at the New School College of Performing Arts, along with a summer intensive program, called Ensemble Evolution, where topics of equity, diversity, and inclusion build new bridges and pathways for the future of creative sound practices. Yamaha Artist Services New York is the exclusive piano provider for the Ensemble. Read more at www.iceorg.org and watch over 350 videos of live performances and documentaries at www.digitice.org.




MARKETING AND COMMUNICATION
79 Fifth Avenue
New York, NY 10003
www.newschool.edu
PRESS RELEASE
Media Contacts:
Will Wilbur,
The New School
212.229.5667x3990
wilburw@newschool.edu
Follow @TheNewSchool