schneider concerts online presents the verona string quartet
Winner of the 2020 Chamber Music America Cleveland Quartet Award, program will feature Dvorak's "American" and Reena Esmail's "Ragamala"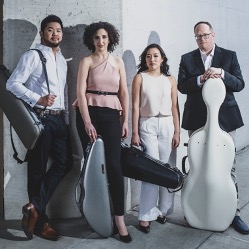 Photo by Dario Acosta
November 18, 2020, New York - On Sunday, December 13, 2020 at 2pm (ET) The Schneider Concerts, a program of The New School's Mannes School of Music, presents the Verona String Quartet in a streamed performance of Dvorak and Reena Esmail. The performance will be approximately forty-five minutes long, followed by a live post-concert discussion with the musicians.

The performance will take online. Visit newschool.edu/mannes/Schneider-Concerts or call (212) 229-5873 for tickets and information. Tickets are $8.00.

Verona String Quartet
Jonathan Ong and Dorothy Ro, violin
Abigail Rojansky, viola and guest cellist, Dmitri Kouzov
Winner 2020 Chamber Music America Cleveland Quartet Award

Reena Esmail String Quartet "Ragamala" (2013)
Johannes Brahms String Quartet No. 2 in A Minor, Op. 51, No. 2 (1873)
Post-concert discussion with the musicians. Audience members can participate via chat.
This program is presented in collaboration with Oberlin College Conservatory.

Verona Quartet
The VQ has enchanted audiences across four continents at Carnegie Hall, Lincoln Center, Kennedy Center, Wigmore Hall, Melbourne Recital Hall and others in addition to festivals such as La Jolla Summerfest, Chamber Music Northwest, Caramoor, Bravo! Vail, and the Chamber Music Society of Lincoln Center. The VQ also regularly collaborates with composers including Julia Adolphe, Sebastian Currier, Corey Dundee, Texu Kim and Michael Gilbertson. In addition to its Oberlin residency, the Verona Quartet holds positions at the Lunenburg Academy of Music Performance and Indiana University Summer String Academy. "Verona" pays homage to the great storyteller, William Shakespeare whose creations, like great music, transcend genre, time and boundaries alike.
Dmitry Kousov, Cello
Mr. Kouzov has performed worldwide with orchestras, in recitals, and in chamber music performances at such prestigious venues as Lincoln Center, the 92nd Street Y, (New York City), Sala São Paulo (Brazil), and at the most important venues in his native Russia, including both St. Petersburg Philharmonic Halls, the halls of the Moscow and St. Petersburg Conservatories, and the Mariinsky Theater. He has appeared as a guest artist at many international festivals such as Caramoor and Kneisel Hall (USA), the Verbier and International Bach Festivals (Switzerland), the Schleswig-Holstein (Germany), "Janacek May" (Czech Republic), "Art-November"(Russia), and Kiev Summer Music Nights" (Ukraine) Festivals. In addition to his performing activities, Mr. Kouzov is a devoted teacher and currently is an Associate Professor of Cello at the Oberlin Conservatory.
Schneider Concerts at The New School
Hailed in the New York Times as "one of the best deals in town for lovers of classical music," for more than six decades, The New School's Schneider Concerts series has presented outstanding young artists and ensembles at non-exclusionary ticket prices. The series' remarkable history that includes the New York debuts of pianist Peter Serkin and the Guarneri, Cleveland, Vermeer, and Johannes String Quartets and TASHI. Artists such as Yefim Bronfman, Richard Goode, Jaime Laredo, Yo-Yo Ma, and Murray Perahia were introduced to New York audiences early in their careers. More recently, the series has presented the New York debuts of the Dover, Calidore, and Calder string quartets. Today, New York audiences still need outstanding, accessible, affordable, and adventurous concerts as much as they did in 1957 when this series was founded, and the Schneider Concerts continues its tradition of excellence.

The Schneider Concerts is committed to financial and physical access as reflected in our traditionally low ticket prices and the accommodations provided in our hall on 12th Street, including early seating for those with disabilities, large print programs, and assistive listening devices. Our online programming also offers accessibility accommodations including captioning for all performances.

The Schneider Concerts ONLINE | 2020-2021 season is supported by the Alexander Schneider Foundation and with public funds from the New York City Department of Cultural Affairs, in partnership with the City Council and the New York State Council on the Arts with the support of Governor Andrew M. Cuomo and the New York State Legislature.
Founded in 1916 by America's first great violin recitalist and noted educator, David Mannes, Mannes School of Music is a standard-bearer for innovative artistry, dedicated to developing citizen artists who seek to make the world a better and more beautiful place. Through its undergraduate, graduate, and professional studies programs, Mannes offers a curriculum as imaginative as it is rigorous, taught by a world-class faculty and visiting artists. Distinguished Mannes alumni include the 20th century songwriting legend Burt Bacharach, the great pianists Richard Goode, Marray Perahia, and Bill Evans, acclaimed conductors Semyon Bychkov, Myung-Whun Chung, Joann Falleta, and Julias Rudel, beloved mezzo-soprano Frederica von Stade, as well as the great opera stars of today, Yonghoon Lee, Danielle de Niese, and Nadine Sierra.
Founded in 1919, The New School was established to advance academic freedom, tolerance, and experimentation. A century later, The New School remains at the forefront of innovation in higher education, inspiring more than 10,000 undergraduate and graduate students to challenge the status quo in design and the social sciences, liberal arts, management, the arts, and media. The university welcomes thousands of adult learners annually for continuing education courses and public programs that encourage open discourse and social engagement. Through our online learning portals, research institutes, and international partnerships, The New School maintains a global presence.


MARKETING AND COMMUNICATION
79 Fifth Avenue
New York, NY 10003
www.newschool.edu
PRESS RELEASE
Media Contacts:
Will Wilbur,
The New School
212.229.5667x3990
wilburw@newschool.edu
Follow @TheNewSchool