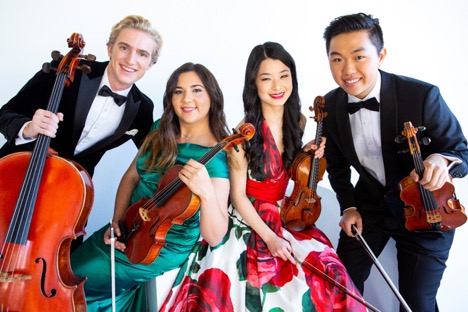 Viano String Quartet, Photo by Jeff Fasano
NEW YORK, February 17, 2020 – On Sunday, March 15, 2020 at 2p.m. The Schneider Concerts, a program of The New School's Mannes College of Music, presents the New York Debut of the Viano String Quartet, winners of the 2019 Banff International Quartet Competition in a program of Haydn, Dvorak and Jordan Nelson. The performance will take place in The New School's Auditorium at 66 W. 12th Street.
Visit newschool.edu/mannes/Schneider-Concerts or call (212) 229-5873 for tickets and information.

Sunday, March 15, 2:00 p.m.
Viano String Quartet – New York Debut
https://www.youtube.com/watch?v=9X6XE_SlMkE (performs Dvorak String Quartet No. 14, Op. 105)
Franz Josef Haydn String Quartet in C Major, Op. 74, No. 1 (1793)
Jordan Nelson "Join" for String Quartet (2019) – WORLD PREMIERE
Anton Dvorak String Quartet in A-flat Major, Op. 105 (1895)
Program approximately 1 hour and 40 min., including intermission
Single tickets on sale now
$18 single ticket general admission
$16 single ticket seniors 65+ and people with disabilities
$ 5.00 standby, students 30 and younger with school ID
For details and to purchase tickets, visit www.newschool.edu/mannes/schneider-concerts
The Viano String Quartet are First Prize winners of the 2019 Banff International String Quartet Competition. Formed in 2015 at the Colburn Conservatory of Music in Los Angeles, where it is Ensemble in Residence through the 2020-21 season. Additional prizes include the 2019 ENKOR International Music Competition Grand Prize, the 2019 Yellow Springs Chamber Music Competition second prize, the 2018 Wigmore Hall International String Quartet Competition Third Prize, Silver Medal at the 2018 Fischoff National Chamber Music Competition and Third Prize at the 9th Osaka International Chamber Music Competition in 2017.

During the 2019-20 season, the Viano performs on three continents, making debuts in Beijing, Berlin, Brussels, New York City on the Schneider Concerts series and Vancouver, among other cities. The quartet also gives several performances in Los Angeles at Boston Court Pasadena, the Music Guild, and Zipper Hall and records for the Canadian Broadcasting Corporation.

The name "Viano" was created to describe the four individual instruments in a string quartet interacting together to create one unified instrument. Each of the four instruments begins with the letter "v", and like a piano, all the strings working together as a string quartet, play both harmony and melody.
Hailed in The New York Times as "one of the best deals in town for lovers of classical music," for six decades, The New School's Mannes School for Music's Schneider Concerts series has presented outstanding young artists and ensembles at non-exclusionary ticket prices. The series' remarkable history includes the New York debuts of pianist Peter Serkin and the Dover, Calidore, Guarneri, Cleveland, and Vermeer String Quartets and TASHI. Artists such as Yefim Bronfman, Richard Goode, Jaime Laredo, Yo Yo Ma, and Murray Perahia were introduced to New York audiences early in their careers. The series was founded at The New School in 1957 as New School Concerts by violinist and conductor Alexander Schneider, who led the series until his death in 1993, at which time the series was renamed The Schneider Concerts in his honor. Artistic leadership is now under the auspices of a committee of eight noted musicians: John Dalley, Pamela Frank, Jaime Laredo, Cho-Liang Lin, Anthony McGill, Kurt Muroki, Tara O'Connor, and Arnold Steinhardt.

The New School's Mannes School of Music develops classical musician/citizens by combining music conservatory traditions with the cutting-edge advantage of being part of The New School, the nation's foremost progressive university. Founded in 1916, the Mannes formula for quality education capitalizes on its world-class faculty, location in the heart of the global arts capital, small class size, and a living tradition of rigor and depth that develops strong technique and great artistry.

The 2019-2020 Schneider Concerts season is supported by the Alexander Schneider Foundation and with public funds from the New York City Department of Cultural Affairs and the New York State Council on the Arts.