Christopher Cerrone Joins Mannes School of Music Composition Faculty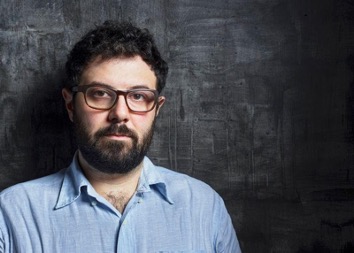 Christopher Cerrone

December 2, 2021, New York - Mannes School of Music at The New School's College of Performing Arts (CoPA) is pleased to announce the appointment of Christopher Cerrone to the Mannes Composition Faculty, chaired by David T. Little. 

"Chris Cerrone has been at Mannes/CoPA for the past year, teaching courses such as orchestration and has been a big hit with the students and the entire community of faculty and staff. Many here were already admirers of Chris's unique and wonderful brand of music composition and I know that he will be a big success teaching both undergraduate and graduate composition majors," said Richard Kessler, Executive Dean of the College of Performing Arts and Dean of Mannes.

"It has been an enormous pleasure to teach at Mannes and I am honored to be joining this world-class composition faculty, which once included composers such as Ernest Bloch and Bohuslav Martinu and now includes some of today's leading composers whom I am lucky to count as friends and colleagues. I am also thrilled to be working alongside other incredible teaching artists at Mannes as well as deepening my relationship with the broader New School community," said Christopher Cerrone.

About Christopher Cerrone

Christopher Cerrone (b. 1984) is internationally acclaimed for compositions characterized by a subtle handling of timbre and resonance, a deep literary fluency, and a flair for multimedia collaborations. Balancing lushness and austerity, immersive textures and telling details, dramatic impact, and interiority, Cerrone's GRAMMY-nominated music is utterly compelling and uniquely his own.

The 2021–22 season will see the premiere of In a Grove, a new opera composed with librettist Stephanie Fleischmann that was commissioned by LA Opera and will premiere at Pittsburgh Opera in February 2022. Cerrone will also compose a new clarinet quintet jointly commissioned by the Kaleidoscope Chamber Orchestra, Omega Ensemble, Third Angle New Music, and Chatter ABQ. And in April 2022, the Phoenix Symphony will premiere The Age of Wire and String, a new orchestral suite as part of a Cerrone-curated program.

The 2021–22 season will also see the premiere of The Last Message Received, jointly commissioned by Northwestern University and the Yale Symphony Orchestra and Glee Club, as well as new works for pianist David Kaplan, mezzo-soprano Sasha Cooke, cellist Johannes Moser, and pianist Anthony DeMare (the Liaisons project, adapting the music of Stephen Sondheim).

Recent highlights include A Body, Moving, concerto for brass and orchestra commissioned by the Cincinnati Symphony; The Air Suspended, a piano concerto for pianist Shai Wosner; Don't Look Down, a concerto grosso for Conor Hanick and Sandbox Percussion that premiered at Caramoor; The Insects Became Magnetic, an orchestral work with electronics for the Los Angeles Philharmonic; Meander Spiral, Explode, a percussion quartet concerto co-commissioned by the Civic Orchestra of the Chicago Symphony and the Britt Festival; and Breaks and Breaks, an acclaimed violin concerto for Jennifer Koh and the Detroit Symphony.

Cerrone's opera, Invisible Cities, a 2014 Pulitzer Prize finalist, was praised by the Los Angeles Times as "A delicate and beautiful opera…[which] could be, and should be, done anywhere." Invisible Cities received its fully-staged world premiere in a wildly popular production by The Industry, directed by Yuval Sharon, in Los Angeles' Union Station. Both the film and opera are available as CDs, DVDs, and digital downloads. In July 2019, New Amsterdam Records released his GRAMMY-nominated sophomore effort, The Pieces that Fall to Earth, a collaboration with the LA-based chamber orchestra, Wild Up, to widespread acclaim. His most recent release is The Arching Path, released on In a Circle Records. Cerrone is also the winner of the 2015-2016 Samuel Barber Rome Prize in Music Composition.

Christopher Cerrone holds degrees from the Yale School of Music and the Manhattan School of Music. His work is published by Schott NY and Project Schott New York. He lives in Brooklyn with his wife, writer Carrie Sun, an alumna of The New School's MFA Program in Creative Writing.

Founded in 1916 by America's first great violin recitalist and noted educator, David Mannes, Mannes School of Music is a standard-bearer for innovative artistry, dedicated to developing citizen artists who seek to make the world a better and more beautiful place. Through its undergraduate, graduate, and professional studies programs, Mannes offers a curriculum as imaginative as it is rigorous, taught by a world-class faculty and visiting artists. Distinguished Mannes alumni include the 20th-century songwriting legend Burt Bacharach, the great pianists Richard Goode, Murray Perahia, and Bill Evans, acclaimed conductors Semyon Bychkov, Myung-Whun Chung, Joann Falleta, and Julius Rudel, beloved mezzo-soprano Frederica von Stade, as well as the great opera stars of today, Yonghoon Lee, Danielle de Niese, and Nadine Sierra.
The College of Performing Arts at The New School (CoPA) was formed in 2015 and draws together the iconic Mannes School of Music, the legendary School of Jazz and Contemporary Music, and the ground-breaking School of Drama. With each school contributing its unique culture of creative excellence, the College of Performing Arts is a hub for cross-disciplinary collaboration, bold experimentation, innovative education, and world-class performances.
The over 1,100 students at CoPA are actors, performers, writers, improvisers, creative technologists, entrepreneurs, composers, arts managers, and multidisciplinary artists who believe in the transformative power of the arts for all people. Students and faculty at CoPA collaborate with colleagues across The New School in a wide array of disciplines, from the visual arts and fashion design, to the social sciences, public policy, advocacy, and more. 

The curriculum at CoPA is dynamic, inclusive, and responsive to the changing arts and culture landscape. New degrees and coursework, like the new graduate degrees for Performer-Composers and Artist Entrepreneurs are designed to challenge highly skilled artists to experiment, innovate, and engage with the past, present, and future of their artforms. New York City's Greenwich Village provides the backdrop for the College of Performing Arts, which is housed at Arnhold Hall on West 13th Street and the historic Westbeth Artists Community on Bank Street.
Founded in 1919, The New School was established to advance academic freedom, tolerance, and experimentation. A century later, The New School remains at the forefront of innovation in higher education, inspiring more than 10,000 undergraduate and graduate students to challenge the status quo in design and the social sciences, liberal arts, management, the arts, and media. The university welcomes thousands of adult learners annually for continuing education courses and public programs that encourage open discourse and social engagement. Through our online learning portals, research institutes, and international partnerships, The New School maintains a global presence.

MARKETING AND COMMUNICATION
79 Fifth Avenue
New York, NY 10003
www.newschool.edu
PRESS RELEASE
Media Contacts:
The New School
Will Wilbur
212.229.5667x3990
[email protected]