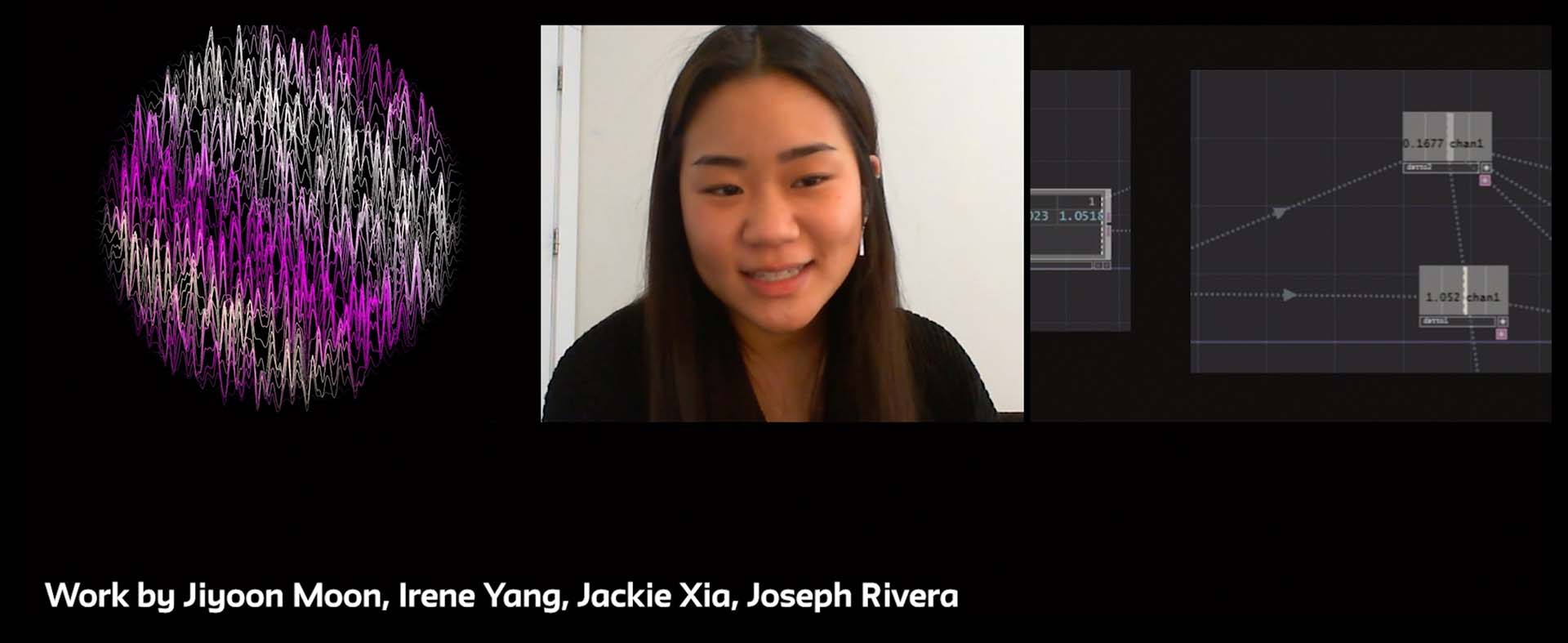 Work by Jiyoon Moon, Irene Yang, Jackie Xia, Joseph Rivera
New York, April 22, 2021 -- The New School has been named to the 2021 FutureEdge 50 Award by CIO Magazine for its Quantum Computing for Design and Social Research initiative. Created in partnership with IBM Global University Programs and IBM Skills Academy, the initiative focuses on bringing quantum technology and the development of quantum education and research into higher education to explore its application to art, design, education, business, and social justice. Co-taught by Dr. Lin Zhou, senior vice president and chief information officer at The New School, and Sven Travis, associate professor at Parsons School of Design, the course allows students to investigate design challenges and biases in computation and run their own programs on the quantum computers at IBM. This course is one of the earliest among schools of design and social science globally.
The prestigious FutureEdge 50 Awards recognize the most cutting-edge trials and applications of emerging technologies – and the innovative cultures enabling them – in business today. The awards honor established initiatives driving business success as well as early-stage projects pursued for their watershed potential. "This year's class of FutureEdge 50 winners demonstrated enormous innovation, creativity and resilience as they grappled to advance their businesses during a challenging 2020," said Anne McCrory, Group VP, Customer Experience & Operations, IDG Communications, Inc. in a press release. "We are honored to showcase their initiatives and recognize the teams that made them happen as they create a future edge for their organizations through technology." Other companies receiving this recognition include IBM, Memorial Sloan Kettering Cancer Center, and Intel.
Higher education institutions are at the forefront of preparing society to accept and adopt disruptive technologies. The combination of The New School's strength in design, social sciences, and the liberal arts, with this bleeding edge technology makes this quantum computing course vastly different from those in traditional STEM university programs.
Addressing some of the most pressing design and creative challenges, participants are researching how quantum computing affects design and social justice, and how design and social justice affects the development of quantum computing.
The New School's Quantum Computing course has an auspicious start since its launch in 2020. Twelve participants -- nine students and three staff and faculty members – have received the IBM Skills Academy Quantum Practitioner Certificate and are among the first 98 quantum computing practitioners worldwide certified by the IBM Skills Academy.
"This prestigious award highlights how design and liberal arts schools are uniquely situated to prepare our society for the emergence of this new technology that is shaping and changing the world," said Zhou. "The New School's adoption of Quantum Computing in liberal arts expands the application space for this new-breed computation technology, and we have started the journey already."
"The acknowledgement of our quantum computing course with this award showcases the importance of designers and social sciences to proactively adopt this technology while it is still in its infancy. Designers need to move past viewing technology as just a tool, and embrace it as an intelligence amplifier that is going to allow us to solve design problems in fundamentally different ways," said Travis.
The award will be presented during the virtual 2021 Future of Work Summit, Sept. 21-23.