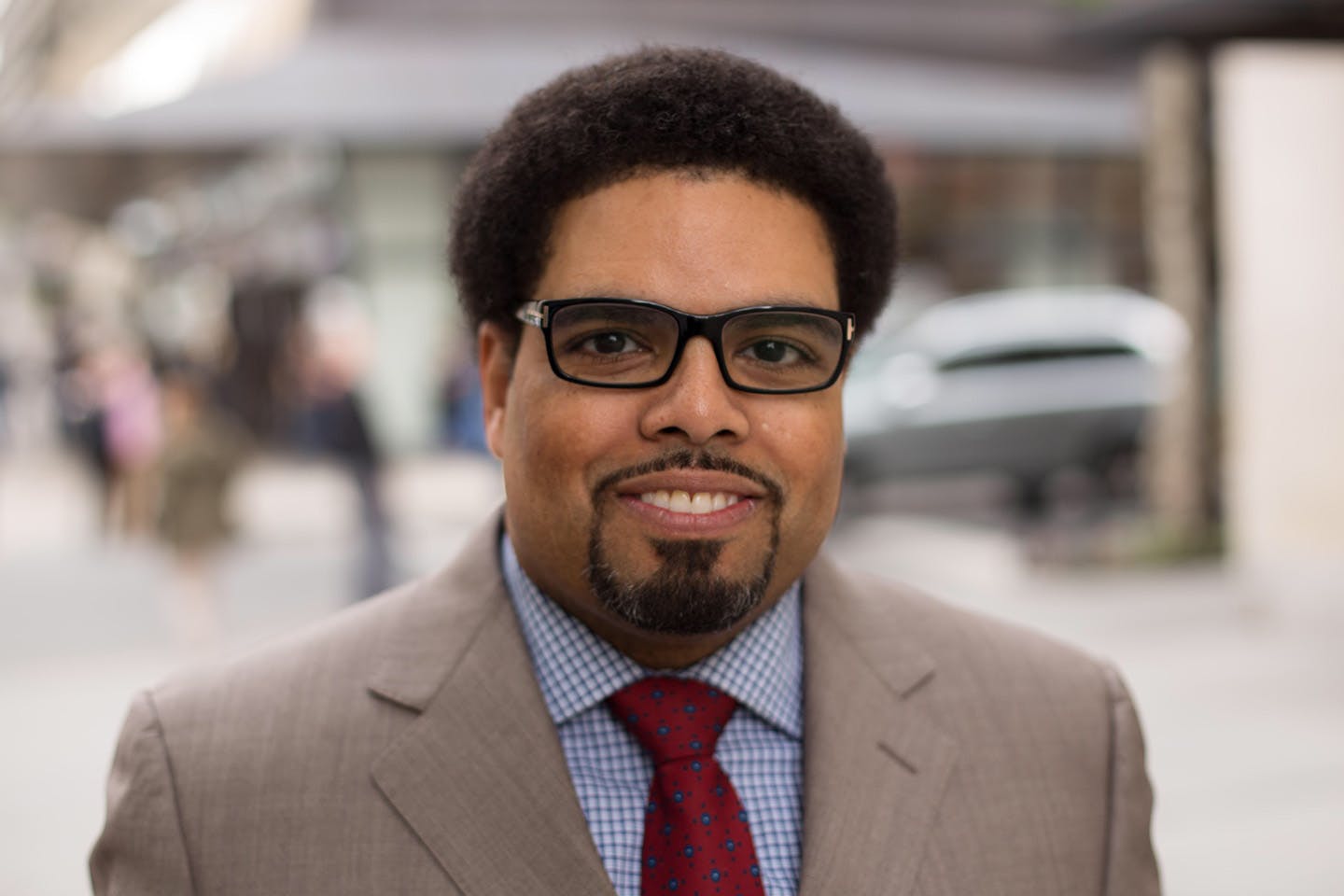 Institute on Race and Political Economy founder Darrick Hamilton
New York, May 6, 2021 -- The Institute on Race and Political Economy at The New School announced the permanent members of its research and policy team that will conduct research to understand the structures of inequality and develop knowledge about the pivotal roles of race, power, and social stratification. Founded by Darrick Hamilton, Henry Cohen Professor of Economics and Urban Policy, the Institute confronts the pressing issues of our time and develops pathways and policies that break down hierarchy and help move society towards greater equity, inclusion, and civic participation. As a cross-disciplinary hub, the Institute engages faculty across The New School, as well community and business leaders, policymakers, philanthropists and journalists around the world, to foster innovative thinking about power, structure, design, politics, economics, and society.
 
The Institute's timely work has been supported by an impressive cross-section of leading private businesses and foundations, including JP Morgan Chase, Deutsche Bank, the Kresge Foundation, the William & Flora Hewlett Foundation, the Omidyar Network, and the Chicago Community Trust.
 
"Throughout human history, and in plain sight, racism, sexism, and 'other isms' are strategically used to consolidate economic and political power for some at the expense of others," said Hamilton. "As a scholar, I have a moral responsibility to contest empirically unsubstantiated rhetoric that situates inequality in ignorance, so-called grit, and personal responsibility of insinuated 'defective people'; and instead to craft innovative, informed, and bold scholarly work that empowers people with necessary resources and structures for economic security, dignity, and authentic agency."
"In keeping with The New School's legacy, the Institute will break new ground by leading critical, interdisciplinary approaches to research, policy, and conversation regarding the interactions of race, stratification and political economy. This is research in action. It represents The New School's excellence at work not only in the university but also in the world," said Dwight A. McBride, President of The New School.
 
The researchers will work to identify, implement, and scale transformative ideas to promote economic inclusion, civic empowerment, and social equity. The members of the Institute on Race and Political Economy team include:
Darrick Hamilton, Founding Director; Henry Cohen Professor of Economics and Urban Policy and University Professor
Avi Green, Director of Strategy
Suparna Bhaskaran, Co-Principal Investigator and Project Manager, The Color of Wealth in Chicago; Non-resident Fellow
Dorothy Brown, Senior Advisor; Professor of Law, Emory University
Melanie Hart, JD, Senior Legal and Policy Advisor; Senior Vice President for Equity, Inclusion, and Social Justice and Chief Diversity Officer
Ana Patricia Muñoz, Senior Advisor; Co-Principal Investigator, The Color of Wealth in Chicago; Executive Director of Grupo FARO, Ecuador
Henry A J Ramos, Senior Consultant for Communications and Strategy
Grieve Chelwa, Inaugural Post-Doctoral Fellow, Inclusive Economic Rights
Fatimah Al-Khaldi, Research Assistant
Ofronama Biu, Research Assistant
Christopher Famighetti, Research Assistant
Bre Pressey, Program Manager
Ebonee Ayala, Operations Manager
In February, the Institute released the paper "Building an Equitable Recovery: The Role of Race, Labor Markets, and Education," produced with support from the Bill & Melinda Gates Foundation, which examines the way workers from different demographic groups experience recessions, including the current one, and the role of educational attainment in eliminating racial disparities. Hamilton, one of the authors of the report, provided an exclusive briefing on the report's findings during an online panel hosted by WorkRise.
 
The research team is currently developing a report on the Greenwood Massacre in Tulsa, OK, that will coincide with the 100th anniversary of the tragedy and assess how the economic repercussions of the event are still being felt today, and what can be done to ameliorate this legacy.
 
In March, Director Hamilton testified before the U.S. Senate Committee on Banking, Housing, and Urban Affairs hearing "Wall Street vs. Workers: How the Financial System Hurts Workers and Widens the Racial Wealth Gap" hearing focused on how racism, sexism, and other -isms are used as a means of exploitation that benefits some at the expense of others. Hamilton will appear before Congress again in May, this time to testify before the U.S. Joint Economic Committee.