the new school's mannes school of music appoints martin bakari to faculty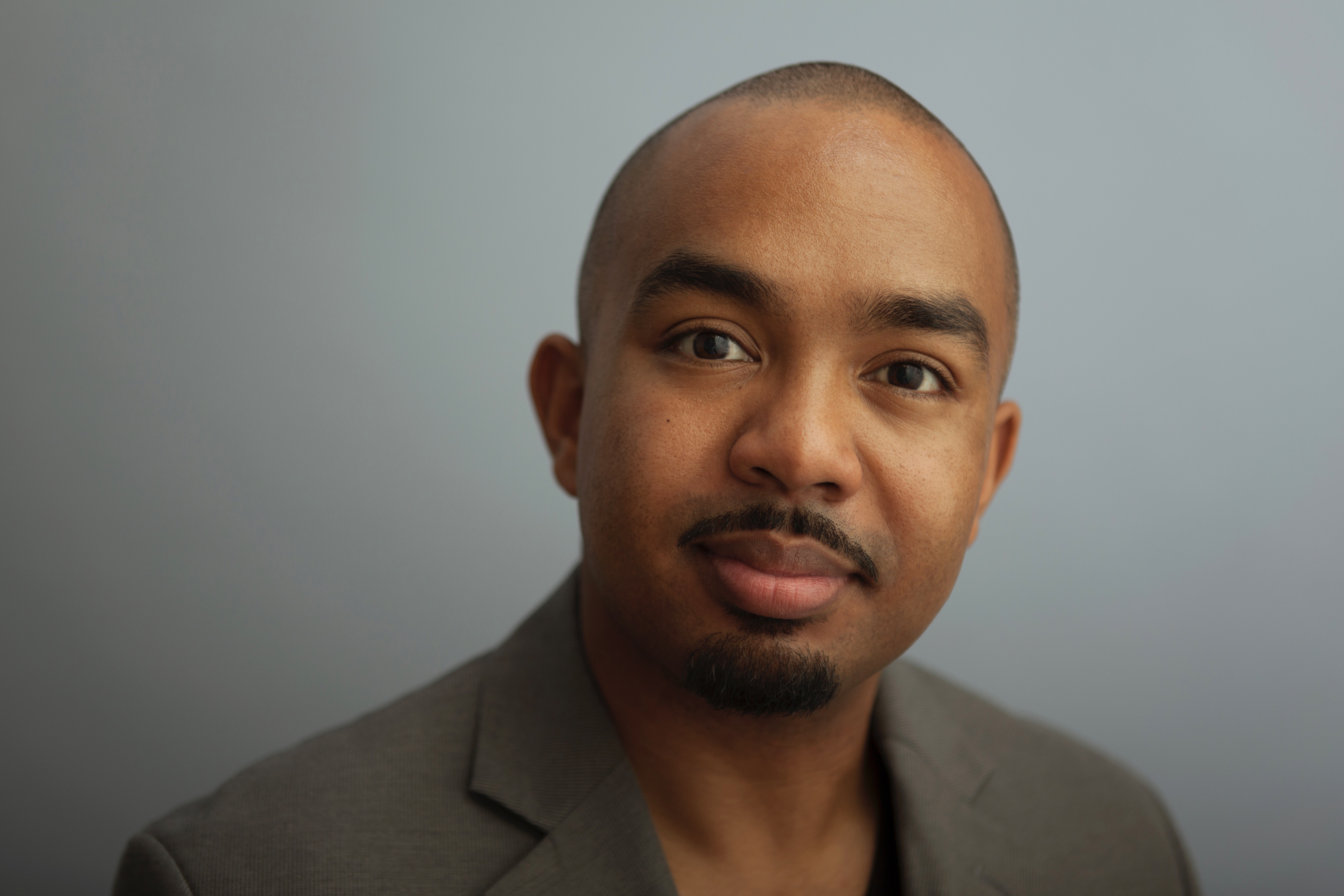 Martin Bakari
September 14, 2021, New York - The New School announced today that acclaimed tenor and educator Martin Bakari has joined the faculty of Mannes School of Music at the College of Performing Arts.
Praised by Opera News as a "vocally charismatic" performer with a "golden tenor", Martin Bakari continues to distinguish himself as a dynamic artist in a wide array of musical and theatrical genres.
At Mannes, Bakari will serve on the major lesson faculty in the Voice Department and will also collaborate with students and faculty across the college in a wide range of special projects, productions, and courses.
"Martin Bakari is an artist educator with a big appetite for voice across genres and styles. Martin's deep commitment to teaching and mentoring, as well as his infectious enthusiasm for the importance of music to humanity, is something that drew us to him and I am eager to see all the ways in which Martin will enrich our entire community," said Richard Kessler, Executive Dean, College of Performing Arts and Dean, Mannes School of Music.
"I have long admired and been inspired by the work of alumni and faculty members of all three of the College of Performing Arts schools, so it is a tremendous honor for me to contribute to these esteemed institutions and the development of their remarkably talented students," said Bakari.
Bakari has recently joined Atlanta Opera, Arizona Opera, and Pittsburgh Opera for Daniel Schnyder's Charlie Parker's Yardbird, Seattle Opera for Eugene Onegin and Porgy & Bess, Wynton Marsalis and the Jazz at Lincoln Center Orchestra for Marsalis' Abyssinian Mass, Washington National Opera and the Kennedy Center for The Cartography Project, Cincinnati Opera for La traviata and Le nozze di Figaro, Syracuse Opera for Così fan tutte, Portland Opera for Philip Glass' In the Penal Colony and a David Lang double bill, Raylynmor Opera for Pagliacci, and On Site Opera for Ricky Ian Gordon's Morning Star and Michi Wiancko's Murasaki's Moon. Internationally, he has appeared at major venues in Munich, Hamburg, Dresden, Frankfurt, Cologne, Tel Aviv, and Bari. His 2021-22 season includes the tenor soloist in Carmina Burana at Carnegie Hall with the Cecilia Chorus of New York, Prince Claus in Mark Adamo's Becoming Santa Claus at Chicago Opera Theater, Goro in Madama Butterfly at Dallas Opera, Count Almaviva in The Barber of Seville at Intermountain Opera Bozeman, and Don Basilio in Le nozze di Figaro at Seattle Opera. A 2018 George London Competition award winner, Bakari's recording of Grigory Smirnov's Dowson Songs (Naxos) was featured by Opera News as a "Critic's Choice" album.
As an educator, Bakari has served on the voice faculty at the University of Dayton, and he has been invited to give masterclasses for classical voice and musical theater students at Boston University, Carnegie Mellon University, Harvard University, University of Wisconsin-Madison, University of North Carolina at Charlotte, University of Portland, and Georgia State University. Bakari has also joined the faculty at the Collaborative Piano Institute at Louisiana State University, where he has taught private lessons and given masterclasses on bel canto style, German song, and the Great American Songbook for voice and collaborative piano students. In addition to their achievements in classical voice and musical theater, singers from his studio have won international awards and made important debuts in jazz. Bakari is an alumnus of the Juilliard School, Boston University, and the Tanglewood Music Center. www.martinbakari.com
Founded in 1916 by America's first great violin recitalist and noted educator, David Mannes, Mannes School of Music is a standard-bearer for innovative artistry, dedicated to developing citizen artists who seek to make the world a better and more beautiful place. Through its undergraduate, graduate, and professional studies programs, Mannes offers a curriculum as imaginative as it is rigorous, taught by a world-class faculty and visiting artists. Distinguished Mannes alumni include the 20th-century songwriting legend Burt Bacharach, the great pianists Richard Goode, Murray Perahia, and Bill Evans, acclaimed conductors Semyon Bychkov, Myung-Whun Chung, Joann Falleta, and Julius Rudel, beloved mezzo-soprano Frederica von Stade, as well as the great opera stars of today, Yonghoon Lee, Danielle de Niese, and Nadine Sierra.
The College of Performing Arts at The New School (CoPA) was formed in 2015 and draws together the iconic Mannes School of Music, the legendary School of Jazz and Contemporary Music, and the ground-breaking School of Drama. With each school contributing its unique culture of creative excellence, the College of Performing Arts is a hub for cross-disciplinary collaboration, bold experimentation, innovative education, and world-class performances.
The over 1,100 students at CoPA are actors, performers, writers, improvisers, creative technologists, entrepreneurs, composers, arts managers, and multidisciplinary artists who believe in the transformative power of the arts for all people. Students and faculty at CoPA collaborate with colleagues across The New School in a wide array of disciplines, from the visual arts and fashion design, to the social sciences, public policy, advocacy, and more. 

The curriculum at CoPA is dynamic, inclusive, and responsive to the changing arts and culture landscape. New degrees and coursework, like the new graduate degrees for Performer-Composers and Artist Entrepreneurs are designed to challenge highly skilled artists to experiment, innovate, and engage with the past, present, and future of their artforms. New York City's Greenwich Village provides the backdrop for the College of Performing Arts, which is housed at Arnhold Hall on West 13th Street and the historic Westbeth Artists Community on Bank Street.

MARKETING AND COMMUNICATION
79 Fifth Avenue
New York, NY 10003
www.newschool.edu
PRESS RELEASE
Media Contacts:
Will Wilbur,
The New School
212.229.5667x3990
wilburw@newschool.edu
Follow @TheNewSchool