mannes school of music announces appointment of stefan jackiw to faculty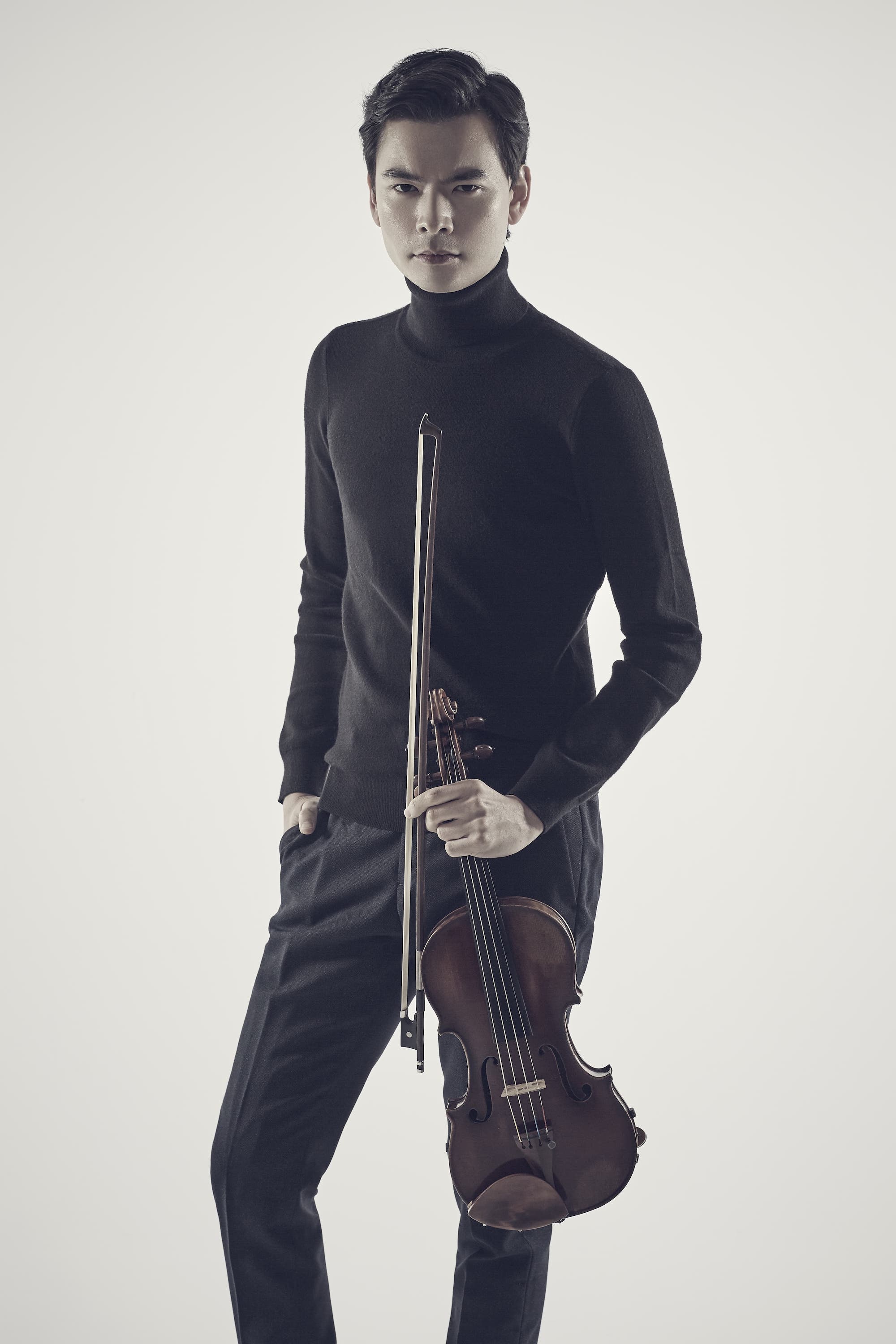 Stefan Jackiw
February 17, 2021, New York - The New School announced today that international violin soloist, recording artist, and educator Stefan Jackiw has joined the faculty of Mannes School of Music at the College of Performing Arts.
The recipient of an Avery Fisher Career Grant, Jackiw is one of America's foremost violinists. With an unusually broad repertoire and a passion as an educator and arts advocate that equals his passion for performing, Jackiw has been hailed for playing that contains "uncommon musical substance" and is "striking for its intelligence and sensitivity" (Boston Globe).
"We are inspired by Stefan's artistry and abiding interest in education and mentorship. We also happen to think he's a fine person and have no doubt that Stefan will enrich the Mannes and entire College of Performing Arts community as his work as a faculty member evolves and grows." said Richard Kessler, Executive Dean College of Performing Arts.
At Mannes, Jackiw will serve on the major lesson faculty in the String Department and will coach chamber ensembles. He will also collaborate with students and faculty across the college in a wide range of special projects, and courses.
"I am honored to join the world-class artists on the faculty of Mannes School of Music. Over the past decade, masterclasses, coaching, and private teaching have grown to become integral to my work as a performer, giving me opportunities to reflect, share knowledge, and develop my own philosophy on music. I was fortunate to study with outstanding teachers throughout my career, and today, I love working with exceptional young violinists as they prepare for their careers in music. I have long admired Mannes for the thoughtfulness and individuality that they encourage in their students, and I'm thrilled for this new opportunity to expand my pedagogy alongside my work on the stage." said Jackiw.
Jackiw has appeared as soloist with the Boston, Chicago, Cleveland, New York, Philadelphia, and San Francisco symphony orchestras, among others. Abroad, Jackiw has appeared with such ensembles as the London Philharmonic, the Philharmonia Orchestra, the Seoul Philharmonic, and the Tokyo Philharmonic. He regularly performs at important festivals and concert series, including the Aspen Music Festival, Tanglewood Music Festival, Mostly Mozart Festival, the Celebrity Series of Boston, the Philharmonie de Paris, and Amsterdam's Concertgebouw.
An active chamber musician, Jackiw is a member of the Junction Trio, together with pianist Conrad Tao and cellist Jay Campbell. Jackiw's discography includes the complete Brahms violin sonatas on Sony, and a forthcoming recording of the complete Ives violin sonatas with his frequent collaborator, pianist Jeremy Denk. Jackiw also recently recorded the Beethoven Triple concerto with cellist Alisa Weilerstein, pianist Inon Barnatan, and the Academy of St. Martin in the Fields, conducted by Alan Gilbert and released on Decca.
Jackiw is also a committed teacher. He frequently gives masterclasses at prestigious conservatories and universities, such as the Colburn School, Harvard University, University of Michigan, Bard College, Manhattan School of Music, Vanderbilt University, Sydney Conservatorium, and the Australian National Academy of Music. In 2020, Jackiw started a free monthly online masterclass series, called Stefan's Sessions, in which he leads an analysis of one of the masterpieces of the violin repertoire, addressing matters of interpretation, technical solutions, historical context, and performance preparation. Each session features three outstanding violin students, selected through online video application, who perform excerpts of the repertoire, live on Zoom. Stefan's Sessions has drawn over 500 attendants and has fostered an online community for serious violin students from around the world.
Jackiw holds a Bachelor of Arts from Harvard University as well as an Artist Diploma from the New England Conservatory. His teachers have included Zinaida Gilels, Michèle Auclair, and Donald Weilerstein.

The College of Performing Arts at The New School (CoPA) was formed in 2015 and brings together the iconic Mannes School of Music, the legendary School of Jazz and Contemporary Music, and the ground-breaking School of Drama. With each school contributing its unique culture of creative excellence, the College of Performing Arts is a hub for cross-disciplinary collaboration, bold experimentation, innovative education, and world-class performances. 

As a part of The New School, students across CoPA experience a supportive and rigorous environment that provides abundant opportunities for collaboration with students and faculty in a wide array of disciplines including the visual arts, fashion, design and technology, architecture, philosophy, psychology, public policy, advocacy, and more. CoPA has over 1100 students seeking degrees and diplomas in performance, composition, acting, writing, as well as arts management and entrepreneurship. New York City's Greenwich Village provides the backdrop for the College of Performing Arts, which is housed at Arnhold Hall on West 13th Street and the historic Westbeth Artists Community on Bank Street.
Founded in 1916 by America's first great violin recitalist and noted educator, David Mannes, Mannes School of Music is a standard-bearer for innovative artistry, dedicated to developing citizen artists who seek to make the world a better and more beautiful place. Through its undergraduate, graduate, and professional studies programs, Mannes offers a curriculum as imaginative as it is rigorous, taught by a world-class faculty and visiting artists. Distinguished Mannes alumni include the 20th century songwriting legend Burt Bacharach, the great pianists Richard Goode, Marray Perahia, and Bill Evans, acclaimed conductors Semyon Bychkov, Myung-Whun Chung, Joann Falleta, and Julias Rudel, beloved mezzo-soprano Frederica von Stade, as well as the great opera stars of today, Yonghoon Lee, Danielle de Niese, and Nadine Sierra.
Founded in 1919, The New School was established to advance academic freedom, tolerance, and experimentation. A century later, The New School remains at the forefront of innovation in higher education, inspiring more than 10,000 undergraduate and graduate students to challenge the status quo in design and the social sciences, liberal arts, management, the arts, and media. The university welcomes thousands of adult learners annually for continuing education courses and public programs that encourage open discourse and social engagement. Through our online learning portals, research institutes, and international partnerships, The New School maintains a global presence.


MARKETING AND COMMUNICATION
79 Fifth Avenue
New York, NY 10003
www.newschool.edu
PRESS RELEASE
Media Contacts:
Will Wilbur,
The New School
212.229.5667x3990
wilburw@newschool.edu
Follow @TheNewSchool