yamaha recognizes the new school's college of performing arts as institution of excellence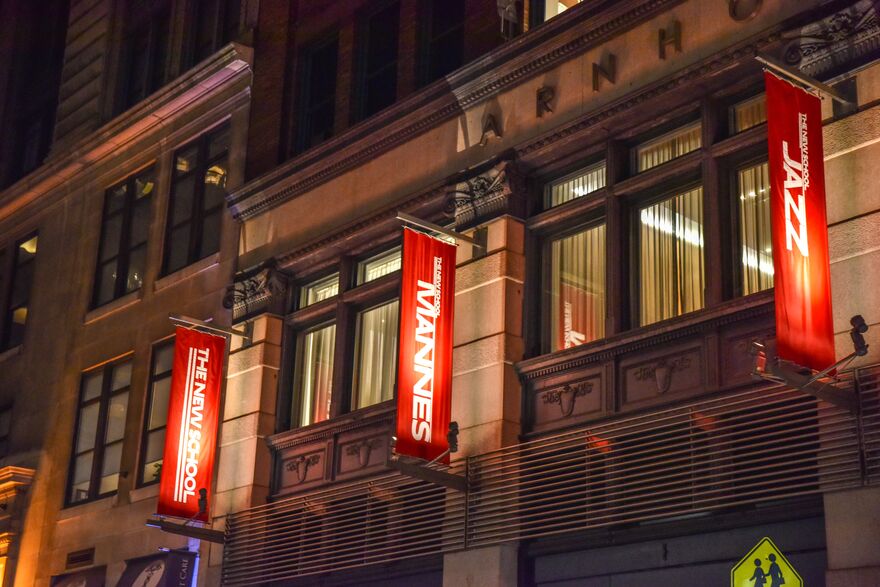 The New School's College of Performing Arts
Buena Park, CA, February 22, 2021 – Yamaha Corporation of America has named The New School of New York City, New York, as a 2021 honoree in its inaugural Institution of Excellence program, acknowledging the school's extraordinary commitment to innovation in the study of music.

Only 10 outstanding schools nationwide earned the prestigious designation this year.

Yamaha is committed to working with The New School in substantive ways for the long-term growth and benefit of its music students and faculty. The Institution of Excellence program is tailored to respond to each honoree's unique mission and the designation unlocks benefits for the institution, its faculty and its students.
"For more than a century, Yamaha has focused on defining and elevating the quality of musical performance," said Dan Rodowicz, senior director, Institutional Sales, Yamaha. "We chose The New School for its outstanding work in fostering an entrepreneurial and open-minded spirit for your students. From its support of early-stage entrepreneurial leaders to its creation of a platform to showcase innovative approaches to social change, The New School is exceptional for engaging its student body and faculty in challenging long-standing industry paradigms. Partnerships like the one with Village Vanguard Orchestra demonstrate its commitment to real-world experiences for its students. All of this is why we are pleased to invite The New School to become part of a program that demonstrates our commitment to finding, celebrating and collaborating with institutions who share our vision for music's crucial role in society."

"We are thrilled to be included in the prestigious list of schools that comprise the inaugural group of Yamaha's Institutions of Excellence," said Keller Coker, Dean of the School of Jazz and Contemporary Music at The New School. "Yamaha's longstanding commitment to music education through innovation and creativity at the highest level of artistry is without equal. We at the College of Performing Arts at The New School are grateful for their recognition of our work, and for the work that they do to support the aspirations of the creative community at our institution and so many others around the world."

This year's 10 schools were selected by Yamaha following a rigorous, nationwide nomination and review process. Honorees are chosen for their dedication to providing unique and challenging experiences to their music students through diversity of thought and curriculum, exposure to a wider variety of voices and opportunities and an emphasis on preparing students for the modern world of music. Each year new Institutions will be selected for recognition and added to the roster.

The College of Performing Arts at The New School is an artistic community that thrives on innovation, experimentation, and creation at the highest artistic levels. The school's forward-thinking curriculum emphasizes collaboration, creating new work, and training musicians and artists for a successful career in the ever-evolving performing arts.

For more information about the Yamaha Institutional Solutions, please visit www.yamahaisg.com

The College of Performing Arts at The New School (CoPA) was formed in 2015 and brings together the iconic Mannes School of Music, the legendary School of Jazz and Contemporary Music, and the ground-breaking School of Drama. With each school contributing its unique culture of creative excellence, the College of Performing Arts is a hub for cross-disciplinary collaboration, bold experimentation, innovative education, and world-class performances. 

As a part of The New School, students across CoPA experience a supportive and rigorous environment that provides abundant opportunities for collaboration with students and faculty in a wide array of disciplines including the visual arts, fashion, design and technology, architecture, philosophy, psychology, public policy, advocacy, and more. CoPA has over 1100 students seeking degrees and diplomas in performance, composition, acting, writing, as well as arts management and entrepreneurship. New York City's Greenwich Village provides the backdrop for the College of Performing Arts, which is housed at Arnhold Hall on West 13th Street and the historic Westbeth Artists Community on Bank Street.
About Yamaha
Yamaha Corporation of America (YCA) is the largest subsidiary of Yamaha Corporation, Japan and offers a full line of award-winning musical instruments, sound reinforcement, commercial installation and home entertainment products to the U.S. market. Products include: Yamaha acoustic, digital and hybrid pianos, portable keyboards, guitars, acoustic and electronic drums, band and orchestral instruments, marching percussion products, synthesizers, professional digital and analog audio equipment, Steinberg recording products and NEXO commercial audio products, as well as AV receivers, amplifiers, MusicCast wireless multiroom audio systems, Blu-ray/CD players, earphones, headphones, home-theater-in-a-box systems, sound bars and its exclusive line of Digital Sound Projectors. YCA markets innovative, finely crafted technology and entertainment products and musical instruments targeted to the hobbyist, education, worship, music, professional audio installation and consumer markets.


MARKETING AND COMMUNICATION
79 Fifth Avenue
New York, NY 10003
www.newschool.edu
PRESS RELEASE
Media Contacts:
Will Wilbur,
The New School
212.229.5667x3990
wilburw@newschool.edu
Follow @TheNewSchool