the mannes orchestra returns to alice tully hall
Concert will feature U.S. premiere of Alvin Singleton's Across Differences, New York premiere of Gabriela Lena Frank's Walkabout: Concerto for Orchestra, and William L. Dawson's rarely performed masterwork Negro Folk Symphony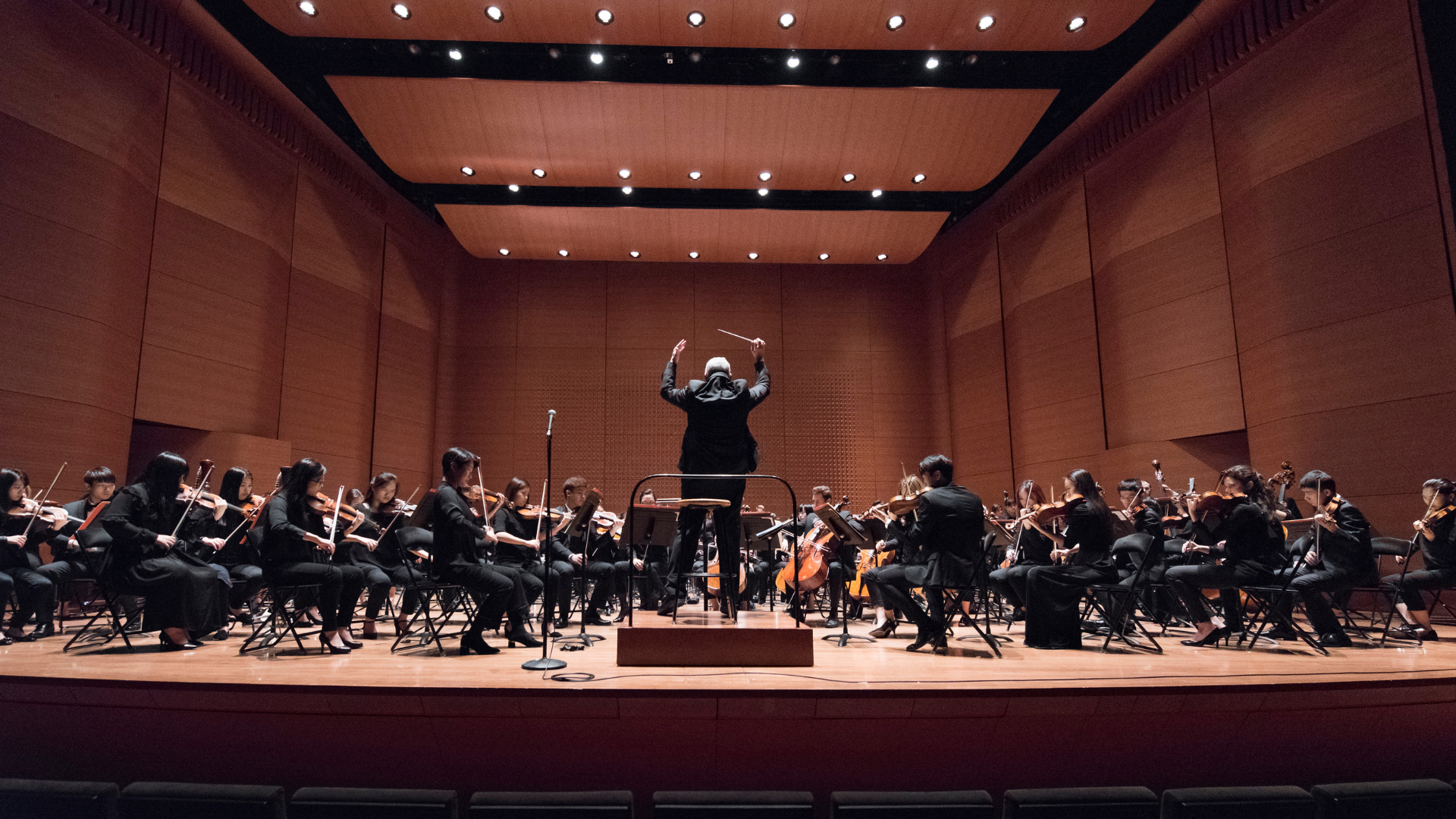 The Mannes Orchestra performing at Alice Tully Hall
February 28, 2022, New York - The New School's Mannes School of Music is proud to announce that after a two-year hiatus, the Mannes Orchestra returns to Lincoln Center's Alice Tully Hall on Sunday, March 13. The concert will feature three great works by BIPOC composers, including one U.S. premiere, one New York premiere, and a rarely performed masterpiece.

With music director and conductor David Hayes at the podium, the program opens with the U.S. premiere of Alvin Singleton's Across Differences. Brooklyn-born Singleton emerged in the 1970s as one of America's most significant and versatile composers. Singleton's music is notable for its rare union of influences, "from Mahler to Monk, Bird to Bernstein, James Baldwin to Bach, Santana to Prince," (Philadelphia Inquirer) as well as for its signature moments of theatricality and surprise. Across Differences premiered at the 11th Anniversary Winter International Arts Festival in Sochi, Russia, in 2018. Singleton noted: "The title of this piece, Across Differences, identifies the work as all titles do, but it doesn't tell us what it is. In some ways, it can refer to the differences between cultures, but it also refers to my thought process. I fell in love with the musical material [in Across Differences] as I was composing, and I took chances in how I used that material throughout the piece."
The program continues with the New York premiere of Gabriela Lena Frank's Walkabout: Concerto for Orchestra. Currently serving as Composer-in-Residence with the Philadelphia Orchestra and included in the Washington Post's list of the 35 most significant women composers in history, Frank's vibrant works draw on her mixed-race Latina heritage, weaving Latin American influences into classical constructs and breaking gender, disability and cultural barriers in classical music composition. Walkabout: Concerto for Orchestra is inspired by the composer's travels in Perú, her mother's homeland.
The evening will conclude with William L. Dawson's highly acclaimed Negro Folk Symphony, which premiered to critical acclaim on November 20, 1934, at Carnegie Hall, conducted by Leopold Stokowski and performed by the Philadelphia Orchestra. Negro Folk Symphony was the composer's first and also only symphony. Although its premiere was received with great enthusiasm and Leonard Liebling of the New York American newspaper called it "the most distinctive and promising American symphonic proclamation which has so far been achieved" the piece fell into oblivion after a few more performances in the 18 months following the premiere. Described as emotionally charged and rigorously constructed, Dawson wanted those who heard it to know that it was "unmistakably not the work of a white man." "The themes are taken from what are popularly known as Negro Spirituals," Dawson wrote for the program notes of the Carnegie Hall performance. "In this composition, the composer has employed three themes taken from typical melodies over which he has brooded since childhood, having learned them at his mother's knee. The symphony was revised in 1952 with added African rhythms inspired by the composer's trip to West Africa. The Mannes Orchestra is proud to be part of restoring this wonderful work to the living canon of orchestral music.
Known for their bold and adventurous programming, the Mannes Orchestra has been hailed by The New York Times as an orchestra whose quality is "a revelation," and for their "intensity of focus." In recent seasons, the orchestra has carved out a reputation for risk-taking and bold performances including recent world premieres of works by Julius Eastman and Johanna Beyer, a 2019 all-Copland concert featuring a new dramatic staging of Copland's showdown with Senator Joseph McCarthy, and the first-ever screening of Fog of War by Errol Morris with live orchestra (scored by Philip Glass).
The 2021/22 Season sees the orchestra return to the stage and features many exciting performances, collaborations, and projects, including performances at Lincoln Center's Alice Tully Hall, John L. Tishman Auditorium at The New School, and appearances with the Mannes Opera at the Bank Street Theater and the Martha Graham Dance Company at New York City Center.
Program:
Alvin Singleton: Across Differences - U.S. Premiere
Gabriela Lena Frank: Walkabout: Concerto for Orchestra - New York Premiere
William L. Dawson: Negro Folk Symphony
When:
Sunday, March 13, 3:00 PM
Where:
Alice Tully Hall, 1941 Broadway, New York, NY, 10023
Tickets:
$10 available via www.lincolncenter.org, the Alice Tully Hall Box Office, or CenterCharge at 212.721.6500

The College of Performing Arts at The New School (CoPA) was formed in 2015 and draws together the iconic Mannes School of Music, the legendary School of Jazz and Contemporary Music, and the ground-breaking School of Drama. With each school contributing its unique culture of creative excellence, the College of Performing Arts is a hub for cross-disciplinary collaboration, bold experimentation, innovative education, and world-class performances.
The over 1,100 students at CoPA are actors, performers, writers, improvisers, creative technologists, entrepreneurs, composers, arts managers, and multidisciplinary artists who believe in the transformative power of the arts for all people. Students and faculty at CoPA collaborate with colleagues across The New School in a wide array of disciplines, from the visual arts and fashion design, to the social sciences, public policy, advocacy, and more.

The curriculum at CoPA is dynamic, inclusive, and responsive to the changing arts and culture landscape. New degrees and coursework, like the new graduate degrees for Performer-Composers and Artist Entrepreneurs are designed to challenge highly skilled artists to experiment, innovate, and engage with the past, present, and future of their artforms. New York City's Greenwich Village provides the backdrop for the College of Performing Arts, which is housed at Arnhold Hall on West 13th Street and the historic Westbeth Artists Community on Bank Street.
Founded in 1916 by America's first great violin recitalist and noted educator, David Mannes, Mannes School of Music is a standard-bearer for innovative artistry, dedicated to developing citizen artists who seek to make the world a better and more beautiful place. Through its undergraduate, graduate, and professional studies programs, Mannes offers a curriculum as imaginative as it is rigorous, taught by a world-class faculty and visiting artists. Distinguished Mannes alumni include the 20th-century songwriting legend Burt Bacharach, the great pianists Richard Goode, Murray Perahia, and Bill Evans, acclaimed conductors Semyon Bychkov, Myung-Whun Chung, Joann Falleta, and Julius Rudel, beloved mezzo-soprano Frederica von Stade, as well as the great opera stars of today, Yonghoon Lee, Danielle de Niese, and Nadine Sierra.


MARKETING AND COMMUNICATION
79 Fifth Avenue
New York, NY 10003
www.newschool.edu
PRESS RELEASE
Media Contacts:
Will Wilbur,
The New School
212.229.5667x3990
[email protected]
Follow @TheNewSchool